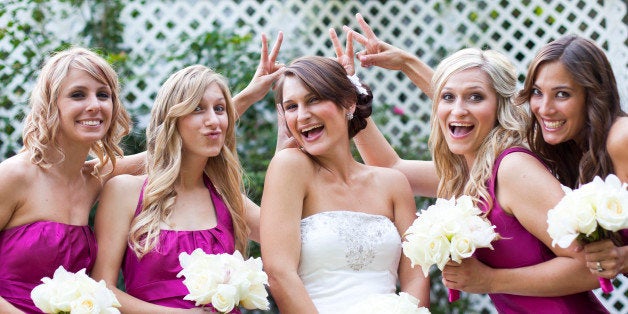 Dear Wedding Guru,

My fiancé and I got engaged four months ago. I have a large group of friends, but wanted to keep my wedding party small and only asked three of them to be bridesmaids. About a month ago, my second bridesmaid got engaged as well. I was over the moon happy for her and when she asked me to be in her wedding party, I of course said yes, assuming that she would wait to have her wedding next year. She called me yesterday and told me that her wedding date will be one month AFTER my wedding! Not only that, but she has booked the cute Victorian B&B for her bridal shower that I told my bridesmaids I would like them to book for mine. I am worried she will be so focused on her own wedding that she won't even care about mine or want to help the other bridesmaids with duties. Would it be wrong for me to ask her to step down from being bridesmaid and do the same for her wedding? I have a lot of other close friends I could have asked and feel that she is being completely selfish in all of this.
You know the saying --- you really don't know who your friends are... until they get engaged. I'm not going to lie, that's a pretty sh*tty thing for your bridesmaid to do. And you are right, your wedding just took a backseat faster than your single Aunt Martha diving for the wedding bouquet.
But look at it this way. If it had been the other way around, would you want to wait to celebrate your happiness? A month isn't THAT bad. You do have two other bridesmaids, and really, everyone knows that all the important jobs go to your maid of honor, which I am assuming she isn't. The other bridesmaids really just show up to the events they have to show up to, do their thing, and then leave. On the wedding day, they put on the pretty dress, walk down the aisle, toast to you and your new husband, and then dance the night away and help themselves to the open bar. So the fact that she will be preoccupied during the planning really isn't a huge stinker here.

Maybe what you are really worried about is that her wedding is going to outshine yours? Maybe just a tiny little? You'll have to share the attention with her, whereas a few months ago, it was all about you. Am I right? Sometimes brides get a little competitive with each other. Try your best not to get sucked into that -- this is not a competition.
Regardless, let's not make this a bigger deal than it has to be. Yes, she is planning her wedding close to yours. Yes, she stole your bridal shower venue. Yes, it's going to suck having to take your mind off of your wedding a bit to accommodate hers -- but that's life, and she's your friend. A friend you loved enough to ask to be in your wedding party.
Talk to your friend. Maybe she is oblivious and is still looking forward to being in your wedding party. It could really hurt her feelings, and some of the friends you share together could take sides (because we are girls and we can be catty.) Do you really want your wedding to be surrounded by a bunch of crazy drama?
First thing to do here is to be a good friend and talk to her about it, because you don't want to carry bitterness into your wedding day. Secondly, tell her you'll understand if she can't be as involved and you hope she understands the same for you. Agree that you will come together for the basic duties, but anything extra, the other maids are going to have to pick up the slack. You will both be there for each other when it matters, have a fabulous time and create some amazing memories together, because that's why you asked each other in the first place.
And the cute B&B bridal shower? Tell your ego to take a hike and just take the high road with this. It's not the end of the world to have your showers at the same venue. I've seen friendships ruined over weddings -- it's not worth it. You will either look back on this and be proud of how you handled it, or you'll cringe when you think of the drama that could have been avoided. It's your choice.
Do you have a question for The Wedding Guru? Email your question to admin@theweddingguru.ca and we'll let you know when it's been answered on the blog. All replies are anonymous, so don't be afraid to spill your guts!