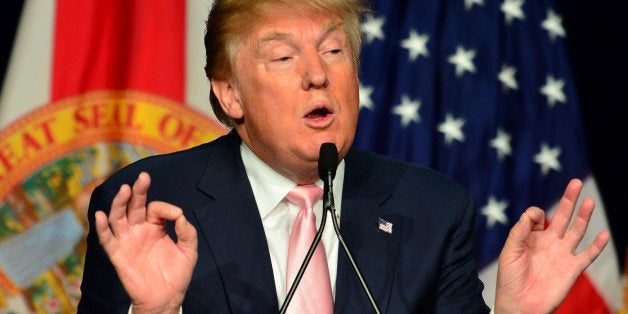 During the first GOP presidential debate on August 6, Megyn Kelly of Fox News questioned Donald Trump on his derogatory comments about women.
"You've called women you don't like 'fat pigs, dogs, slobs, and disgusting animals.'" Kelly said.
"Only Rosie O'Donnell," Trump interrupted, resulting in cheers and laughter from his supporters.
"For the record," Kelly continued, "it was well beyond Rosie O'Donnell."
Kelly gave Trump an example of his sexist remarks and then said, "Does that sound to you like the temperament of a man we should elect as president?" She then asked: "How will you answer the charge from Hillary Clinton, who was likely to be the Democratic nominee, that you are part of the war on women?"
Trump's defense produced only more offense.

"Megyn, if you don't like it, I'm sorry," he said. "I've been very nice to you, although I could probably, maybe not be, based on the way you have treated me. But I wouldn't do that."
Kelly's questions addressed Trump's own words. Nothing could be fairer. In doing so, it exposed the billionaire real estate-mogul as a petulant, crude, misogynist, someone not fit to be president.
We have seen few, if any, questions like Kelly's in the first two GOP presidential debates. We need the candidates to be asked questions that require them to explain their own words and actions. This is necessary to reveal the candidates not as they want to be perceived, but as they are.
Here are questions that should be asked during the next GOP debate on Wednesday.
All of you believe that the Republican Party should control Congress. What is the greatest achievement of the GOP Congress over the last six years?
America continues to struggle with racism. What has the Republican Party done in the last ten years to improve race relations? What will each of you do to improve race relations if you're elected president?
Do you believe in global warming and, if so, are humans responsible for global warming? If you do not believe in global warming, what do you know that the world's climate scientists don't know?
There have been a thousand mass shootings in the United States since 26 people were shot to death at Sandy Hook Elementary School three years ago. How can we address mass shootings without restricting availability to guns and automatic weapons, in particular?
Governor Bush, you responded to the recent murders of nine people on the Umpqua Community College in Roseburg, Oregon, by saying, "Stuff happens."
Will this be your response to the parents of children who are murdered on college campuses and in grade schools? Will this also be your response to people who lose family and friends to natural disasters and acts of terrorism?
Most of you describe yourself as pro-life? But your pro-life positions don't address life after birth. Senator Rubio, you support capital punishment, torture, and the availability of automatic weapons. You oppose global warming and the Violence against Women Act. You may be pro-life, but are you pro-living?
Dr. Carson, you recently said that if Jews had been armed, it would have "greatly diminished" the number of deaths in the Holocaust. Can you identify any historians who agree with this view?
Ms. Fiorina, you did not vote for much of your life. In fact, you only started voting on a regular basis when you began running for political office. Why didn't you vote? And how can you ask people to vote for you when you yourself did not vote?
The Pew Research Center says that the income gap between the very rich and the very poor in this country is the widest in decades. Are you concerned about this? If not, why not? If so, what do you intend to do about it if you're elected president
Popular in the Community