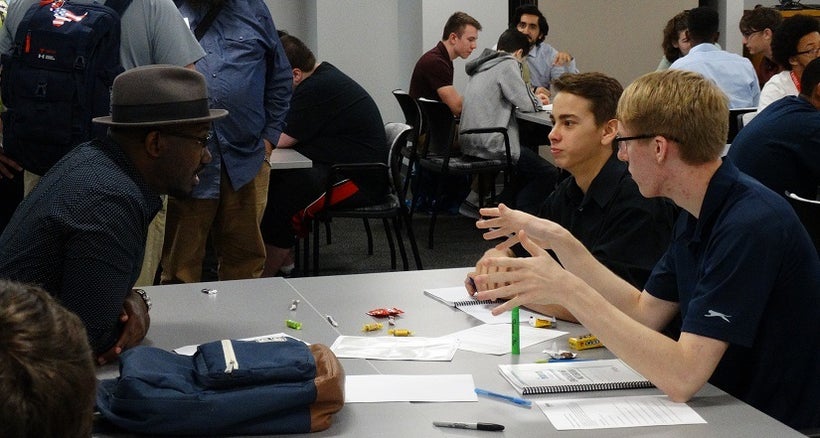 Only a few weeks into the new year of high school, many students are hearing the question: "So where do you plan to attend college?" It's a difficult question made even more difficult when it is asked before students have the chance to truly think about it. Teachers, counselors and parents can help by asking a different set of initial questions, much earlier, that will help students find the answer in time to make an educated choice.
To help students make the right decisions about where to attend college and what degree to pursue, we need to begin by helping them think about careers, and then work backwards from there. After hearing from students across the country in my work at Project Lead The Way, I recommend a few questions to ask high school students to not only help them discover their dreams, but to begin following them in a smart way.
Too often students are asked what job they are interested in – this is too narrow. We need to help them explore careers and industries. Targeting a broad career or industry helps students identify many jobs that may align with their interests. For instance, students interested in professional sports may be unlikely to become a professional athlete, but there are hundreds of jobs that would still allow them to have a career in sports.
It's okay for students to not have an immediate answer — the important thing is to get them thinking about their dreams before college.
Unfortunately, many students approach college as a time to explore. College is a very expensive exploration process. If students wait until college to begin asking this question, it will be costly.
What kind of degree program, if any, do you need to achieve this dream?
I recently had a conversation with a young cashier at a yogurt shop in Florida. She expressed a desire to become a psychologist, but as an undergraduate psychology major, she didn't know she would need graduate and professional degrees to become a licensed psychologist. Her story isn't unique — many students develop a dream but don't know what steps are needed to get there.
Does their dream require a bachelor's or master's degree? Or is a two-year associate's degree sufficient? Are there online degree options available? They may find that instead of a college degree, they need an industry certification.
Which schools have strong programs for the degree you want to pursue?
Once students know which degree program they want to pursue, then they can narrow their focus to the schools that excel in those fields. Given their career goals, which college will provide them the most value for their investment? The College Scorecard, operated by the Department of Education, is a good place to start.
Students should ask colleges the percentage of graduates employed in their field of study after three, six and 12 months of graduation. How well graduates in that field find employment will be indicative of the quality of the degree and workforce demand for the major. Additionally, students should consider the strength of the college's alumni network.
After considering everything else, which financial option makes the most sense?
For 2016 college graduates with student loans, the average amount of debt is over $37,000, according to one analyst. This is the kind of debt that can cripple a dream.
It's important for students to calculate the total cost of attendance: What does each college cost? Can they save money by beginning at a community college before transferring to a four-year university? Can they reasonably expect to earn a salary that will enable them to pay back those loans and live the kind of life they want to live?
In the final analysis, students should select the college or university that is most likely to provide the highest value for their invested time and money.
Asking students these preliminary questions equips them to plan for college in a smart way. When high school students have a grasp of what they want to accomplish and the necessary steps to get there, the question "So where do you plan to attend college?" is no longer intimidating, but exciting.
REAL LIFE. REAL NEWS. REAL VOICES.
Help us tell more of the stories that matter from voices that too often remain unheard.
This post was published on the now-closed HuffPost Contributor platform. Contributors control their own work and posted freely to our site. If you need to flag this entry as abusive,
send us an email
.