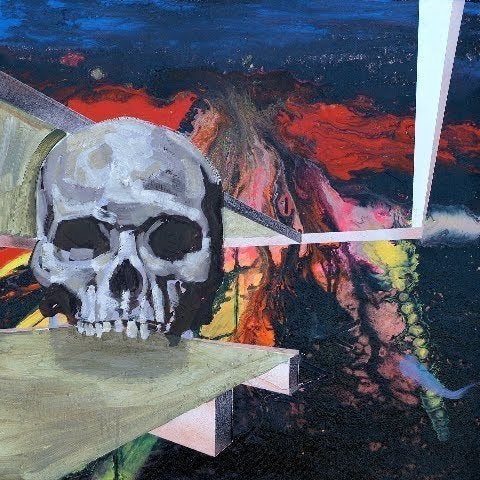 Take 31 artists, writers, and curators. Mix in dozens more artists and art of all kinds. Toss in a key exchange, beer, wine, and sundry snacks, mix in a room, and voila--Summer Kamikazes: a series of one-night exhibitions and events throughout the month of July at POST, the downtown Los Angeles art space founded by artist and curator, HK Zamani in the nineties.
In the press release for the project, Zamani writes, "Difficult times invite difficult gestures. By design, these exhibits remain close to art and distant from the other stuff." 'Difficult times', we understand--from oil spills to warfare, bad news is abundant of late. 'Difficult gestures' is ambiguous but intriguing, and one-night exhibits aren't easy, but what's all the 'other stuff'?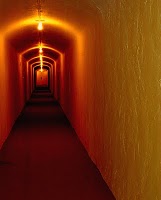 [eros/thanatos, curated by Tricia Lawless Murray, September 2009, with installation by Nancy Popp]
Curious, I agreed to organize one of the evenings, thus joining 30 others invited to host a single night for this second incarnation of Kamikazes. The first Kamikazes took place in September of 2009, when difficult times most certainly read as economic and I was still living in Hollywood and too busy or traffic-weary to make it to the Kamikazes. But not this year.
When Habib (the H of HK) invited me to organize one of the evenings, I was deeply immersed in research about anarchism for an assignment but gave a fast and enthusiastic "yes!" and hoped my night would fall after my mid-July deadline. (Zamani uses a lottery to choose the dates.) Happily, I pulled Friday the 30th. As the date approached, I couldn't help but see the parallels between anarchy and Kamikaze--and not in a guns and mayhem way.

[Matt Wardell, July 2010]
In the late 19th and early 20th centuries, anarchist radicals imagined a new way of organizing society based on mutual aid, voluntary participation, and a lack of hierarchy. This fascinated me--not least because the word has since been hijacked to mean all variety of destruction--was their brand of harmonious, egalitarian society possible now? The Kamikazes offer a template, with shared space, an abundance of creativity, and the reign of independence.
I decided to base my night on anarchy too but quickly learned that asking artists to participate in an anarchist experiment is not unlike asking fish to swim. The bigger challenge emerged in juggling order and freedom, equality and difference, trying to listen to each response or lack of response and modulate the process accordingly. Anarchy depends not on chaos but on trust and love and faith in humanity. It asks us to join and weigh in, difficult gestures that tend to get moved to the back of to-do lists except during trying times.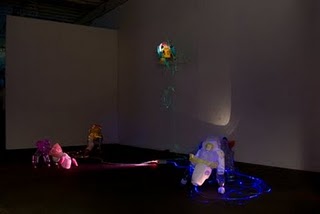 [Cynthia Minet, July 2010]
Meanwhile, the Summer Kamikazes roll on, each different from the next. Art is put up and placed and performed. From the multi-media Mannlicher Carcano, a music-art-performance night hosted by Doug Harvey, to an evening of performance works re-enacted by artists and organized by Carol Cheh, and an exhibition of playful conceptual work from 1971, a la Huffington Post art writer, Peter Frank, there is no Kamikaze template. Some are crowded, some intimate. Some have snacks; other don't. But throughout, there is art--on the walls or floor and sometimes in the parking lot or elevator or hallway. Art you aren't likely to see in a museum made primarily by artists whose work you have seen, or will see, in museums and galleries. For one month, POST remains close to art and far from, well, whatever all that other stuff is, a place where the bad news subsides for a time and the good stuff inspires.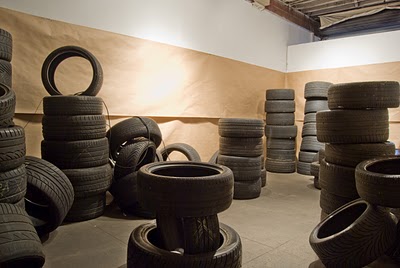 [Marjan Vayghan, July 2010]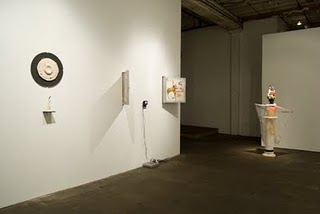 [Portraiture and the Like, curated by John O'Brien, September 2010]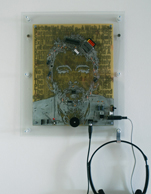 [All My Radiohead Songs, Dane Picard, part of Anarchy at POST, July 2010]
For information about Summer Kamikazes, please see: http://post-la.blogspot.com/
Related
Popular in the Community