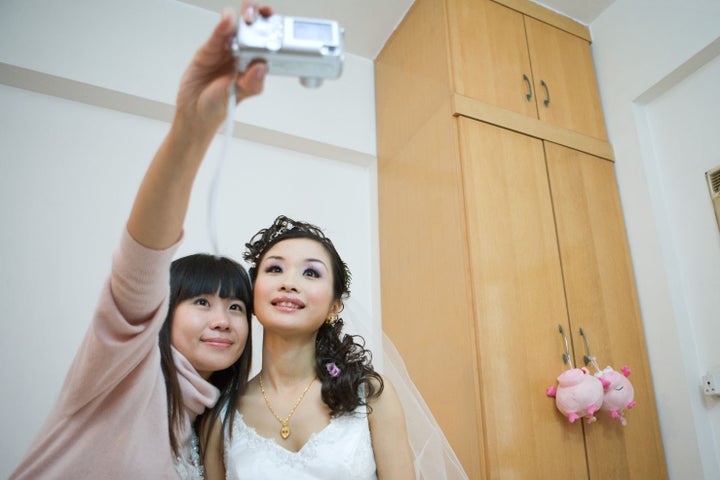 It always makes me cringe when brides say they plan to ask their friends to take their wedding day pictures, or have their aunt make all of the food for the wedding. Yes, it's a financially-strained time for brides and grooms -- with the average wedding cost over $20,000 -- and everyone's in search of a way to save money. But asking guests to take on the big, important parts of your day: that's just a disaster waiting to happen.
Photography and Videography: Expert photo and video professionals are worth every penny for the high quality of photos and footage they capture with their top-tier camera equipment. They know how to be in the right place at the right time, almost magically, to never miss a shot. They know how to work the lighting, to capture you looking your best.

They look past that great shot of your first dance to make sure no one's doing anything ridiculous in the background (a recent wedding photo revealed a guest sitting with her legs spread, right in the background of the momentous first dance photo.) Well-meaning friends with great cameras can take great photos at weddings, but they don't have the years of experience and eagle eye to deliver top-tier results. They also can't fast-pace the post-ceremony shots to get you to your cocktail party.
Another disaster related to asking friends to take photos and video: they don't realize they'd have to work the whole time. Many a bride and groom have found their big moments completely missed, since the friend decided to hang out at the bar, or take a turn on the dance floor. One friend blamed her baby at the wedding for messing with her camera settings!
Food: Asking a friend to step in as caterer is one of the biggest Don'ts in all of wedding planning. Friends can surely bring platters of desserts and other specialty recipes to an engagement party or bridal shower as their contribution and gift at the party, but when it comes to the reception itself, a pro is who you need to trust. They know how to whip up dishes and courses in top-speed, serving them at the right temperature. They know the food safety secrets, especially on a hot outdoor wedding day, to prevent food poisoning. They mobilize their teams of servers. They have suppliers in the food market to net you great deals. They bring backup equipment.

You don't want your friends and family missing your wedding because they're in the kitchen slaving over a stove, waving away smoke from burned garlic knots because a sushi emergency distracted them, stressed and frazzled because guests are eating food faster than they can cook it.
Setup: Again, friends and family can certainly do the setup and decorating for other parties in your wedding season, but it's best to hire a day-of wedding coordinator to oversee all tent setup, item delivery, time-consuming decorating including last-minute ironing of tablecloths, picking up missing items -- while you, your mom and the bridesmaids are at the salon getting your hair and makeup done, sipping champagne, without a care in the world. Having a pro handle the hectic, harried pre-arranging is priceless, worth a bloc of your budget.
Alterations: This one kills me. Asking a friend to do the alterations on a wedding gown is like asking a friend to do your dental work to save money. An experienced pro can fit your gown so well, it makes you look 15 pounds thinner and adds comfort to your movements.

By contrast, a friend who knows how to hem could save you $200, but those seams will be buckled, the zipper threatening to blow, hems falling and your top slouchy because your straps aren't taken up correctly. Don't walk around with parts of your gown stapled in place. A pro can work magic on your dress.
Simply put, your friends and family want to help you create your dream wedding day, and when their contributions can be counted as their wedding gifts to you, it gives them a financial break as well. But choose wiser, more realistic ways for them to help out. Instead of giving them those ultra-important roles, trying to save $5,000 at a time, let them take on some time-consuming or budget-finding tasks like these:
• Making your favors
• Suggesting well-priced professionals they've worked with before
• Connecting you with people you know in the industry who might give a 'friends and family' discount
• Lending you party supply items like pedestal plates, chafing dishes, espresso-makers, platters and other home-party essentials
• Sending you links to Coupon Codes from their favorite coupon sites to save you hundreds on purchases
• Taking photos and video at other events, like your engagement party or morning-after breakfast
Quality wedding professionals are out there, offering golden opportunities to get their quality work and services, plus smart advice on how to get fantastic wedding elements on your budget. With so many ways to shave down expenses in other areas of your wedding plans, you can make room in your budget to hire professionals. They hold your wedding's success, and your lifetime memories, in their hands. So give those big tasks to reputable, legitimate pros and let your friends and family breathe a sigh of relief that what you've asked them to do is low-pressure, within their skill set, and allowing them to be guests, not workers, on the wedding day.
For more great wedding-planning tips and advice, check out these BridalGuide.com stories: