Could one spend six straight hours on Twitter having meaningful, provocative discussions about art with perfect strangers? Seems improbable, if not impossible, but it can -- and has -- been done. Allow me to bear witness.
A few weeks ago you might remember #askacurator day, where museums around the world made their curators available to take questions from the general public via Twitter. The day was a monumental success, with #askacurator becoming a trending topic and then being overtaken by spambots trying to capitalize on the global discussion amongst a captive audience. As the day neared its end, I lamented the conclusion of such a terrific experience and jokingly proposed #askrebecca day. The Twitterverse quickly spoke up in favor and before I knew it, I'd committed to answering questions about art on Friday, September 17, from 9am -- 3pm. The second the declaratory tweet went out into the ether, I felt pangs of regret. What if the questions were mundane and uninteresting? Or worse, what if no one asked a question? I quickly dismissed the fear, and planned to have a good book near the computer to read during "lulls" in the Twitter conversations. But, as the "event" unfolded, there were no lulls.
Six hours passed by in what felt like an instant, as the Twitterverse came alive with thoughtful, and thought-provoking, questions about art. The questions came from "real" friends, Twitter friends (meaning those I regularly converse with), and many whose names I didn't recognize. The topics ranged from artists neglected by art history to favorite art writers to defining what moves you in a work of art. The one commonality was a thirst for an open dialogue about art. As a dear friend @anxiaostudio said to me after, these #ask events seem to break down barriers, and the resulting honest exchange of ideas is incomparable.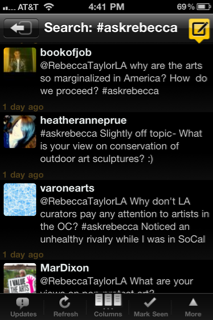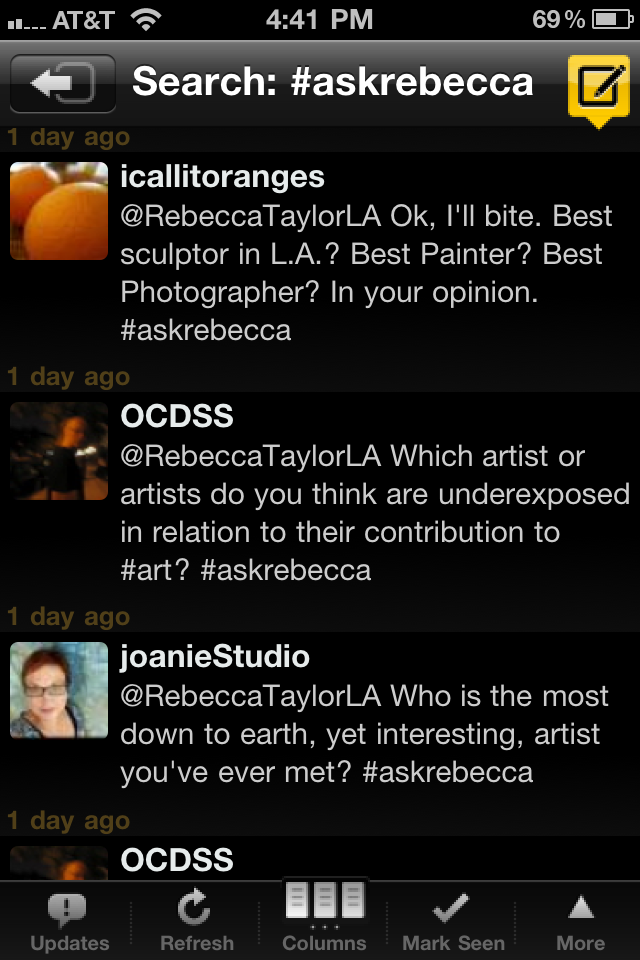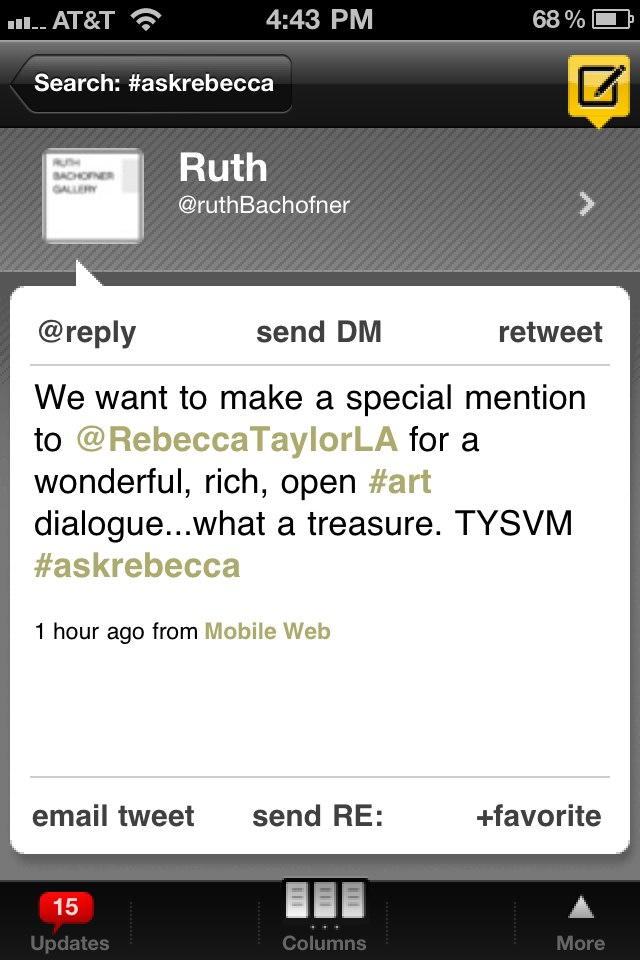 Taking six hours out of an already ridiculous schedule to sit at a computer -- on my day off, no less! -- probably sounds unproductive, and yet it was six of the most enriching and gratifying hours in recent months. We're often so busy looking at art and reading other people's ideas of art that we forget to sit down and allow our minds time to contemplate all the visual "data" we have entered. A wonderful reward of the experience is the opportunity to thoughtfully consider a question and then bear witness to the response that you, almost unwittingly, formulate in a matter of seconds. In other words, it's a forum for "mining" your own mind, to discover the thoughts and feelings that have been percolating underneath the surface -- not to mention a platform for pontificating to an interested and enthusiastic audience.
If you're curious about the dialogue, simply perform a Twitter search for #askrebecca, or better yet read the questions and #askyourself.
Calling all HuffPost superfans!
Sign up for membership to become a founding member and help shape HuffPost's next chapter