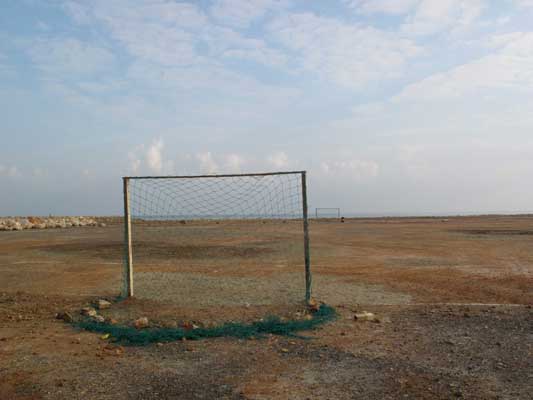 Soccer pitch in Yiti, Oman
During a trip to Oman I learned something about the consequences of Dubai's development appetite, namely that it extends beyond its own borders. My traveling partner and I had been enjoying the drive-and-camp-where-you-may freedom Oman provides. Our guidebook described a beach and lagoon in a town named Yiti, about an hour's drive outside Muscat. Darkness had long since fallen, and we inched our way into the town in search of the open beach.
Just outside the town where you could smell the fading scents of dinner and hear the last fits of children's laughter before bedtime, we found where the horizon opened to the sea. The beach showed no sign of inhabitation, none of the usual late night strollers, fishing boats and shacks. The ground felt harder than a beach should, but still we were happy enough to stop, eat something and pull out the sleeping bags.
The next morning we awoke to find we were somewhere quite different than we'd expected. The beach and lagoon no longer existed. The ground had been packed hard, and the water's edge had been crafted into a solidified, flamboyantly curvaceous form. Rocks, presumably from the overlooking mountains, had been gathered and fitted together to define a hard edge, making it impossible for us to touch the water.
We finally found some explanation: a sun-bleached, dust-ridden billboard at the main road off of which we had turned the night before (and a 'Do Not Enter' sign we had missed). We were standing on abandonment.
The sign announced a huge project by Sama Dubai, a Dubai-based developer that had been folded into extinction. Before its demise, Sama Dubai had acquired this town's natural shoreline and the sloping valley that connected the beach to the inland mountains. Until the global financial crisis, the company had begun rearranging the place into its own Yiti, this one a second-home/resort city. By the time we arrived, the security booms had been lifted, the laborers had left, and so had all the heavy construction machinery. Excavation pits were filled in.
The natural cannot return, but people will. Residents stare now at a strangely shaped coastline and try to figure out how to reclaim reclaimed land. No longer reigning over a marshy lagoon, fishermen have retaken an edge and remain hidden from sight by the high walls of the botched marina. The grounds above the hidden boats are as flat as a soccer field.
And that is what they've become. Teams from nearby towns have come together to build two soccer goals and have even chalked field lines. This is Sama Dubai's greatest gift to the local male youth. Beyond the playing fields, the flat grounds are places of departure. Useless space on the margin becomes useful for marginal pursuits: a silent walk alone, easy park-and-fish spots (a boat is no longer necessary to reach deep waters), and then the usual teen escape projects -- ranging from listening to loud music in a 4x4 to things less legal.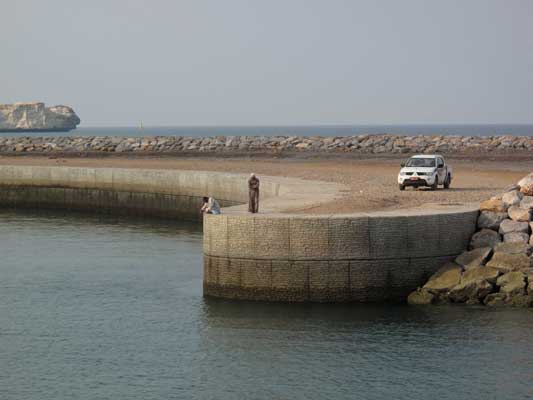 Yiti's new water's edge
We stayed on the site for two nights. Heading out on our last day, I came across a man from town who spoke some English. We talked next to the developer's looming reserve of quarried rock that won't be redelivered to the mountains. He was walking home in a bright soccer jersey, his socks caked in the mud-sand from the development site's surface. He told me that the sheikh of Dubai was giving Oman a new development, but, as I probably knew, Dubai was having troubles. I asked, "And so they just packed their things up and left?" He smiled, "Yes, but they will be back." Willful optimism, I supposed. It is difficult to tell if anyone will be back to finish Sama Dubai's project. The soccer player was not ready to say old Yiti faced a great loss, but until somebody comes back to finish off the curvy marina and the condominiums, the people of Yiti find uses for what was once theirs.
For more on Al Manakh's coverage of the Gulf's reach beyond its borders please read this.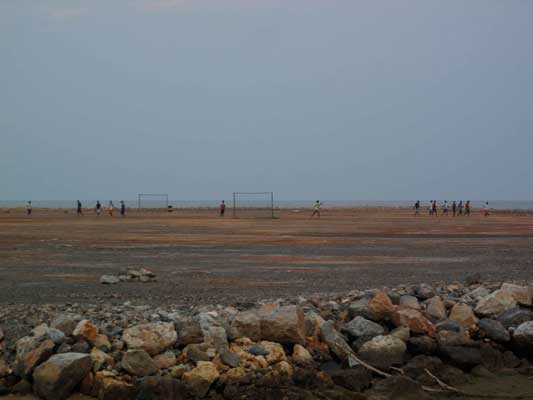 This piece is a modified excerpt for an article in the Khatt Foundation's publication Typographic Matchmaking in the City.
Popular in the Community