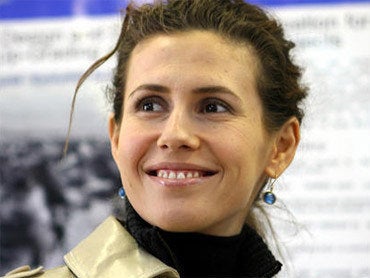 DAMASCUS, Syria — Syria's leader praised President Barack Obama's outreach for dialogue and invited him to visit Damascus in remarks released Friday just days after the United States said it plans to return its ambassador to Syria after a four year absence.
Syrian President Bashar Assad comments came in a telegram he sent to Obama on the occasion of the July 4 Independence Day and in an interview he gave to Britain's Sky News.
Also on Sky News, Syria's First Lady Asma al Assad said she envisioned her husband, Bashar, and Barack Obama joining forces.
"The fact is President Obama is young," al Assad said, "and President Assad is also very young as well, so maybe it is time for these young leaders to make a difference in the world."
President Assad's comments also come a month after Obama outlined in a historic speech in Egypt his determination to broker peace among Israel and its Arab neighbors and improve U.S. relations in the region.
"The values that were adopted by President Obama during his election campaign and after he was elected president are values that the world needs today," Assad said in the telegram that was carried by state-run news agency SANA.
"It is very important to adopt the principle of dialogue in relations with countries based on respect and mutual interest," Assad said.
In June, U.S Mideast envoy George Mitchell visited Damascus and met Assad in the highest visit by a U.S. official in more than four years. Mitchell's visit followed two separate trips in the past few months by senior U.S. officials Jeffrey Feltman, acting assistant secretary of state, and Daniel Shapiro, a Middle East expert at the White House.
The Obama administration hopes the diplomatic outreach will encourage Syria to play a positive role in both the Mideast peace process and also in Iraq.
In an interview with Sky News, Assad invited Obama to visit Damascus in order to discuss Mideast peace.
"We would like to welcome him (Obama) in Syria, definitely. I am very clear about this," Assad said in English. Asked whether such a visit could take place soon, Assad said: "That depends on him."
He added with a smile, "I will ask you to convey the invitation to him."
The Obama administration has stepped up pressure on Arab countries to help resume Israeli-Palestinian peace talks and pursue a peace deal with the Jewish state themselves. Syria is seen as a key player in this process because of its support for the Palestinian militant group Hamas that controls the Gaza Strip and its intermittent peace talks with Israel.
Syria held four rounds of indirect talks with Israel last year, mediated by Turkey. But the discussions were halted during the Israeli offensive on Gaza in December and January.
Last week, Presidential spokesman Robert Gibbs said Obama's plans to send back an ambassador to Syria.
The U.S. withdrew its ambassador to Syria in 2005 after the assassination of former Lebanese Prime Minister Rafik Hariri. Some Lebanese politicians blamed Syria for the assassination, a claim that Damascus denies.
The U.S. also has accused Syria of not doing enough to stop the infiltration of militants to fight U.S. and allied forces in neighboring Iraq.
Associated Press writer Bassem Mroue in Beirut contributed to this report.