 BEIRUT, April 18 (Reuters) - President Bashar al-Assad and his wife Asma were shown on Syrian state TV packing food aid, an apparent effort to burnish the image of a first couple derided for ordering luxury goods on the Internet while their country burns.
State television broadcast pictures on Wednesday of the Assads receiving a rapturous welcome at al-Fahya stadium in Damascus.
They joined hundreds of volunteers boxing cartons full of flour, sugar, cooking oil and pasta for victims of fighting in Homs, where the president's forces are crushing an uprising.
The Assads have long worked to manage their image, but it backfired a year ago when a glamorous photo shoot and gushing profile of Asma, 36, appeared in Vogue magazine just as her husband launched a violent crackdown on pro-democracy protests.
Those images are now part of a YouTube campaign led by the wives of U.N. ambassadors from Britain and Germany, which alternates stylish shots of Asma with gruesome pictures of dead and injured Syrian children.
For Wednesday's appearance Asma avoided any hint of glamour, dressing down in a sheer pink sweater over a simple dress with her dark blonde hair soberly braided and pinned up.
Her tall, gangly husband looked relaxed, towering above his admirers in a polo shirt with an identity pass on a ribbon around his neck like other volunteers. The two packed boxes, sealed them with Scotch tape and carried them over to stacks of aid awaiting distribution.
Assad is held responsible by Western and Arab governments for the deaths of over 9,000 Syrians in a crackdown on dissent that began 13 months ago as his autocratic rule was challenged, first by peaceful protesters and now by a rebel army.
He says Syria is under attack by foreign-backed terrorists and that armed gangs have killed over 2,600 soldiers and police. The worst-hit city, Homs, is the ancestral home of Asma, a British-educated former investment banker.
Despite the uprising, Assad has strong support in parts of Syria, especially among religious minorities like his own Alawite sect. He is opposed by many Sunni Muslims, who make up the majority of Syria's 23 million people.

"SOME WOMEN ARE FOR STYLE"
Asma's lavish lifestyle has made her a target for her husband's opponents. Sheila Lyall Grant and Huberta Voss-Whittig, wives of the British and German ambassadors to the United Nations, said the aim of their YouTube video was to persuade Asma to act to stop her husband.
"Some women are for style and some women care for their people. Some women struggle for their image and some women struggle for survival," says the video, billed as a letter to Asma.
Asma al-Assad once cultivated the image of a serious-minded woman inspired by Western values. But she appears to have kept up a life of luxury shopping during the uprising against the four-decade rule of the Assad family.
E-mails exchanged with her husband, obtained by Britain's Guardian newspaper and seen by Reuters, showed her spending tens of thousands of pounds on jewels, fancy furniture, and a Venetian glass vase from Harrods.
"I am the real dictator, he has no choice," she commented about her husband in one of the e-mails attributed to her.
The European Union has banned Asma from travelling there or shopping from European companies.. (Additional reporting by Michelle Nichols at the United Nations in New York; Editing by Peter Graff)

Related
Before You Go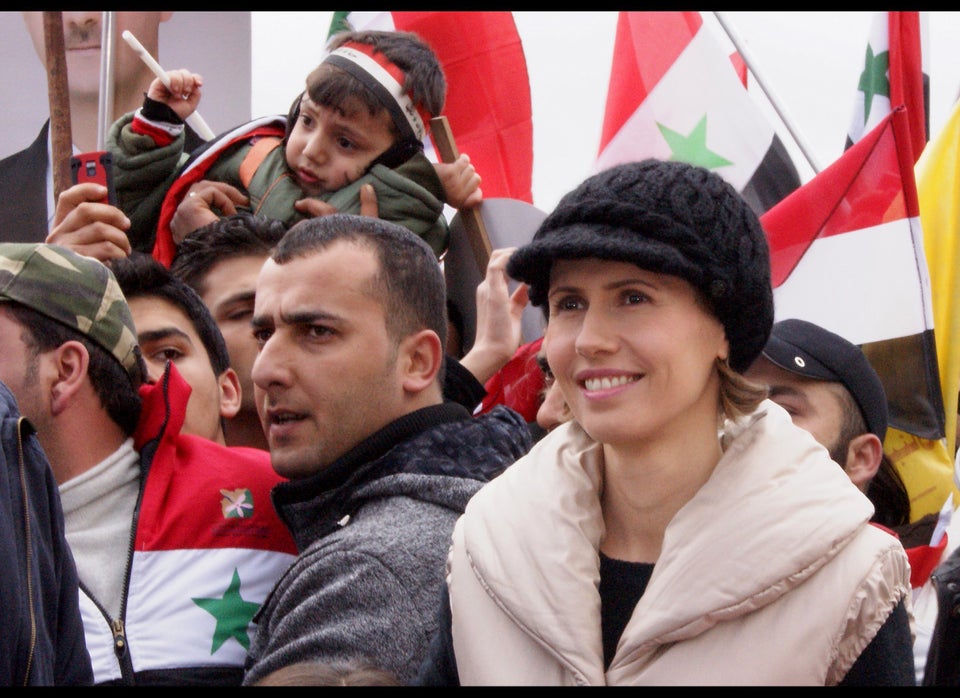 Asma Assad
Popular in the Community