Asma Assad, the first lady of Syria and wife of Syrian leader Bashar Assad, has spoken out for the first time in several years.
In a 33-minute interview with Russia's Channel 24, she took the opportunity to promote her development initiatives, defend her husband's policies and argue that Syria will rebuild itself. The interview, conducted in English, was posted Tuesday on the YouTube channel run by the Syrian presidency.
Hundreds of thousands of people have died in Syria's civil war and almost 5 million have been forced to flee, causing a refugee crisis in the Middle East and Europe. Assad's choice to speak out comes at a time when her husband's alliance with Russia appears to be stronger than ever, and bloodshed across the country continues unabated. 
In her interview, the Syrian first lady expressed her gratitude to the "real friends of Syria" ― Russia and Iran ― who came to the country's aid after other countries, including the United States, imposed sanctions. 
"Ironically, Western media organizations have chosen to solely focus on the plight of refugees and those caught up in rebel-held areas whereas, in fact, the vast majority of people are living across the country and these people, as much as anybody else, matter," she said.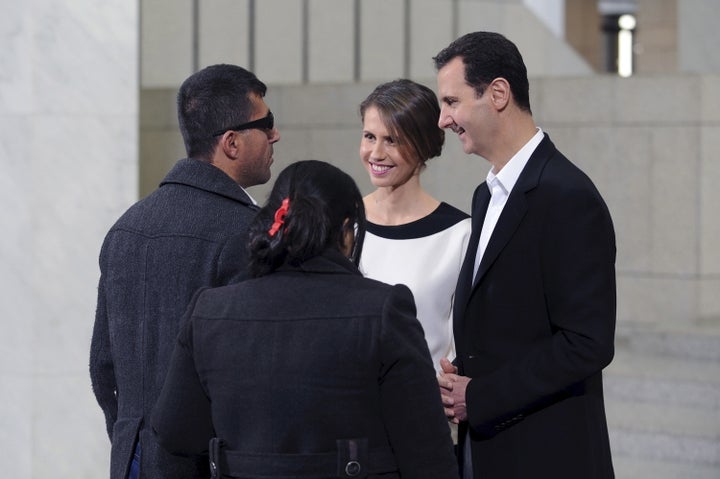 Born Asma Akhras, the Syrian first lady is a British-Syrian dual citizen who grew up in London, the child of a cardiologist father and a diplomat mother. A former investment banker, she married Bashar Assad shortly after he assumed leadership of Syria in 2000.
Her last interview, which the Assad family had hired a PR firm to set up, was with American Vogue in December 2010, right before Syria's civil war erupted in 2011. The author, Joan Juliet Buck, described the family as "wildly democratic." Following widespread criticism, the article was later removed from Vogue's website.
Assad said her role as first lady "has always been to strengthen Syrian social fabric and support its local communities." 
"More specifically, this translates to promoting initiatives that encourage inclusive economic growth ... working with civil society organizations to make them stronger and working with young people to ensure they have the right skills and abilities so they can reach their full potential," she added.
Her programs continue uninterrupted, she said. "They're very well-established, and if anything, they have become more important since the beginning of the war."
Her priority, though, has shifted to "helping martyrs' families," she said. She specifically mentioned prosthetics for the injured and work opportunities for widows.
"If I'm helping Syrians, then ultimately, I'm helping the president as well," she said. 
Syria's civil war began when dissidents, who took to the streets to protest peacefully, were brutally suppressed. The Syrian government has gone to serious lengths to either kill or detain innocent people, according to Amnesty International. A United Nations investigation found that Bashar Assad carried out crimes against humanity, including using chemical weapons on his people. 
Assad said the war has not changed her husband: "He is very calm, he is very thoughtful, you can talk to him about anything and everything." The only difference is that his responsibilities are much greater than they used to be, she added.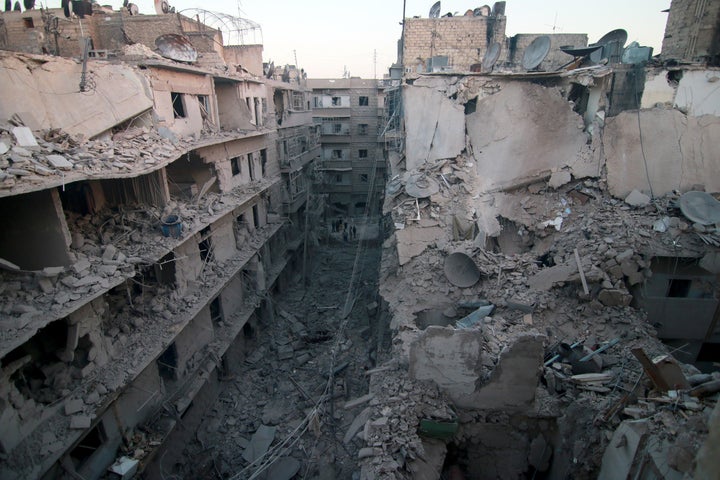 According to the interviewer for Russia's Channel 24, Syria's first lady has a reputation for forgoing security measures and recently drove her own car on a recent hospital visit.
"I refuse to live in fear. Everybody in Syria is at risk today, how should I be different?" Assad asked. "How can I encourage people to continue living their lives?"
"I know that Syria can and will rebuild itself," she continued. "What's important is that we tackle the internal and external factors that prolong the war."
Assad is also hopeful about the future of her country and has no intention of seeking asylum elsewhere, even though she's been offered the opportunity, she said.
"I've been here since the beginning and I never thought of being anywhere else at all," she said, explaining that she was offered opportunities to leave that included safety and financial security. "It doesn't take a genius to know what these people were really after. It was never about my well-being or my children's. It was a deliberate attempt to shatter people's confidence in their president. And suffice to say, these offers were foolish and not even made by people who were Syrian."
Meanwhile, the Syrian regime has been bombing the city of Aleppo with Russian help in an attempt to regain control from rebels. Russia has announced a pause in the airstrikes to be held on Thursday. Around 250,000 people remain stranded in the eastern portion of the city, including some 100,000 children.
Calling all HuffPost superfans!
Sign up for membership to become a founding member and help shape HuffPost's next chapter
BEFORE YOU GO
PHOTO GALLERY
Aleppo, Syria