Following up on a promise I made to you last August, I'm proud to announce the full citywide roll-out of our pioneering collaboration with the New York City Police Department. Rarely has the fight to end animal cruelty in New York City -- or any city for that matter -- been supported by such a powerful and broad enforcement partner.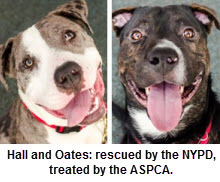 The NYPD is taking the lead in responding to complaints and enforcing animal cruelty laws in New York City, while the ASPCA is investing significant resources to expand space and services to care for seized animals, including forensic evaluations, medical treatment, behavior assessments, and backup legal support and training. We've already dedicated a new ward to these animals at the ASPCA Animal Hospital, including additional space for housing and rehabilitation.
All eight NYPD patrol boroughs, several detective boroughs, the Housing Bureau, and the Legal Bureau -- as well as a number of assistant district attorneys -- have been personally trained by ASPCA staff with extensive NYPD or New York City prosecutorial experience. That training continues, and NYPD officers have been eager and enthusiastic.
The result: a much broader, quicker, and more effective way to protect and save animal lives. During the four-month pilot phase, the NYPD responded to more than 800 calls to 911 and 311, took more than 25 complaint reports, and made 12 arrests. More than 30 animals related to these cases have received care at the ASPCA Animal Hospital.

The citywide expansion comes at a busy time for the NYPD -- they just welcomed their first new commissioner in 12 years, William Bratton -- but the needs of New York City animals just can't wait. The roll-out to all five boroughs began operationally at the start of the year, and within less than three weeks, there've been 16 complaint reports taken across the five boroughs, including three arrests, and 24 rescued animals.

Bottom line: We're already well on pace to saving four to five times as many animals each year than the ASPCA has done during any year in recent history.
Don't think of these animals as numbers -- at least any more than you would your own pets. They include Hall and Oates, two underweight dogs living in deplorable conditions in a Bronx backyard; nine kittens rescued from a hoarding situation; and Hank, another canine victim of cruelty. Stories like these not only exemplify how the partnership is succeeding, they also illustrate the severity of animal cruelty and the need to elevate these heinous crimes.
Commissioner Bratton has shown tremendous support for this partnership, noting that "NYPD Officers have historically enforced laws to protect the city's animals, and now the NYPD will be taking the lead role in investigating incidents of animal abuse and neglect citywide."
We're creating a lasting positive legacy for New York and New York animals, and hope the idea of unleashing existing police departments on cowardly animal abusers will catch on across the country.
In the meantime, if you see cruelty, stop cruelty. Call 9-1-1 for acts in progress, or call or click 3-1-1 otherwise. As I said last summer, it's your city. They're your animals. You can be their voice, too.
 
Matthew Bershadker is President & CEO of the American Society for the Prevention of Cruelty to Animals (ASPCA). Learn more about the ASPCA's mission and programs at ASPCA.org.
REAL LIFE. REAL NEWS. REAL VOICES.
Help us tell more of the stories that matter from voices that too often remain unheard.