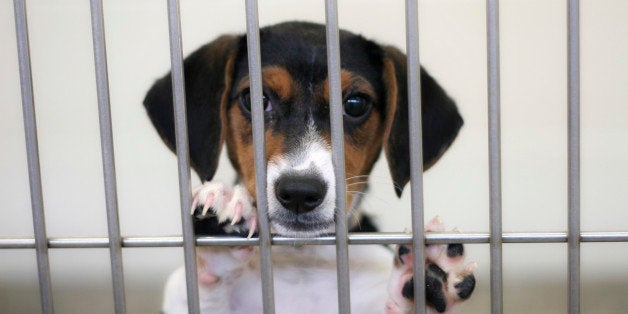 In 1866, there were no radios or telephones. President Andrew Johnson declared the end of the Civil War, Congress granted citizenship rights to former slaves by passing the 14th Amendment, and 14 current states had yet to enter the Union. This is also the year that one man acted on a vision that would elevate American values and galvanize a cause that's as relevant and impactful today as it was 150 years ago.
That man was Henry Bergh,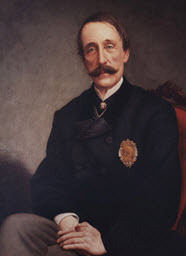 who on April 10, 1866, founded the American Society for the Prevention of Cruelty to Animals on the simple notion that animals deserved more compassion and protection than they were getting. That seems noble to us now, but Bergh was often mocked and ridiculed for his concern.
Undeterred, Bergh tied that moral argument to strong actions. He personally inspected slaughterhouses, worked with police to close dog fighting pits, and established the nation's first ambulance for overworked horses. His actions reverberated across the country. By 1888, the year Henry Bergh died, 37 of the country's then 38 states had passed animal anti-cruelty laws.
In the century-and-a-half since then, other organizations have joined our fight to protect vulnerable animals, and our toolkit has evolved with the times. But the challenges animals faced have increased and evolved as well, including modern threats to dogs, cats, horses and farm animals in particular.
While our historic milestone provides plenty of reasons to take pause and commemorate our past, the urgency of our cause demands that we continue to look ahead. To that end, the ASPCA is at the forefront of three relatively new areas of animal welfare concentration where the potential for saving lives is nearly limitless.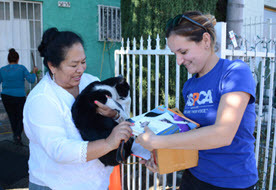 The good news is many of these challenges can be mitigated or resolved through accessible and affordable veterinary care, increased access to pet-friendly housing, and improved access to other supplies and necessities. This approach is especially promising in communities with high poverty rates and limited access to resources.
Pet retention efforts also conserve a shelter's resources and cage space, allowing more time for other important functions like reconnecting families with lost pets and caring for victims of cruelty. The cost of sheltering an animal is also substantially higher than the cost of keeping one at home.
The concept of helping pets by assisting their owners is not theoretical. In June 2014, the ASPCA launched a "Safety Net" program at two of the highest-intake Los Angeles County shelters in partnership with the Los Angeles County Department of Animal Care & Control and the Los Angeles County Animal Care Foundation. At these shelters, ASPCA staff help pet owners keep their animals by providing vital supplies and subsidizing critical services like spay/neuter surgeries, vaccinations, and other types of veterinary care.
The program has now assisted nearly 6,000 animals previously at risk of entering the shelter system, and early follow-up with a sample of Los Angeles clients reveals that well over 80% of these pets remain in their homes.
This is not just a West Coast exercise. In New York City, we recently launched a pilot project to provide critical resources and services to pet owners in the neighborhood of East New York. We've also teamed up with the NYPD to hold community events that provide free vaccines, microchips, ID tags, food, and doghouses for at-risk pets.
The need for this kind of help is national in scope. Over the past five years, the ASPCA has distributed nearly $4 million in grants to over 300 organizations in 46 states to support similar safety net programs.
What's clear is that in order to help pets, we also need to help the people who care for them, which is why learning about the needs of pet owners -- and putting judgments aside -- is as important as delivering the care itself. Sometimes the difference between an animal staying in a home and entering a shelter is the cost of a spay/neuter procedure, a visit to the vet to resolve a skin issue, or assistance with repairing a fence.
Understanding that human and pet issues are often intertwined -- and acting on that understanding -- is critical to keeping more animals in the most ideal place they can be: a safe and loving home.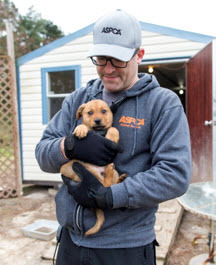 The rehabilitation of animal victims of cruelty and neglect is a very meaningful and personal subject for me. I constantly see animals in crisis, in need, and in such a state of fear that putting them up for adoption is typically out of the question. Their prospects are often very dim.
So in 2013 we opened the ASPCA Behavioral Rehabilitation Center in Madison, New Jersey, the country's first-ever facility dedicated to providing behavioral rehabilitation to canine victims of cruelty and neglect. Of the hundreds of dogs entered into the program, 87% have graduated, all of whom have either been adopted or transferred to rescue partners to be made available for adoption. (You can learn more about the Rehab Center on the companion website to the ASPCA & Animal Planet TV special Second Chance Dogs, which aired last Saturday, and will be publicly available soon.)
Just as important as achieving positive results at the Center is inspiring similar outcomes throughout the country. To do this, we regularly invite rescuers, veterinarians, shelter staff, and behaviorists to the Center to exchange ideas, and will be publishing our data and techniques.
In 2017, we're closing the temporary facility in New Jersey and opening a new and permanent Rehabilitation Center in Asheville, North Carolina. In addition to helping more animals, this center will train visiting shelters and rescues in the latest and most effective rehabilitative approaches.
This innovative work can alter the future for thousands of traumatized animals who deserve to be viewed and treated as the loving pets they were always meant to be, and we're very encouraged about its potential.
Legal Protections for Animals
The third opportunity is increasing legal protections for animals through expanded law enforcement, legislation, and industry regulations.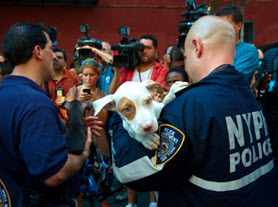 Two years ago in New York City, we asked: What happens when you put the country's largest police force on the case of animal cruelty in America's largest city? In our partnership with the NYPD, tens of thousands of officers across 77 precincts take the lead role in responding to animal cruelty complaints, while the ASPCA handles direct care and support for victims. The result: Triple digit increases in both animal cruelty arrests and animal victims treated since the program started.
Today, we train law enforcement teams around the country in the best ways to stop animal cruelty in their communities, and a number of police departments and district attorneys are creating specialized divisions to focus on animal cruelty crimes.
There are commendable federal and state animal welfare laws and regulations on the books -- and we're proud to have been behind many of them, but there's much room for improvement:
Action is happening right now on some of the most difficult fronts. In Massachusetts, we're playing a strong role in supporting a state ballot measure that would phase out cruel confinement systems for breeding pigs, egg-laying hens and veal calves by 2022, and ensure that substandard products from these inhumane confinement systems are no longer sold in the state.
We also support the SAFE Act, which would permanently protect U.S. horses from being slaughtered for food here or anywhere; and the AWARE Act, which would require agricultural research at federal facilities, such as the abhorrent tactics uncovered at the U.S. Meat Animal Research Center, to meet certain basic welfare standards outlined in the Animal Welfare Act.
In short, our laws and law enforcement need to reflect how much we personally value animals in our culture. Most of us reject animal cruelty -- whether it's committed individually or institutionally, legally or illegally -- and our laws and law enforcement should do the same.
One of the most fulfilling things about working in animal welfare is that each of us can play a direct, life-saving role in its progress. Every pet kept in a loving home makes a difference. Every second chance given to an abused or neglected animal makes a difference. And every act of putting ourselves between animals and cruelty -- whether through a law or through an officer of the law -- makes a difference.
That theme of stepping up to make change is the focus of our "150 Days of Rescue" campaign, in which we're asking the public to donate at least 15 minutes between April 10 and September 7 to help animals in need. With each pledge, a participant can nominate a local shelter for a chance to win a $150,000 grant prize.
We're ultimately aiming for a future in which animal welfare is not a priority just for people who care about animals, but for everyone who values compassion. That elevation of values will finally enable the most vulnerable of animals to live free of abuse and cruelty.
This was Henry Bergh's vision for his city and country 150 years ago, and it will continue to drive our commitment to animals today and into the future.
REAL LIFE. REAL NEWS. REAL VOICES.
Help us tell more of the stories that matter from voices that too often remain unheard.