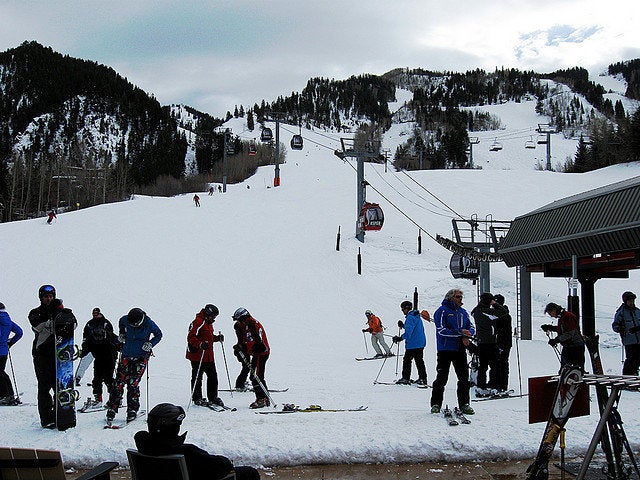 Anyone who doesn't know where
is located obviously doesn't ski. Aspen, located in the Rocky Mountains of Colorado, is one of the most famous ski resorts in the world and is the playground of
, including the Kennedy family, Kevin Costner, Jack Nicholson, Jimmy Buffett, Arnold Schwarzenegger and Oprah. Accessible from Aspen Airport (six miles), Eagle Airport (70 miles) and Denver International (220 miles), this massive resort is easy to visit. People who fly into Denver can take ground transportation to the resort. Denver International serves more than 80 cities.
is one of four mountains available with one lift ticket. The others are Snowmass, Aspen Highlands and Buttermilk. Each mountain can stand alone as a vacation destination, or people can explore all four. With 675 acres of skiable terrain, Aspen Mountain rises to a summit elevation of 11,212 feet, and it has a vertical drop of 3,267 feet. The resort is well-known for its advanced terrain, glades, moguls and steeps. The season typically runs from late November through mid-April.
Aspen Mountain has
, none of which are for beginners. Forty-eight percent of the mountain is for intermediate skiers, and the other 52 percent is for advanced or expert skiers. Of the eight lifts, a gondola gets people to the top in 14 minutes. There is also a high-speed quad, a high-speed double, two regular-speed quads and three double chairlifts. A powder tour, which guarantees fresh snow, takes guests to untracked areas at the backside of Aspen Mountain.
Snow-related
abound at Aspen every year. Aspen is a regular host of the
, a competition that features the greatest winter athletes around. They compete in snowboarding, skiing and snowmobiling. Aspen also hosts World Cup ski races and the
, where snowboarders and skiers compete at the base of Aspen Mountain. A concert series at Aspen Mountain is also part of the event. Here's a fun fact for comedy film buffs: Some sections of the 1994 comedy
were filmed in Aspen, Colorado.
A two-day adult
costs $206 for access to all four mountains.
cost $1,549 for adults who purchase the Super Early tickets. Discounts apply for children, teens, college students and seniors.
teach full-day group lessons to children, teens and beginner adults at costs ranging from $101 to $184. Private lessons cost $655 for a full day.
is available at the base of Aspen Mountain. A walk-in price for an adult sport package is $44.95. The rental price for helmets runs between $6 and $11.95.
Aspen Mountain has three
options: Ajax Tavern, Bonnie's and the Sundeck. Those who venture into town have a choice of more than 100
. Guests can choose among American, Asian, French, Indian, Italian, Japanese, Mexican and Swiss cuisine. After dinner, visitors can take in a movie, visit the Wheeler Opera House or venture to one of the many
, from pool halls to jazz joints to coffee houses. Every type of
is available; there are antiques, clothes, souvenirs and so much more. There are also a number of salons and spas in Aspen.
Related
Popular in the Community