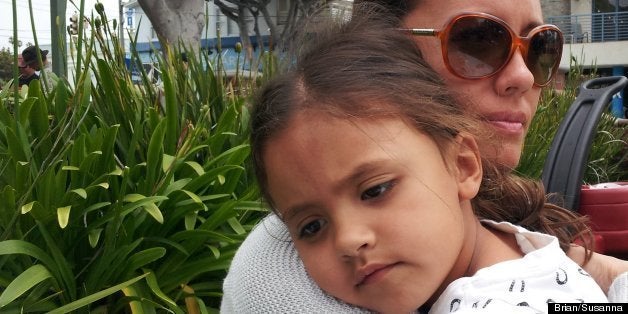 It took Brian and his wife, Susanna, a lot of research and trial and error before they got their daughter, Arizona, help that really worked. Their 6-year-old was originally diagnosed with sensory processing disorder and eventually Asperger's. Here, as part of our series on families of children with mental health issues, the Los Angeles-based dad talks about the challenges parents face in connecting with the right resources for their children, the importance of early intervention and where his daughter is today.
Early Flags
When Arizona was an infant, she was basically allergic to everything -- soy, dairy, nuts, wheat, rice, cats, dogs, etc. The initial manifestation was a body rash: She had hives and eczema. By the time she was 2, there were certain developmental markers she hadn't hit. For example, she never crawled, but we just assumed that was related to the allergies.
There were also some things that my wife's sister, who has a couple of kids just a little bit older than Arizona, noticed that we probably wouldn't have for a long time -- certain things she wasn't doing, or should be further along with. Our daughter liked to play by herself; she wasn't as social as the other kids. She was repetitive in her play and wasn't very affectionate. She didn't make eye contact -- that was a big one. She'd have it for moments, but not sustained connection.
We started to do some research online and went down this rabbit hole, trying to gather information on what was going on. There was, really, nothing available. The information is fragmented and it feels unreliable. There's a lot of contradictory thoughts about what you're dealing with and how to treat it. We began seeking advice from medical professionals and, initially, we were told everything was fine and that children develop at their own pace ... not to worry.
The Moment We Knew
For six months after, until Arizona was about 2-and-a-half, we were blissfully taking the advice that we were getting.
But at some point we realized, there's still something going on. We didn't need anyone to tell us.
Arizona has always been a sensory child -- different textures, like sand, and loud sounds, like a balloon popping or the hand dryer in the restroom -- those are hard for her. We realized that we were communicating with her, and she wasn't really processing it, so we would start giving her too many prompts, too much input, too fast. She would freeze up. Affection was a bigger issue for me than for my wife, because Arizona was more affectionate with her. But she didn't snuggle, she didn't cuddle. She never sought our attention, like, "Hey Mommy, Daddy, look at this!" There was none of that.
It's a pretty heavy moment. You feel great loss, you think the worst -- your daughter is never going to be able to function and grow up and have a normal life. It's mourning, and it's scary, because you have no idea what's happening … no idea what to expect for her.
Looking For Help
My wife was incredibly diligent and, thankfully, was able to stay at home and spearhead the process of making sure our daughter was getting the treatments she needed. But parents really have to figure this stuff out on their own.
We saw a lot of doctors, and had many different diagnoses along the way -- the beginning was sensory processing, and that stuck with her. We had an early autism diagnosis from a developmental pediatrician, which was good, because it opened us up for services. Now Arizona's diagnosis is Asperger's, but at some point, we sort of stopped paying attention to all the different titles and names; we were just seeking the best help for her.
Our Care Map
We were very fortunate to get involved early, and our daughter worked incredibly hard -- she still does -- to get over some of the things that are hard for her.
We started with speech therapy, occupational therapy and a behaviorist, probably three times a week. Arizona was in a developmental preschool, and she had "social skills" on Saturdays. We did neurofeedback, but we felt like it wasn't doing what we thought it should, so we stopped. It's a process. You try a lot of things and if they aren't working, you stop.
We also did things that were more fun -- we took her to a gym, where she would learn balance and work on her gross and fine motor skills. We did rock climbing -- she absolutely loved it -- and it helped her develop upper body strength. She does horseback riding, which she loves. It's her favorite thing.
We originally put her in a more typical school that she tested into. When we brought her in we were so nervous, but she was amazing -- she answered everything right, just not necessarily in the way they expected. There was a picture of a bicycle that was broken into pieces and the idea was to see if kids could figure out what it was. When they asked Arizona, she said, "It's a unicycle!" Sure enough, the picture only showed one wheel. The woman testing said she'd never had anyone answer it that way.
Ultimately we decided to put her in another school that turned out to be amazing for our daughter, called Cheerful Helpers Child and Family Study Center. It focuses on academics as well as social and emotional development.
The Help We Wish We'd Had
We looked for information, and we looked hard, but there was not a lot of guidance. As a parent, the first thing that happens after you do research is you feel a little bit better because you have some information, but then you need support and advice, and that was hard to find.
I felt passionate about finding a way to make information more widely accessible to others who shared my experiences. I'm the CEO of a digital agency, RED Interactive Agency, and we partnered with the Child Mind Institute to develop digital resources to protect and promote children's mental health. Together, we collaborated to develop a website for CMI, the Speak Up for Kids campaign and the Symptom Checker.
It's not about getting treatment with them specifically, it's just about trying to give parents a place where they can go. Because when you first find out something's going on, if you can find a life raft to hold onto for a little bit, it's such a help.
Where We Are Now
Our daughter is extremely bright and happy. She is still very independent, but she's also very social and loves children, adults and animals. She seeks out relationships. She's loving and nurturing -- she has a lot of stuffed animals. She loves horses, and now cats. She puts them in a little baby carrier, and takes care of them.
The hard work Arizona did early on was critical. To this day, she still does OT, speech and behavior -- they help give her tools to continue to become a contributing, happy person -- but it's now down to a couple of a days a week. She'll always be a little quirky, but we see that as a good thing. She's unique and original. She is amazing.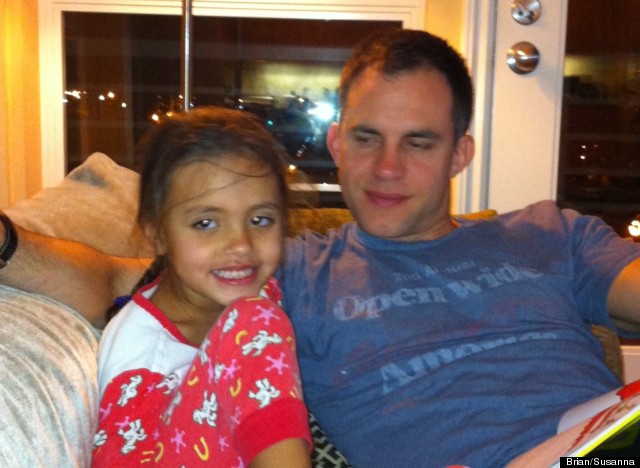 Brian, with his daughter Arizona.
This conversation has been edited and condensed.