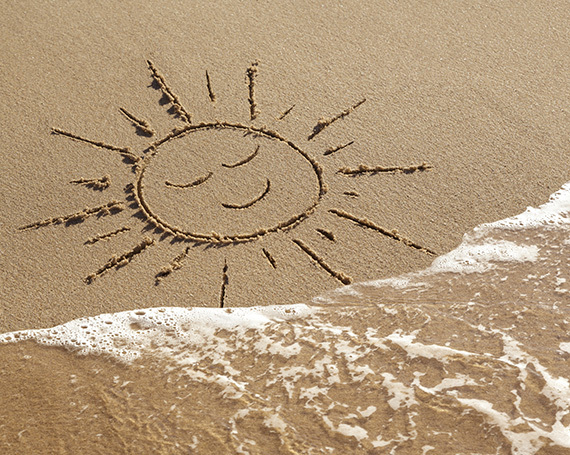 Why wait until New Year's Day to push the reset button when you can begin today?
Today, whatever day/time/month it is, why not ask yourself this question:
If you could do anything you wanted, how would you want your career and life to be?
New clients come to me in a state where they have handed over their power to others, and they are no longer leaders in their own lives.
One of the first lessons I teach them is that they have the power to choose how they want to be.
My one wish to you is that you start the New Year with an intention. Don't just get through mindlessly like a zombie. Instead, this year be present, show up fully every day, and be your best self.
It starts by being happy. Happiness is an inside job. And you have control over your happiness and well-being.
I've collected 21 quotes to help you begin your day on a happy note:
1. "Folks are usually about as happy as they make their minds up to be." ― Abraham Lincoln
2. "For every minute you are angry you lose 60 seconds of happiness." ― Ralph Waldo Emerson
3. "Happiness is when what you think, what you say, and what you do are in harmony." ― Mahatma Gandhi
4. "Happiness is not something ready made. It comes from your own actions." ― Dalai Lama XIV
5. "Count your age by friends, not years. Count your life by smiles, not tears." ― John Lennon
6. "You will never be happy if you continue to search for what happiness consists of. You will never live if you are looking for the meaning of life." ― Albert Camus
7. "The most important thing is to enjoy your life--to be happy--it's all that matters." ― Audrey Hepburn
8. "No medicine cures what happiness cannot." ― Gabriel García Márquez
9. "Sometimes your joy is the source of your smile, but sometimes your smile can be the source of your joy."- Thich Nhat Hanh
10. "It isn't what you have or who you are or where you are or what you are doing that makes you happy or unhappy. It is what you think about it." ― Dale Carnegie
11. "Let us be grateful to the people who make us happy; they are the charming gardeners who make our souls blossom." ― Marcel Proust
12. "It's been my experience that you can nearly always enjoy things if you make up your mind firmly that you will." ― L.M. Montgomery
13. "Let no one ever come to you without leaving better and happier. Be the living expression of God's kindness: kindness in your face, kindness in your eyes, kindness in your smile." ― Mother Teresa
14. "Happiness depends upon ourselves." ― Aristotle
15. "Those who are not looking for happiness are the most likely to find it, because those who are searching forget that the surest way to be happy is to seek happiness for others." ― Martin Luther King Jr.
16. "Whoever is happy will make others happy." ― Anne Frank
17. "The greater part of our happiness or misery depends upon our dispositions, and not upon our circumstances." ― Martha Washington
18. "Happiness is not a goal...it's a by-product of a life well lived." ― Eleanor Roosevelt
19. "Happiness is not a possession to be prized, it is a quality of thought, a state of mind." ― Daphne du Maurier
20. "The more you praise and celebrate your life, the more there is in life to celebrate." ― Oprah Winfrey
21. "I think happiness is what makes you pretty. Period. Happy people are beautiful. They become like a mirror and they reflect that happiness." ― Drew Barrymore
"We are responsible for our own happiness. People who are in control of their lives are content." - Nozomi Morgan
You are the leader of your life and responsible for your own happiness.
If you are ready to be your best self and excel in your career, download this free Leadership Discovery Tool and find out what success really means to you.
What is your favorite quote on happiness? Share in the comments section below.
Nozomi Morgan, MBA, is a certified Executive Coach and the Founder and President of Michiki Morgan Worldwide LLC. Addition to coaching, she speaks and trains on leadership, career, professional development and cross-cultural business communication.
Popular in the Community