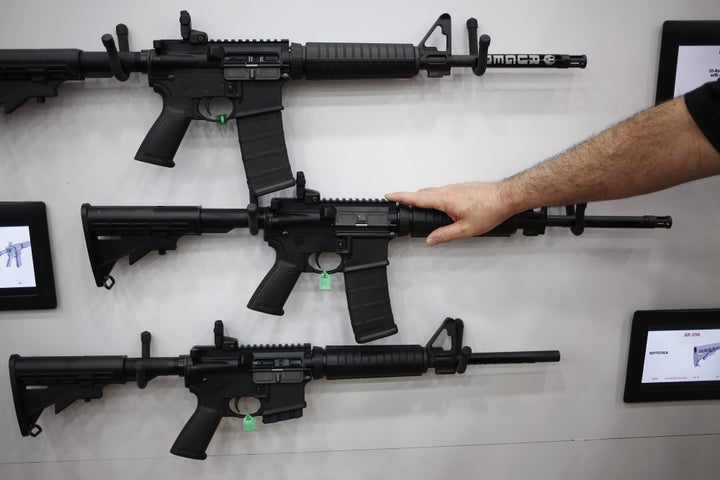 The school shooting last month in Parkland, Florida, has sparked another passionate debate about the dangers of assault-style rifles, such as the AR-15 used to kill 17 people at Marjory Stoneman Douglas High School. The conversation has understandably run high on emotions, but it has also lacked a concrete answer to a question at the core of this issue: How frequently are these weapons actually used in fatal shootings around the U.S.?
Supporters of gun reform believe it's far too easy to get these semiautomatic rifles, which can be equipped with magazines that hold 30 rounds or more and have been used to quickly inflict mass casualties in numerous horrific shootings over the past few years. They argue that these worst-case scenarios are reason enough to restrict access to this sort of weaponry.
But defenders of assault-style rifles note that these firearms appear only rarely in the more than 11,000 firearm homicides around the U.S. each year. The overwhelming majority involve handguns, according to federal data and other counts, including one done by this reporter in 2016. Because of that fact, gun enthusiasts argue that banning assault-style weapons would do very little to drive down overall levels of gun violence while unfairly targeting the millions of people who use them legally.
That may be a fair argument considering the available evidence. But a closer look at the most commonly cited data reveals serious deficiencies that make it impossible to determine exactly how many people are killed each year with assault-style rifles ― or with any kind of firearm, for that matter. By relying on this system, we're almost certainly undercounting these types of deaths, though by how much is unclear.
Right now, our best idea of total slayings by assault-style rifles comes from the FBI's Uniform Crime Reporting (UCR) program, which compiles general crime statistics from police departments across the country. Individual law enforcement agencies typically report their UCR data to state authorities, who pass them to the feds. Many departments also provide supplementary homicide reports, which offer additional information about the crimes, including the type of firearm used.
But reporting to UCR is voluntary, as are the supplementary homicide reports. Although the FBI says 18,000 law enforcement agencies participate in the UCR program, many agencies do not. Some departments contribute to UCR but don't provide the additional homicide data.
The process is imperfect even among agencies that do provide this supplementary data. For one, police can't give details on homicide cases until they have officially declared them to be homicides. That process can take take months or longer, which can lead to a lag in the data. Some agencies may also provide supplementary homicide reports only to have the FBI exclude them because they don't meet federal guidelines.
In 2016, the FBI recorded 11,004 gun homicides. Cases from Florida and Alabama were not included, according to annual supplementary homicide data provided to HuffPost, omissions an FBI spokesperson attributed to state reporting practices and data that didn't meet federal guidelines. The CDC hasn't released its final count for 2016, but if previous years are any indicator, its number may end up being substantially higher.
Matters only get more complicated when trying to determine the nature of each gun death in this limited set. According to FBI data, there were 7,105 homicides by handgun in 2016, about 65 percent of the total, alongside 374 homicides by rifle, just over 3 percent of the total. Although there are plenty of rifles that aren't assault-style, AR-15s and other similar weapons have become the most popular firearms in this category, according to the gun industry.
But even here, there are glaring holes in the data.
The type of weapon is not specified in 3,077 of the FBI's 11,004 gun homicide cases, about 28 percent of the total. There are likely a few reasons for this ambiguity. Many of these cases haven't been solved when police fill out supplementary homicide reports, meaning they may not know what kind of gun was used. Some departments may also document cases generally as gun homicides, without providing additional details on the type of firearm.
There's not necessarily any reason to believe there are a huge number of rifle homicides hiding in this category, but if the breakdown is similar to those cases in which the weapon has been identified, it would account for about 100 additional homicides by rifle. We'll probably never get a definitive answer as to the nature of these cases, because police departments don't typically go back and adjust supplementary homicide reports when more information comes to light.
The FBI's data on rifle homicides also come up short in other ways. By excluding reports from Florida, its 2016 figure doesn't include the 49 people killed in the 2016 Pulse nightclub shooting in Orlando, for example. The gunman in that incident used an assault-style rifle modeled off the AR-15.
Nor does it include any of the 848 gun homicides that Florida agencies reported to the state's Department of Law Enforcement in 2016. Among those were 405 cases that involved handguns and 443 homicides that involved "other firearms," a broad category that includes rifles, shotguns and other firearms that weren't specifically identified. A spokesperson for the Florida Department of Law Enforcement did not immediately respond to a request for more detailed data.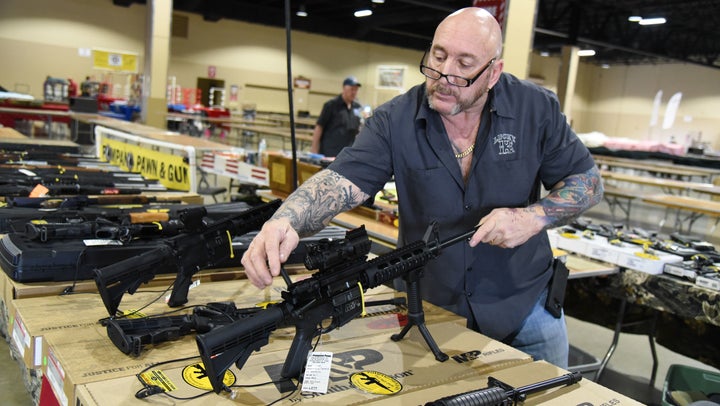 There were an additional 396 homicides in Alabama in 2016, none of which are included in the FBI's data. Although handguns were used in 64 percent of those cases, 4 percent involved rifles, shotguns or "other firearms," according to the Alabama Law Enforcement Agency. Again, this imprecise itemization offers little insight into exactly how many of these cases involved rifles, let alone assault-style rifles.
After all of this, what we're left with is only a vague understanding of the problem we're hoping to solve. It's safe to say that handguns, not rifles, are used in the vast majority of fatal shootings ― a reminder that any comprehensive gun violence prevention policy must not focus exclusively on assault-style weapons. And regardless of how frequently AR-15s and other similar firearms are used in routine gun violence, it's also increasingly clear that just one of these weapons can cause immense harm in the wrong hands.
But with no solid accounting of how many gun deaths these assault-style rifles are currently responsible for, we can't establish a benchmark to determine the true scope of the problem and see if it's becoming more or less pronounced over time.
If we're going to debate the proper response to mass shootings and gun violence more generally, it would help to have a factual basis from which to operate. As with many areas of crime reporting, however, it seems unlikely that we'll be able to establish one anytime soon.
REAL LIFE. REAL NEWS. REAL VOICES.
Help us tell more of the stories that matter from voices that too often remain unheard.
BEFORE YOU GO
PHOTO GALLERY
Students Protest Gun Violence At White House