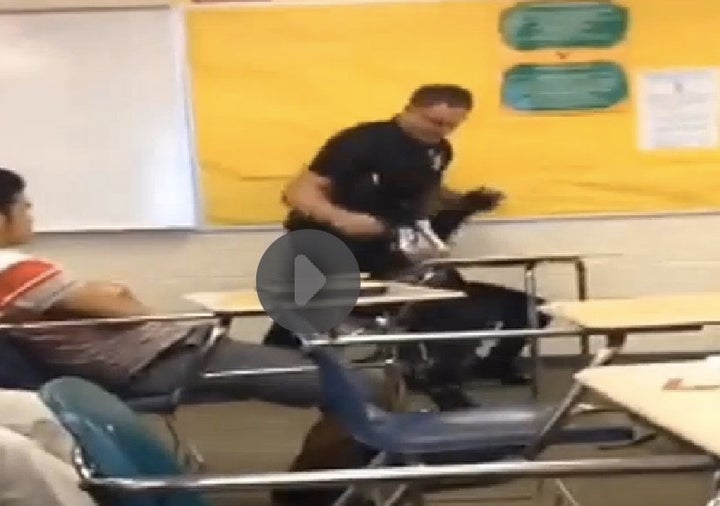 Todd Rutherford, the attorney for the girl identified only as Shakara, spoke to the Los Angeles Times just days after a horrifying video showed the school resource officer hovering over the student before upending her desk, knocking her to the floor and dragging her across a classroom.
Rutherford told the outlet the incident started after Shakara didn't put her cellphone away fast enough during math class. Before Sheriff's Deputy Ben Fields was brought in, she had refused orders to leave class from both a teacher and a vice principal because "she thought it was an unfair punishment."
The Huffington Post has reached out to Rutherford for comment.
The violent incident has allegedly left the girl with a cast on her right arm, injuries to her neck and back and a carpet burn on her forehead.
"She's bruised and battered and hurt — physically and emotionally," Rutherford said. "[It's] what you would expect after being tossed across the room like a rag doll."
The video of the encounter, captured by another student, made its way swiftly through social media circles and news outlets. Fields -- referred to by some students as "Officer Slam" due to his large stature and reputation for violence -- was subsequently banned from all school district property and fired.
"Ben Fields did wrong this past Monday," Richland County Sheriff Leon Lott said at a news conference on Wednesday.
"If she had not disturbed the school, disturbed the class, we would not be standing here today. It started with her, and ended with my deputy," Lott said.
Another student, 18-year-old Niya Kenny, was taken out of class by Fields, and both students face misdemeanor charges for "disturbing schools." If found guilty, they could face a $1,000 fine and 90 days in jail.