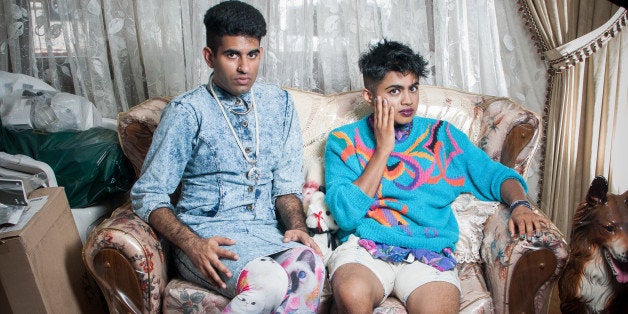 "ASSEMBLAGE" is an inquiry into the different ways artists utilize performance and technology to explore and express different notions of identity. An effort to push forward marginalized artists with a focus on people of color, non-western nationalities and those along the queer/trans spectrum, "ASSEMBLAGE" provides a platform for analysis of how art and performance intersect with the lives of these individuals who are visibly and openly existing in the digital age. This is the second installment.
Dark Matter is a trans South Asian performance art duo comprised of Alok Vaid-Menon and Janani Balasubramanian, a prominent pair of voices operating at the intersection of the arts and activism.
The work of Dark Matter is complicated, much like the many, nuanced layers of identity the pair navigates on a daily basis. Having been described as living art installations, poets, comics, activists, organizers and a plethora of other identifiers, Dark Matter prefers to notdefine themselves by relying on these terms.
"I think so much of our politics is about resisting categorization and I feel like if we say we're just poets or we're just comedians or whatever that's kind of restrictive," Vaid-Menon explained. "For me, I think we're doing fashion, we're doing comedy, political speeches, public speaking, we're doing poetry, oral tradition, history telling. I think of it more as kind of a collage but I think the best word that we have to describe what we're doing is performance art."
Vaid-Menon and Balasubramanian met while in college out of what they describes as "profound disenchantment" with the political organizing work happening in their university, particularly when the pair would find themselves as the only people of color in the room.
As a creative project, Dark Matter is rooted in the pair's early days of becoming politicized together, as well as their experiences working in solidarity with queer advocacy groups in Palestine. The name itself -- Dark Matter -- is a nod to scientific notions of how humans understand dark matter and energy as a theoretical concept. It is a metaphorical descriptor for mainstream narratives that are used to wash over various stories, possibilities and systems of oppression.
"Dark matter and dark energy are about 96% of the universe but we only understand them and their effects as the way that they affect the gravity of the visible, or light, objects around them," Balasubramanian elaborated. "So we were thinking about how so many things that we talk about, excavate and create around are things that are unimagined or invisible."
The heart of Dark Matter's creative efforts is an emphasis on cultural work. When curating a project, the pair views what they're doing as organizing stories. This happens, in part, by questioning what the dominant narratives Western culture has about the lives of queer and trans people and elevating work that subverts these given notions.
"I feel like one of the issues that we see happening in all of our movements –- not just the LGBT movement -- is a de-emphasis on cultural work like art and performance," Vaid-Menon told The Huffington Post. "Cultural work is often seen as 'fun' or 'nice,' but it's not viewed as something that we should actually invest in politically. And, for me, I think we forget over and over again that no matter how many policies we change, no matter how many legislations we pass, people's hearts and minds aren't going to change. The only way to actually change people's hearts and minds is to engage them with feeling and emotion. Because often oppression is incredibly irrational."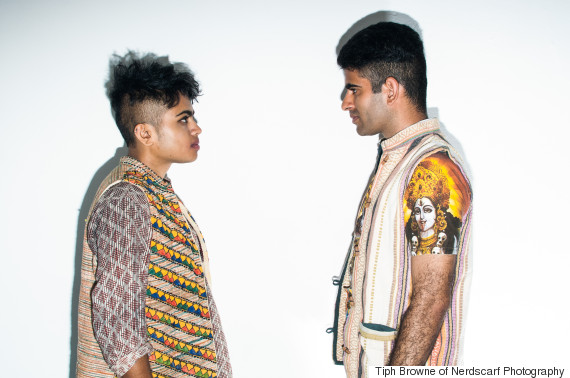 In this same vein, the remarkable cultural work being done by Dark Matter is unique in the art world because of the pair's commitment to building relationships with grassroots political and activist organizations. Vaid-Menon and Balasubramanian often use their platform to amplify the work of and fundraise for various organizations committed to racial and economic justice.
"What we've noticed is that artists often get more followers and bigger bases then some of the most important grassroots organizations in this country," Vaid-Menon continued. "So, a lot of times people will hear an idea and not understand that idea has a long history of relationship to struggle... we recognize that we can only call ourselves political artists if we're actually trying to do this work of fundraising and allocating resources to queer and trans organizations across this world who are doing really important work."
These politically-aligned performances open up spaces for conversation surrounding not only identity, but a broader questioning of what it means to be an individual existing at the intersection of these complicated shades of identity. For Balasubramanian, a performance is never seen as necessarily good or bad. Rather, each performance is an opportunity for a verbal exchange surrounding the politics being elevated by these two trans south asian artists. "I think every performance then becomes opportunity," they told The Huffington Post. "This is the conversation that emerges from each one based on how people reacted, what they wanted to talk about afterwards, who approached us, what kind of interventions or changes happened before and after. I think we're able to offer a particular way of reflecting on so many things whenever we arrive and do a show. But the real work is in those moments of before and after."
The Internet has, in part, enabled these two political artists to connect with a massive amount of queer and trans individuals on a global level who may not have the ability to engage with transgender people of color living and existing visibly otherwise. While the Internet is a complicated medium, it has played a foundational role in the development of Dark Matter.
"The Internet is one of the only spaces that a lot of trans people, especially trans feminine people, can actually engage in politics," Vaid-Menon explained. "So many times when trans femmes go out to rallies there's tons of harassment, sexual violence and police brutality... That's why I'm really committed to making our work as accessible as possible, and the Internet has allowed us to disseminate to people across the world who don't have access to various spaces, who don't have access to living the genders that they want to... I also wish we could have more conversations about how people are more complex than our representations on the Internet. I think there's this weird way now where the Internet is increasingly conflating our social media profiles with our essence and that's concerning."
The work of Dark Matter is multi-faceted and extremely important at a time when the bodies receiving the most visibility and voices receiving the most amplification within the queer movement tend to be white and identify as gay. As mainstream transgender visibility becomes more of a reality, it's important that we continue to elevate the stories of those most affected by institutionalized systems of oppression and colonialism -- namely queer and trans people of color -- and recognize that gay marriage alone in no way translates into liberation for queer people.
"When we think about liberation, it's not just about 'I want a world that accepts me for being trans,'" they told The Huffington Post. "It's 'I want a world where every single person can self-determine their gender'... for us, trans and queer liberation isn't just about trans and queer people. It's about everyone. It's everyone under the systems that oppress people on the basis of their gender and sexuality, as well as their race, class, etc."
Popular in the Community