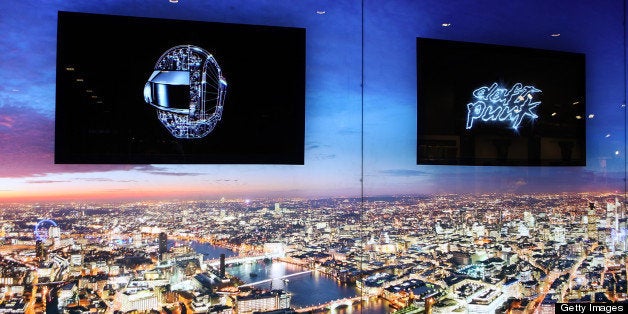 If there are two words most spoken in the world at the moment by all people, I would safely say they are Daft Punk. As I ride into year 20 of my DJ career, this is a curious phenomenon to see so many people cozy up to what I've loved for 18 years now. I wasn't at Coachella, I never saw the pyramid, I didn't want everyone to love MY Daft Punk. I've gotten over that Indie Rock mentality of loving something until other people do and have since set Daft Punk free. Just in time really as the entire world is all up in their business. I'm not writing this about sales, where its #1 or the record they set on Spotify, this is about one man, one fan's interpretation of the tornado that is Random Access Memories and what led up to the twister.
When I first heard the whispers that a new album was actually happening, all I could think was sheer impending happiness. I remember the very first time I put the needle on the white label vinyl of "Da Funk" (which I still own, of course) and how much rich emotion that track brought out of everyone who ever heard it. I was lucky to have been running a record store at the time (Satellite Records in Atlanta, GA) and had previously witnessed the reception to their first single "The New Wave" the year before. I was always a bigger fan of its b-side eloquently named "Assault" because it was so close to the subterranean soundtrack to my Midwest Rave beginnings; their music made me much less homesick for Chicago. Sadly, running that record store prevented me from traveling home to Even Furthur, where they performed live for the first time on U.S. soil. A year later, Homework was released and changed just about everything about everything -- it possessed all of us. What a perfect record, with perfect tracks, articulating perfectly the lack of joy in the '90s and changing it with a single album. I remember hearing those tracks everywhere I went in the night for years after the album's release. A true game-changer of a record.
Bangalter's Roule released an anthem to me and one of my favorite pieces of music that brings me to tears every time I so much as hear the opening notes, "Hold On" by ("One More Time" vocalist) Romanthony. Both Tomas' own "Trax On Da Rocks" & his collaboration with DJ Falcon "Together" were deeply stitched into the fabric of House Music worldwide. What you have to remember is these deeply underground records shared a label with Stardust "Music Sounds Better With You," which couldn't have possibly been a bigger hit worldwide at the time. Still, to this day, this record elicits the exact same response it did when it was released on any dance floor, anywhere. This is exactly what Daft Punk has always done so well; writing mass-appeal hit records while still appealing to the most underground aspects of Electronic Dance Music.
By the time their second record (Discovery) came out, I was steeped in Electroclash and was more concerned with the colder moves of Miss Kittin and Fischerspooner than I was of the warmth of Tomas & Guy. I was also immersed in both inspiring and helping Felix da Housecat create his masterpiece, 'Kittenz And Thee Glitz'. I contributed lyrics and music to half the album, not the least of which was "Silver Screen (Shower Scene)" which became a seminal record of that era. Daft Punk's "One More Time" and "Face To Face" made their way to me but had no place in my DJ sets at the time. The helmets seemed too "showy" to me then and the Gap commercial with Juliette Lewis looked ridiculous from the Underground where I was at that time. Their success seemed like a betrayal to us. Some days I was in awe of them, other days just jealous. It was usually the latter and for my own creative self-preservation I pushed them out of my mind for years. It seems ridiculous to me now but at the time it's what I had to do to be able to approach my own music and my own musical journey with fresh ears.
Cut to Coachella and the pyramid. Now I was really pissed! All these people talking about Daft Punk online and out in nightlife in New York City. I had danced to them DJing on dance floors in Miami at Winter Music Conference to less than a hundred people, why would I want to see them perform in front of tens of thousands? This stupidity kept me from witnessing the "chrysalis to butterfly" moment of EDM and unarguably one of the best concert moments of my lifetime, so I've been told by everyone who was there. There was no denying that they transformed America and showed us that Dance Music could translate onto the arena canvas in this country; they are solely responsible for that in that specific moment. I began to pull my head out of the sand a little bit and started coming back around, remembering why I had loved them so much, one memory at a time.
Back to the impending happiness I spoke of earlier, hearing of a new Daft Punk album. There were so many rumors, so many secrets; the whole world was buzzing about something that hadn't even been confirmed yet. Looking back on what they had done, I realized that their first album, Homework had turned the Rock kids on to Dance Music and their second album, Discovery had turned the Dance kids on to Rock. It was clear, hindsight being 20/20, that they had redefined music twice in their career and were about to do it again a third time. Whispers about Nile Rogers and Moroder got tossed around; this was genuinely exciting and felt like a new beginning, and for so many people it truly is, as those older studio albums are so far in the past (16, 12, and 8 years ago) that to many, Daft Punk is only of legend to them.
First it was the artwork which we all stared at for days, then short ads on Saturday Night Live with teases of songs we kept replaying. Next billboards popped up in major cities and awe ensued. The Collaborator Series debuted with another legend at the helm, none other than Giorgio Moroder; now things were really revving up! Todd Edwards told us of the fairytale sessions that made him move to LA, while Nile Rogers taught us that not only is he the coolest cat around but has the enthusiasm of a teenager towards the music he loves. I have never in my life seen an impending album have this kind of effect on the zeitgeist like this was having, and it was well over a month away from coming out. Then came the shaky iPhone videos from Coachella announcing the rest of the collaborators along with the first view of the music played by the robots with Nile and Pharrell Williams. It felt otherworldly and it was glorious. A Vine of the track list appeared and Columbia Records showed the world they knew how to market a record like it actually is 2013. Pharrell spun tales of a drink that made him forget the recording sessions and painted a romantic portrait of how to listen to the album. Next came the inevitable.
"Get Lucky" leaked and my first thoughts to Twitter were that Daft Punk will heal our wounds, they make me forget how messy the world is and how the song itself makes me feel like the first time I took MDMA each time I hear it. I listened to it a senseless amount of times that day and many more times since. The Collaborator Series continued; Panda Bear talked of Indie daydreams while Gonzales spoke of musical mathematics. DJ Falcon spoke of Motorbass (one of the best House Music albums ever made) and Paul Williams told tales of sobriety and showing tenderness in the studio. Could people possibly be prepared for raw emotion like this? I'm not even sure I was, but was ready to try.
Interviews began to appear. Some in-depth, some pedestrian. I felt a crack in the helmets as I learned of the human side of Tomas & Guy as grown men. I didn't want these robots to have kids, opinions, emotions, words. I wanted the mystery to remain and with it being peeled away with each word count I began to wonder what was next. They spoke of searching for the future but with this album, they stopped all that. They spoke of the spirit of House Music in one interview with Pete Tong on the BBC in London and nailed it. They also talked fashion on a blog with model/singer Sky Ferrera; it began to be confusing. EDM came up in interviews and they panned it, which made zero sense as EDM paved the way for this album's reception. To me, Daft Punk is to EDM what Kraftwerk was to House Music. It seemed odd to me that Daft Punk who started out making tracks almost entirely out of samples in a very old-school way had grown up to be these sophisticated musicians who decry the young kids making EDM. There were plenty of people in the '90s making House Music with live instruments & Daft Punk weren't among them. Then, yesterday, the album leaked.
For months it had been made clear this wasn't a club record. They made a record paying tribute to the music that inspired them to make music and continues to inspire them today. They essentially solved the Rubik's Cube by making a record recorded like a '70s Rock track, "Get Lucky" which has no definable kick drum, into the biggest club record in the world topping iTunes in 55 countries and parking at #1 on Beatport since its debut. All of this couldn't have prepared any of us for what we heard. This was a totally new side of Daft Punk and the large majority of people on social media couldn't wrap their heads around it. This inspired severe reactions in people -- they loved it or hated it with NOTHING in between. Brief listens translated into harsh criticisms, questions arose: Will there be a video? Will they tour, Will they...
The afternoon turned into comedy as bloggers born in the '90s were writing about the elements of "'80s" and "Disco" in the album. Anyone expecting this to be a club record had missed the point entirely. This was an album that took three years to make with the blood, sweat and tears that are required of perfection. Tomas and Guy proved (at least to me) that the cinematic vision they acquired making the Tron soundtrack could be translated into a Pop album. Serving as both a love letter to the most alienated music nerds as well as AOR (American Rock & Roll), this is NOT the album anyone expected from them. People couldn't process it and they seemed to forget that just because someone doesn't give you what YOU want doesn't mean it sucks. There were so many underhanded & biting anti-Daft Punk tweets from insecure producers; some of the biggest in the business. I find it even more curious the producers that haven't said a word about it. "Within" speaks to the lonely Midwest Raver in me while "Touch" speaks to the part of me that is eight years sober. Every song gave me goosebumps; every song almost made me cry. This is music I've only ever heard in my dreams. Now I can hear it whenever I want to.
Many downloaded the poor quality leak; that is of course true. The one's who then buy it are the real participating fans. Download all the music you want, just don't call yourself a true fan of anyone's music you don't pay for; it's that simple. How do you "pay it forward"? Bring your friends to shows and get others to buy the music you love; that is true support of artists. We only throw down money for what we truly love and love to support; the rest just clogs up our iTunes. It seems like you are only a fan of the music you buy. Stolen music comes and goes while paid for music demands your respect and your ears. If free downloads do not inspire you to buy music from the artists you enjoy, then you are a taker and do not truly share in the experience. Keep in mind here that the album in question costs less than most drinks in NYC clubs and much less than a hit of whatever stardust turns your night upside down.
All I can really say about it is that I feel like I just stumbled on a new window that looks out into the greenest of pastures. It makes me feel young again, like anything and everything is possible. This is the ultimate goal of any piece of art. If two producers can make an album this far removed from what is trendy that they themselves become the trend, then really anything IS possible. This album moves me in a way that modern music or art rarely does. You can feel the chances they took to make this record, you feel the risk while listening; it's in the DNA of the tracks. To make something so beautiful out of the chaos of our world is rare. I'm in awe of this album and not afraid to say so. I remember what my life was like before this album and can only dream of what it's going to be like after. I've lived almost half my life with Tomas and Guy in it. I've learned too many things to mention from them over the years. My memories of them and with them are not random at all, they are the opposite. Daft Punk embody the ultimate goal of all artists; to do exactly what you want to do no matter what the consequences may be and there is nothing that is more "daft" and more "Punk" than that.
Popular in the Community