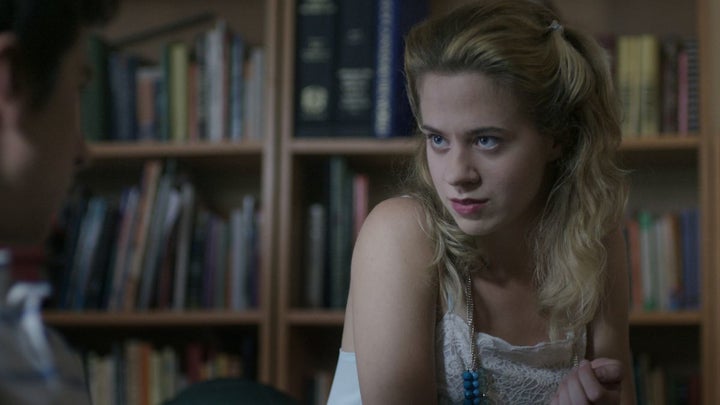 For rising acting sensation Sasha K. Gordon, stepping into the role as "Natasha," in the eponymous named film may have been a daunting challenge, but something that reinforced her own experiences with assimilation.
"I've always felt as a foreigner even in my own country so I could really relate to Natasha in that respect," she tells me. "I, too, grew up really fast - not necessarily in the same way that Natasha did, but In terms of assimilation, the film points out that some people have a harder time assimilating and some never will."
Gordon, a native of Odessa Ukraine, moved to the U.S. at 16, and earned a degree in marketing and finance from Fordham University, all the while pursuing her dreams as an actress.
"Natasha," a film written and directed by David Bezmozgis based on his acclaimed short story from over a decade ago, opened at Lincoln Plaza Cinemas in New York last week. Bezmozgis, a native of Riga, Latvia who moved to the U.S. at the age of 6, has already been compared to Bernard Malamud and Philip Roth for his literary prowess. "Natasha" represents his film debut.
In "Natasha," Bezmozgis explores the forbidden romance between a 16-year-old Russian Jewish kid, Mark Berman, and his cousin by marriage, a 14-year-old girl from Moscow. Natasha carries with her a most damaging and scandalous past, which only compounds her troubles with assimilation in a foreign land. Natasha arrives after Mark's brother imports a bride from Russia. Natasha is initially resentful for being uprooted from the motherland, and Mark is asked by his parents to show her Toronto's placid city life.
While Natasha's secrets come to light as their friendship matures to an illicit romance, her difficulties with assimilation remain as a prevalent motif throughout the film.
"I'd long nursed the desire to make a faithful film about the Russian-Jewish community, and "Natasha" felt like the right source material," Bezmozgis wrote in Zoetrope All Story. "The mystery at the heart of the story – the truth of the conflict between Natasha and her mother – still intrigued me. Perhaps my primary motivation for turning 'Natasha' into a film was to render a faithful account of contemporary North American Russian Jewish immigrant life on the screen. I'd seen it done in Israeli cinema, but never North American. To do it, the film needed to be mostly in Russian and cast with real Russian-speaking actors," he continued.
"Natasha' is an intelligent story, an unbiased view of what happens when two different worlds meet," adds co-star Deanna Dezmari, an actress living in St. Petersburg who plays Bella. "The film shows the immigrants very truthfully. People from Eastern Europe are in so many ways like the Bermans in the movie; they enjoy a peaceful and stable way of life in Canada; they value the family traditions and sometimes get so nostalgic about their homeland."
Natasha is a victim of child pornography while a young girl in Moscow. In this respect, she grew up way earlier than Mark, but has yet to come of age with experiencing true love. Even her own mother seems to sabotage her at every turn.
"You're lucky, you have a real family," Natasha tells Mark. "You don't what it's like living there. The world was founded on unnatural acts."
"Natasha was already grown up when she arrived," says Gordon. "Her journey was of that she learned how to love… I think she had her heartbroken for the first time even though she would like to admit that. "
Gordon was nominated for best actress in a leading role at the Canadian Screen Awards this year for her portrayal of Natasha. She said she "was drawn to the multidimensional and complex character in the story.
"It presents different waves of immigrants: the more settled ones and the more recent ones who come off as the survivors and hustlers such as Natasha and her mother," adds Gordon. "Part of Natasha knows that she doesn't belong but she desperately wants to. Being from Odessa, I've always felt as a foreigner even in my own country so I could really relate to Natasha in that respect."
Gordon worked as an interpreter for Frontier Horizon, a charity organization whose mission is to improve the health, education and general welfare of orphans in Ukraine and Nicaragua. "Back then, I already felt like I was going on 30, if not 40, just like Natasha."
Earlier this year, Gordon made her theatre debut as a member of Wednesday Repertory Company in New York, and is the writer, lead actress and co-director of 'Unique New York."
"Natasha" premiered at Lincoln Plaza Cinema on April 28, and continues to garner critical acclaim nation-wide and abroad.
Support HuffPost
The Stakes Have Never Been Higher
Related
Popular in the Community