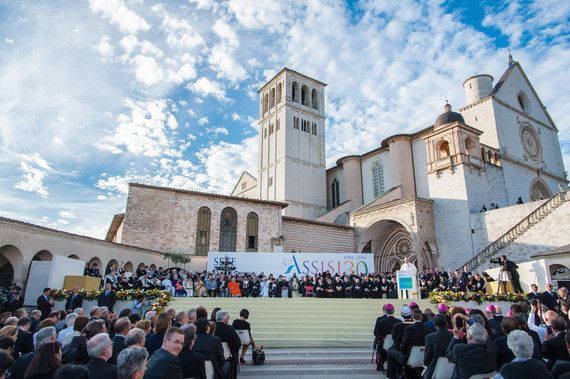 Photo, Tino Veneziano
It was an anxious moment in world affairs: October 1986. Demonstrations and tensions marked discord around wide-ranging topics. In an initiative that was at the same time inspiring and admired and intensely controversial, Pope John Paul II invited leading religious leaders from the world's leading religious traditions to a carefully orchestrated event in Assisi, a symbolic Christian center long linked to the message of St. Francis. The World Day of Prayer for Peace, on October 27, 1986, gathered 160 religious leaders. They spent the day together, fasting and then, individually and side by side, they prayed for peace. Thirty-two Christian religious organizations and eleven other non-Christian world religions participated.
The power of the event was twofold: the symbolism of religious leaders standing together with a peaceful, silent call for peace resonated. And it marked a new presence of religious voices in world affairs, a presence that has expanded and evolved ever since. It was controversial both because of a tendency to cynicism about dialogue and personal and moral approaches to the gritty affairs of states, and because bringing religious leaders together was (and is) no easy matter, given the many differences that separate their beliefs and practices. The visible domination of men in religious leadership circles jars many who are inspired by the spirit of Assisi.
But the 1986 Assisi day of prayer was not destined to be a single, symbolic event, a footnote in history and theology texts. Instead, each year since then religious leaders have gathered in different cities to pray, side by side, for peace, and to raise prophetic voices about the state of the world and to demand action. These remarkable meetings are organized by the lay Catholic Community of Sant'Egidio, in cooperation with the Vatican, with a stunning care to the human relationships that are involved and an eye to the many trouble spots in the world. Each meeting, whether in Sicily, Naples, Tirana, or Warsaw, echoes the 1986 meeting in its focus on prayer to deepen one's faith and the vivid symbolism of religious leaders standing and praying side by side.
The world's complex tensions are reflected in a steadily widening agenda as the meetings, also termed a Pilgrimage of Peace, have progressed. Active conflicts, whether in Syria, Iraq, Africa, and Israel/Palestine, are a constant focus. But the conviction that "development is the new name for peace" means that HIV and AIDS, poverty, marginalized groups, hunger, the situation of refugees, and the dangers of climate change are also discussed, in a rich array of panels. And each meeting concludes with witnesses to the harsh realities of conflict, a common declaration of commitment, transmitted through children to world leaders, and lighting candles together as a symbol of hope.
This year was special because it marked the 30th anniversary of the 1986 event. Once again Assisi was the site and a far larger group of religious leaders participated. Assisi offered its special beauty, plus a rainbow during the opening ceremony, followed by a downpour that soaked many participants, and bright sunshine for the closing day. The Ecumenical Patriarch, Bartholomeo of Constantinople, known as the "Green Pope" because of his passionate advocacy for the environment, was a leading participant, among some 600 invited leaders. Other notable leaders included Justin Welby, Archbishop of Canterbury, Olav Tveit, General Secretary of the World Council of Churches, many Catholic Cardinals and bishops, a large Orthodox group, a different Japanese religious leaders, and senior Jewish leaders. The leaders of the Indonesian NU and Mohammadia as well as other Muslim voices were present (unsurprisingly, with no specific single voice).
And Pope Francis participated actively, humbly as is his style, but, rock-star that he is, drawing large admiring crowds. Among the several messages and meditations he gave, the following illustrates the spirit: "The victims of war, which sullies people with hate and the earth with arms, plead for peace; our brothers and sisters, who live under the threat of bombs and are forced to leave their homes into the unknown, stripped of everything, plead for peace." And at the closing ceremony: "God asks this of us, calling us to confront the great sickness of our time: indifference. It is a virus that paralyzes, rendering us lethargic and insensitive, a disease that eats away at the very heart of religious fervor, giving rise to a new and deeply sad paganism: the paganism of indifference."
The 2016 meeting faced the challenges of a vast agenda of complex, horrific problems across the world that urgently need to be addressed. Syria and refugee crises loomed large but terrorist attacks, including the brutal murder of Father Jacques Hamel in France, memories of the Holocaust, and the bitter struggle in Central African Republic were vividly present. When prayers were offered for ongoing conflicts, the list was troublingly long.
There were countless inspirational messages - reminders of the calling for peace and the common human longing to set war and conflict aside. There were also sober reflections on the need for each person and each faith tradition to look inside and recognize individual faults and responsibilities.
A common theme was set by Pope Francis: "Our religious traditions are diverse. But our differences are not the cause of conflict and dispute, or a cold distance between us. We have not prayed against one another today, as has unfortunately sometimes occurred in history. Without syncretism or relativism, we have rather prayed side by side and for each other." And the broader agenda was evoked by Patriarch Bartholomeo: "But peace also needs justice. Justice is a world economy renewed, that cares for the needs of the poorest; it is paying attention to our planet's situation, safeguarding its natural environment, which is the work of God for believers, but also a Common Home for everyone. It also means to safeguard the cultural, religious, and artistic traditions of every people of the earth"
To conclude with more words of Pope Francis: "We never tire of repeating that the name of God cannot be used to justify violence. Peace alone is holy. Peace alone is holy, not war!...Today we have pleaded for the holy gift of peace. .. Peace means Welcome, openness to dialogue, the overcoming of closed-mindedness, which is not a strategy for safety, but rather a bridge over an empty space. Peace means Cooperation, a concrete and active exchange with another, who is a gift and not a problem, a brother or sister with whom to build a better world. Peace denotes Education, a call to learn every day the challenging art of communion, to acquire a culture of encounter, purifying the conscience of every temptation to violence and stubbornness which are contrary to the name of God and human dignity."
These are evocative messages for our time, bolstered by practical advice like that of Sant'Egidio's founder, Andrea Riccardi, who called for fresh thinking and greater boldness. He called on religions to leave behind old schemes, timidity, and resignation, and to be more daring. And the pilgrimage of peace continues, next year in Germany!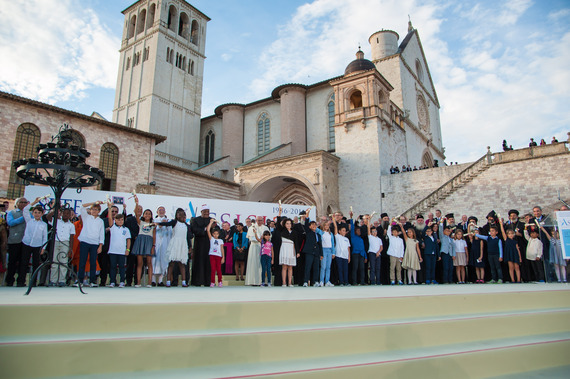 Popular in the Community