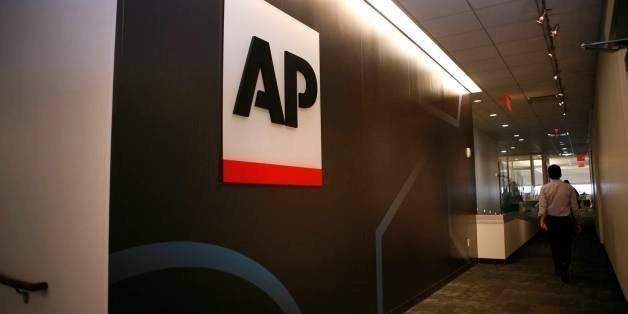 NEW YORK -- Brian Carovillano, the Associated Press' incoming managing editor for U.S. news, notified employees Thursday about several recent hires and more than a dozen open positions nationwide, a move that comes amid concerns over understaffing following dozens of newsroom departures in 2013.
"As someone who started my own AP career as a temp in Rhode Island, it's good to know that we remain committed to strong state government reporting by beefing up our reporting resources during legislative sessions and by prioritizing statehouse positions when they go vacant," Carovillano wrote in an email obtained by The Huffington Post.
Carovillano added that "what this all adds up to is further strengthening of our state and national reporting from across the U.S." That area of coverage, he wrote, "will continue to make us indispensable to our members and that clearly differentiates us from the competition. "
Carovillano's memo may help reassure AP staffers about management's commitment to staffing bureaus following a significant number of departures during the previous year.
Martha Waggoner, president of the News Media Guild, the union representing the AP, told HuffPost that 77 guild-protected employees left the company voluntarily in 2013, whether to take a job elsewhere or retire. There are roughly 1,000 total members of the guild, which is currently in contract negotiations with management.
But the guild's tally doesn't include some of the most notable departures of 2013, including the three AP staffers fired in October over an erroneous report involving then-Democratic gubernatorial candidate Terry McAuliffe. At the time, some AP colleagues viewed management's decision as too harsh and suggested understaffing contributed to the false claim that McAuliffe lied to a federal investigator reaching the AP wire.
The 2013 tally also doesn't include managers who have left the AP, such as national political editor Liz Sidoti, or the Pulitzer-winning duo of Adam Goldman and Matt Apuzzo. Goldman and Apuzzo accepted positions at The Washington Post and The New York Times, respectively, but their official end dates at the company are at the start of 2014.
Below is Carovillano's memo to staff with list of new hires:
Subject: Meet your new colleagues

Happy New Year,

I am just wrapping things up in Asia and will officially start my new job in New York on Jan. 27. I'm looking forward to working with all of you. The year ahead will undoubtedly require some travel for me, and I plan to take that opportunity to rekindle old relationships and forge some new ones. In the meantime, I want to take a moment to introduce you all to some new colleagues who have joined AP in recent weeks. Please extend to them a warm welcome and a helping hand as they adjust to the particulars of working for AP. In addition to these new hires, we have recently posted over a dozen jobs in U.S. bureaus and regional desks. We have hundreds of applicants for these positions, and it is gratifying to know how many journalists want to work for AP.

The postings include state government jobs in Kentucky and New York; beat reporters in Boston, Newark, Cleveland, Atlanta, Baltimore, Maine and Tucson; a broadcast editor at the Central Desk; regional deputies in Atlanta and Phoenix; a VJ in Houston; an investigative reporter in Washington. A number of legislative temp positions are being filled as well. As someone who started my own AP career as a temp in Rhode Island, it's good to know that we remain committed to strong state government reporting by beefing up our reporting resources during legislative sessions and by prioritizing statehouse positions when they go vacant. What this all adds up to is further strengthening of our state and national reporting from across the U.S. This is an area that will continue to make us indispensable to our members and that clearly differentiates us from the competition. That's why it has been identified as one of our top strategic priorities for 2014, along with video in the Middle East, Latin America and the United States. In the coming months, we will also be devoting more resources to investigative reporting and to building out our U.S. video capabilities.

The positions we are now filling reflect those priorities, and I would encourage you to look over the full list at careers.ap.org. If you know good candidates, please let them know that AP is hiring and encourage them to apply. While we already have a lot of applicants, our goal is to put the best possible team on the field, so your recruiting help is greatly appreciated. Without further ado, please join me in welcoming these journalists to the company and keep an eye out for the other hires we'll be making in the coming weeks and months.

Alanna Durkin, Statehouse reporter, Maine
Regina Garcia Cano, breaking news staffer, South Dakota
Alex Sanz, video journalist, Atlanta
Alan Suderman, statehouse reporter, Virginia
Jonathan Matisse, statehouse reporter, West Virginia
Shameka Dudley-Lowe, South Desk editor, Atlanta
Scott Smith, correspondent, Fresno
Tarek Hamada, West Desk editor, Phoenix
Misha Monroe, West Desk broadcast editor, Phoenix

Best,
BC

Related
Popular in the Community