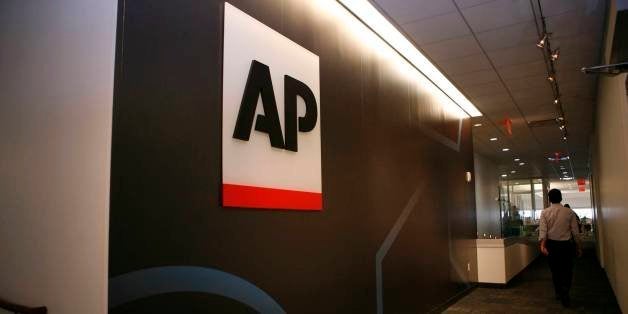 NEW YORK -- Former Associated Press news editor Dena Potter has filed a lawsuit against the news organization and Executive Editor Kathleen Carroll, who fired her and two other journalists over an erroneous October 2013 article about then-Virginia gubernatorial candidate Terry McAuliffe.
The lawsuit, filed in Richmond Circuit Court and first reported by Richmond's Style Weekly, alleges that Carroll acted with actual malice and made false statements about Potter.
The Huffington Post first reported on Potter's firing on Oct. 23, 2013, two weeks after the AP retracted its potentially explosive report that McAuliffe had lied to federal investigators as part of a fraud case. The AP also fired veteran political reporter Bob Lewis, who wrote the story, and Atlanta-based editor Norman Gomlak. Potter, who lost her job as news editor for Virginia and West Virginia, is now suing for $950,000 in damages.
The lawsuit describes how Potter was working with AP staffers on coverage of a shooting at a Wheeling federal courthouse around 3 p.m. on Oct. 9. Potter, by her account, received a call an hour later from Lewis, who said he was working on a McAuliffe story. Given that the shooting story was ongoing, Potter arranged for Lewis to work with Gomlak.
The lawsuit alleges that someone from the campaign of Ken Cuccinelli, McAuliffe's Republican opponent, called Lewis around 9 p.m. and pointed out that a federal case mentions someone identified as "T.M." as having lied to investigators. The reporter believed "T.M." to be McAuliffe and emailed the campaign for comment at 9:14 p.m. The McAuliffe campaign responded at 9:41 p.m. and told Lewis they'd have a comment within 15 minutes. (The lawsuit alleges that Lewis "did not share that information" with any editors until after the inaccurate story was published on the AP wire.)
Potter wrapped up her involvement with the courthouse shooting story at 9:34 p.m. and learned from Lewis that the McAuliffe story had "blown up" since they last spoke in the afternoon, a reference to new details that he had lied to investigators. She spoke with Gomlak around 9:40 p.m. to see when the story was going to be published, and by her account, "trusted" the editor and reporter "had the facts right." The story hit the wire around 9:45 p.m., and the campaign denied the charge about 15 minutes later. After internal discussions, the story was retracted from the wire around 11:23 p.m.
The lawsuit alleges that Potter followed AP standards and procedures and that Carroll's claim she had "committed a grievous error" in her handling is wrong.
An AP spokesman declined to comment on the lawsuit.
The silence isn't surprising given that the AP, at the time, cited a policy of not discussing personnel decisions amid questions over the firings. The incident received significant attention within media circles, with some journalists suggesting on Twitter that firing was too harsh a penalty. Inside the AP, staffers were particularly unnerved given that Lewis spent 28 years at the company and yet one mistake -- which he quickly took ownership of -- could lead to his dismissal.
Since the AP wasn't publicly discussing the firings, staffers questioned Carroll internally on several occasions in the weeks that followed.
On an Oct. 24 conference call, Carroll described the McAuliffe story as "grievously erroneous" and emphasized that "all mistakes are not equal," according to contemporaneous notes obtained by The Huffington Post.
Carroll also said the AP will be remembered for the error for "a very, very long time" and that the news organization had "failed our own standards." She also suggested that the "biographies" of the three journalists were irrelevant to the decision to fire them.

The lawsuit claims that Carroll "willfully, wantonly, and maliciously" had made "false and derogatory statements" about Potter during the Oct. 24 conference call. The lawsuit also notes that Carroll described the McAuliffe episode as an "extremely serious violation" of AP standards during a town hall meeting for employees the following month.
"Now, do we make mistakes?" Carroll said, according to verbatim remarks referred to in the lawsuit. "Well yes, despite the fact that we all strive mightily not to, and when we do, we move swiftly to correct them. But all mistakes are not equal. Some are too grievous and there is no recovery from them, and that was the case here. Mistakes as serious as this one put our reputation for accuracy at grave risk."
Below is the lawsuit, via Style Weekly: