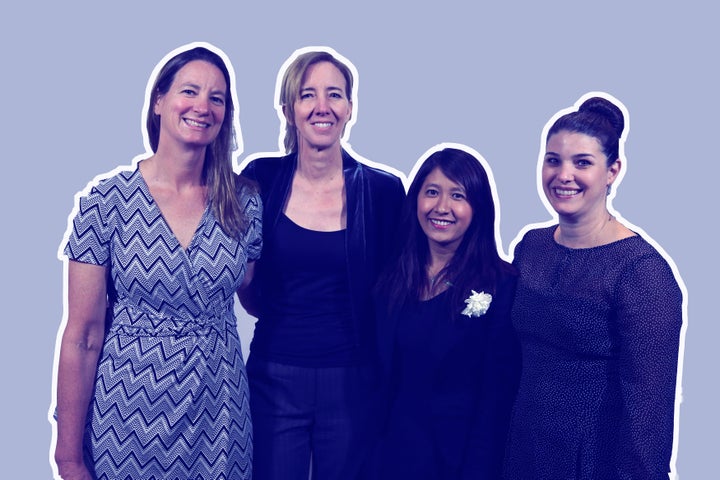 On a remote Indonesian island village, the reporters discovered them: grown men, held against their will in a rusty cage. They were fishermen, many of them hailing originally from Myanmar. But now they were trapped. They were forced to fish for grueling 20-hour days for little or no money, they said, and were whipped with stingray tails. All they wanted was to go home.
The team -- Martha Mendoza, Robin McDowell, Margie Mason and Esther Htusan, four tenacious reporters from The Associated Press -- immediately recognized the importance of what they'd found. For years, they'd heard stories about forced labor in the fishing industry. It wasn't new.
But now they'd uncovered an actual slave island.
What followed was akin to an action movie. The reporters filmed the captives at night, and were chased by hired muscle in a speedboat, their own small wooden craft nearly getting rammed.
Using satellite data, they tracked a large haul of slave-caught seafood to a Thai harbor and then staked out the ship for days, hiding out in the back of a truck.
Eventually, the reporters were able to prove that slave-caught fish was ending up in the U.S., where it would be served at restaurants, sold at grocery stores and processed into cat food.
The Huffington Post spoke via email with three of the four reporters who were responsible for the investigation to find out how they approached the story. 
First of all, why did the AP decide to dig deep (and dedicate significant resources) into the issue of slave labor in the seafood industry? Why now? And how did you end up centering your story on Benjina, Indonesia?
Margie Mason: I was encouraged by a source to look into this story while working on another piece with Robin about migration and human rights issues involving the Rohingya, a persecuted Muslim minority group from Myanmar.
He showed me some data about the number of stranded migrant fishermen found in Indonesia, and I was surprised to see the numbers going up every year. I took this information to Robin and we almost immediately said, "Let's do this." But we also realized that stories about abused fishermen had been around for a long time, so we would have to do something to make people care.
We decided we needed to try to find men who were captive, and we needed to follow their catch back to American grocery stores and restaurants and then name names. This was an incredibly ambitious idea, but AP embraced it and gave us the time, resources and space to really dig into it.
A source of ours at an NGO told us about Benjina. They hadn't been there, but had heard there were a lot of men on the island and conditions were bad. Of course, none of us ever expected to find a slave island. But that's truly what it was.
What were your goals in reporting out this story?
Mason: Aside from finding captive slaves and following their catch back to American dinner tables, we really wanted to present a story that was so specific and rock solid that it could not be ignored. Our main overall goal was to shine a light so bright on the Thai seafood industry that it would force change while raising awareness among consumers.
In what seems like a scene out of an action movie, two of you were chased by hired thugs in a speedboat. What was that experience like? Were there other times in the investigation where you felt you were in danger?
Robin McDowell: Yes, of course, we were petrified. Esther said at the time it felt like her soul was leaving her body. For me, everything was unfolding in slow motion. I fully expected our boat to be rammed and was looking at the shore to see how far we'd have to swim if that happened. I saw two tiny figures on the dock ... would they hear us? Thankfully, seeing I was a foreigner, the thugs called out and made a quick U-turn and disappeared back into the darkness.
Once on land, our focus shifted. Our main concern then was that we were going to be arrested and that all of our footage might be seized. That of course would have been disastrous for those who had dared to speak to us on camera. At best, we thought, the men would [be] severely beaten, at worst killed.
Before publishing your first story, your team faced an ethical dilemma -- you didn't want to endanger the men you identified in your reporting. Can you explain how you approached this problem, and how it was resolved?
Mason: The reporters, editors and top management of the AP were all in agreement that we could not publish the men's names or faces unless they were safe. We feared that if our story came out and they were still at the mercy of their captains, they could be hurt or killed. And we were willing to hold our story to do that.
I turned to a source at the International Organization for Migration for help. He went to the Indonesian Marine Police, and then they managed to get the men featured in our story off the island. Only then did we publish.
Robin, you were present in Benjina when hundreds of enslaved men were freed, just weeks after your story went live. Can you describe that day for us?
McDowell: We returned to the island with an Indonesian government team nine days after the initial story was published. They wanted to investigate the claims in the story. After interviewing a group of about 20 Burmese slaves, the officials decided it would not be safe to leave them behind. After all, they would be at the mercy of the same men who had been terrorizing them for so long.
The government team decided they had no choice but to move them to another island, and they were going to do it immediately. I couldn't believe it. I was sure they didn't understand just how many men there were. "All of them?" I asked. As soon as they said yes, fishermen started pouring out from the woods around the factory. First just a few, then dozens were streaming down the hills. There were hundreds. The officials hadn't expected that. But the decision had been made.
The men, on hearing this, started hugging. Others ran to their trawlers and leapt over the railings, jumping through the windows of their ship collecting whatever belongings they could. They jammed them into small plastic bags and started running back to the factory compound. It started raining. I was calling Margie, and telling her "They're freeing the slaves! They're freeing them!" It really was the most remarkable thing I've ever seen. I was so impressed by the Indonesian government at making such a quick and bold decision, so happy for the men, and so amazed that a single story could have such immediate and huge impact. How often, as a journalist, do you see that?
A key part of AP's investigation was drawing the line from seafood caught by slaves to U.S. supermarkets and restaurants. Can you explain how you used satellite data and database records to connect the dots?
Martha Mendoza: The refrigerated cargo ship loaded with slave-caught seafood had an automatic identification system (AIS) which transmits signals via satellite allowing for online tracking. We watched for two weeks, online, as the ship made its way in to port in Samut Sakhon, south of Bangkok. Margie and Robin met the boat, documented the catch being unloaded into trucks and then followed those trucks to factories. We used customs bills of lading to identify where those factories ship to in the United States.
What were the biggest challenges you faced while trying to reveal these atrocities?
Mendoza: The factories in Thailand weren't shipping direct to the U.S. in many cases. Instead they were supplying seafood to other factories, and so my colleagues in Thailand had to press those firms to learn where the fish went. Once it was in the U.S. we had a similar problem -- there's little transparency about where seafood companies sell their products, especially supermarket fish counters. So we had to visit more than 100 supermarkets, attend seafood conferences, dig through corporate records and even FOIAed the FDA at one point.
Any advice for other reporters who want to attempt a large-scale investigative project like this?
Mendoza: This worked because we were able to combine our capabilities, as a team, and accomplish much more than any of us could do alone. I encourage anyone doing a large scale investigative project to team up with colleagues, encourage each other, be passionate and tenacious.
Also, you have to really care about your issue. When Robin described the desperation of the men on Benjina, the graves, the beatings, well, we couldn't stop until they were free. We thought about them constantly, and as the year continued and we learned of more enslaved workers we again kept them foremost in our minds, day in and day out.
See all the award-winning pieces here: 
This interview has been edited for length and clarity.
Melissa Jeltsen covers domestic violence and other issues related to women's health, safety and security. Tips? Feedback? Send an email or follow her on Twitter.
Calling all HuffPost superfans!
Sign up for membership to become a founding member and help shape HuffPost's next chapter