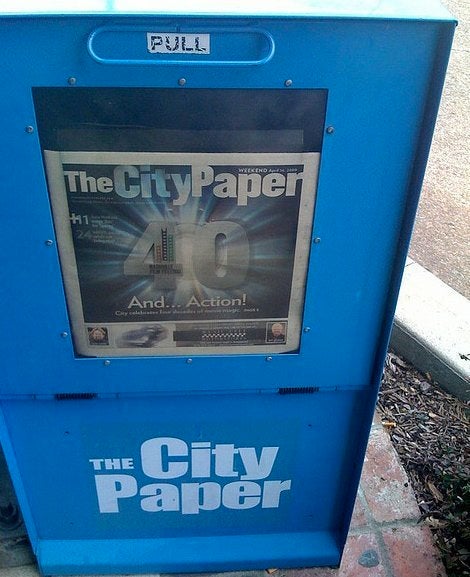 Could Detroit get more newsworthy this week? Actually, yes.
Alternative press journalists from across the country have flocked to the city for the 35th annual convention of the Association of Alternative Newsmedia (AAN). The event, which began Thursday, is being hosted by Detroit's Metro Times.
About 300 people, including speakers, staffers from publications like the Charleston City Paper and the Tucson Weekly and other industry movers and shakers are participating in the event.
The convention features a variety of sessions ranging from workshops on business writing and comics journalism to a presentation on marketing strategies for mobile phone and tablet media platforms and a roundtable discussion on adult personal ads. AAN will also present the national AltWeekly awards. This year, five Metro Times staffers are up for nomination: Brian Smith, Curt Guyette, John Carlisle (Detroitblogger John), Jack Lessenberry and Larry Gabriel.
Metro Times' Editor W. Kim Heron told The Huffington Post his paper lobbied hard to bring the conference to Detroit, because the paper's publisher Chris Sexson felt strongly that other weeklies could learn from city's example.
"We're really bullish about Detroit," he said, noting that while the region has had its share of problems, it has also been a place of great energy and vitality.
"We're in a city that's reinventing itself. A lot of what goes on here we can share with them," he said.
While it's no secret that Motown has faced its share of hard times recently, it's been a rough year for alternative weeklies as well. The AAN's top 20 papers experienced a 13.8 percent drop in circulation in 2011, according to the Pew Research Center's Project for Excellence in Journalism.
Heron is excited about the opportunity to tell out-of-towners about the reinvigoration of local businesses; to show them special Detroit attractions like the Heidelberg Project; and to introduce them to thinkers like activist Grace Lee Boggs and the Detroit-born author Thomas Sugrue, a University of Pennsylvania professor who is known for his expertise on urban history and civil rights.
He also thinks the convention offers a great opportunity for Metro Times staffers to get re-energized and to hear from peers who are dealing with similar issues.
"Were an editorial staff of a half a dozen or so. There's 300 people at the conference -- so suddenly you're not peculiar, he said. "You're with your people."
The 35th Annual Association of Alternative Newsmedia conference runs June 7-9 at Detroit's Westin Book Cadillac Hotel. For more information visit the AAN's website.
Related
Popular in the Community