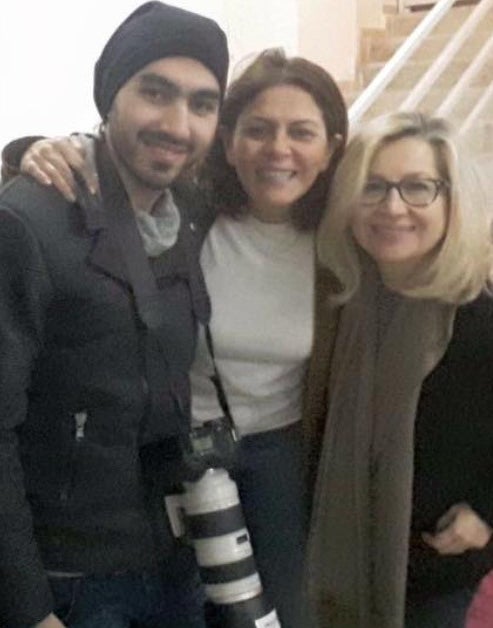 The latest attempt at a ceasefire in Syria is far from ideal and has come on the back of an illegal killing spree by the regime, Russia, Iran and Hezbollah. Nevertheless, it can be a positive development if it helps spare innocent civilians from the suffering that Assad and his foreign allies have inflicted upon hundreds of thousands of Syrians over the past six years. But for any ceasefire to hold and an agreement to work, views of those best placed to sustain a solution must be heard at the negotiating table.
I was recently reunited with an old student of mine, Bassem, who was one of the last to flee Aleppo, a city where he had lived his entire life. Bassem told me he stayed in Aleppo along with other members of Syrian civil society in hopes of laying the foundations for a better future for all Syrians.
Bassem – like many others in non-governmental and community groups across Syria – made clear to me that the protection of civilians must be the priority.
Indeed a ceasefire that leads to a significant reduction in the level of violence against civilians is the crucial first step towards improved humanitarian conditions and a political process. Bassem and civil society are right: unless the ceasefire largely holds (and there are concerns because of violations) there can be no political process.
Civil society organizations and women's groups have been on the frontline of the struggle for Syria's democratic future. Six years ago, they were at the forefront of the peaceful demonstrations asking for freedom, democracy, and rule of law and respect of human rights.
And then, after the regime's bloody repression started dragging the entire country into a horrific war, they stayed in Syria to help our compatriots. They stayed to provide assistance, help the families of those who had been detained or disappeared, monitor and document violations of human rights, and provide education to children and health care to those in need. It is these groups that ensure that Syria lives on despite the regime's horrors.
If the ceasefire holds and negotiations take place these are the organizations that will monitor violations of the ceasefire and implement political deals. They will establish the practical foundations of governance and they will be standing up to radicals by promoting education and participation. Only with them can any future political agreement survive.
As a woman, a member of the High Negotiations Committee (HNC) – and a peaceful activist, my hope, along with many other Syrian women, is that any upcoming peace talks will be in accordance with the Geneva communiqué and UN Security Council Resolution 2254. We must have a political transition that has democracy, inclusion, gender balance, justice and accountability.
We, the women of the HNC, have been committed to the UN-led Geneva talks from the beginning. We have played a crucial role in ensuring that the negotiation process is inclusive and representative.
The participation of women and civil society is critical to the success of any political transition. We the women of the HNC have relentlessly worked to promote an inclusive vision for Syria. Civil society, who constitute the fabric of Syrian life, have voiced their demands for a democratic free Syria for all Syrians. Together we shape and lead efforts for a just solution to the conflict.
My female colleagues have been engaging a wide range of civil society groups. We know our job is to represent their voices at the negotiating table. This is what gives the HNC the credibility to lead the opposition's efforts during negotiations. Syrian civil society groups have sacrificed so much for a better Syria. We are accountable to them and will never compromise on their legitimate demands and rights.
We must ensure that Astana builds on progress and not hinder it. Astana must be a stepping-stone to UN-led negotiations in Geneva and not simply replace them. Astana's purpose should be to make the Geneva process more likely to succeed. Women and civil society are too important be ignored.
The international community must work with us to make sure that the voices of Syrian civil society organizations – including women – are not ignored and that their vision drives any agreement for a political transition because it is they that know what our country and our people need.
We, the HNC women, are aware of our duty. We will intensify our work to bring the views and hopes of civil society organizations to the negotiating table. But we cannot do this alone. We need the international community to empower civil society and women's voices to ensure our vision of a free, democratic and just Syria will become a reality. Only then can Bassem and the millions of other Syrians living abroad in exile or as refugees can return to their homes and work towards a future Syria free for all.
Member of the High Negotiation Committee / Peace activist
Related
Popular in the Community