New Yorkers are in the enviable position that, sooner or later, everyone will come and visit the city. We do not have to travel the world - even though many of us love to do so - to learn about different cultures because the world comes to us. This makes New York the quintessential cosmopolitan city. We can and do take advantage of the opportunity to learn about art, dance, and music from far-flung places. What's more, those who come for a performance, exhibition, or concert, are among the best in the world even though New York might not have heard of them.
Another such opportunity presents itself in the New York debut of the State Theatre of Opera and Ballet ('Astana Opera'). Astana? Yes, the opera of Kazakhstan's new capital, is coming to town this Monday with an eclectic program titled "Voices of Asia." It will be staged in a mini-performance on the steps of Brooklyn Borough Hall at 12:30pm, and then, with the full program, in the evening on the Stern Auditorium's Perelman Stage at Carnegie Hall.
Why should we go and attend? Let me explain: As I mentioned, the world's premier artists and ensembles pay tribute to New York. Groups steeped in tradition allow us to draw comparisons to decade-old recordings and allow us to be hobby-art critics. But it is not often that we can witness the arguably youngest opera and ballet company in the world, with a program that combines works that will be unfamiliar - no, we haven't seen and heard everything already - and familiar.
I, for one, am curious to hear this new ensemble, made up mostly of young musicians educated in Kazakhstan's old and new capitals Almaty and Astana, mixed with some from Russia, Uzbekistan, and even Great Britain. If one can believe the advance press, we are in for a mix of ambition and ability. Without the latter a star like Valery Gergiev would not have become the Principal Guest Conductor. Founded only in October 2013, Astana Opera will perform under the baton of Abzal Mukhitdinov, who will be joined by renowned soloists and virtuoso violinist Erzhan Kulibaev, playing Tchaikovsky's Violin Concerto in D Major on a 1722 Stradivarius. The program will include Kazakh folk songs, arias by Kazakh composers (can you name one?), and composers of the classical repertory, such as Verdi, Rossini, Offenbach, and Bernstein.
So the audience will be able to learn about Kazakh music - said to feature "rhythmical structures often free and asymmetrical, often rooted in the rhythms and sounds of a horse's cantor and paces associated with the ancient nomadic people, [...] [with] spacious and spicy harmonies [that] harken back to the vast empty spaces the Kazakhs once inhabited, and [...] melodies [that] are rich and ornamental," according to the program. This sounds like something to look forward to, especially because these "Voices of Asia" combine local tunes with a fresh interpretation of known works, performed by young, aspiring artists formed in a Central Asian setting with a history rooted in Soviet cultural politics but now stimulated by the aspirations of their young nation.
Kazakhstan's president Nursultan Nazarbayev, in office for 24 years and re-elected in 2011 with more than 95 percent support in a vote that was criticized by international monitors, was the moving force behind the establishment of Astana Opera, even drawing up drafts for the design of the opera house.
At last year's opening he spoke about his aim with the opera's establishment, as quoted in the program of Monday's concert: "A country that builds factories and roads creates a solid infrastructure for years to come. A country that builds schools and hospitals cares for the nation's future for decades. But a country that builds theatres looks forward through centuries ..."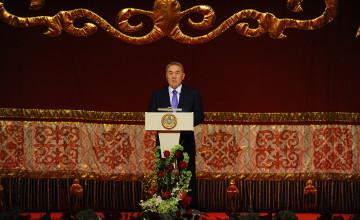 In the light of recent political developments in that region of the world this quote is particularly telling. Kazakhstan, a former Soviet republic, shares a border of 4,750 miles with Russia. The country has been trying to develop closer ties with Europe without upsetting Russia. By now, the European Union is Kazakhstan's largest trading partner but despite agreeing to join the Russia-led Eurasian Union, Kazakh leaders "appear wary of it," according to a report of the Wall Street Journal.
"Our independence is our dearest treasure," said Nazarbayev, quoted in the same report. This tension with Russia was expressed in a quote of Russian president Vladimir Putin, who managed to simultaneously praise and dismiss Kazakhstan's historical identity and its president: "He has created a state on a territory where there has never been a state [...] The Kazakhs never had a state of their own, and he created it." In a recent Wall Street Journal op-ed, Josh Gelernter observed that Moscow had been turning up the rhetoric on Kazakhstan, a non-NATO member with a valuable space center, and even "moved 4,000 troops to its Kazakh border as part of a "training plan," an only thinly-veiled provocation echoing Ukraine's experience along that country's eastern border.
Nazarbayev is working hard to shape the identity of his country, encompassing 1 million square miles, with 18 million people, and large oil reserves. Having moved the capital from Almaty to Astana, the establishment of an opera there was a natural step and confirming his determination to have Kazakhstan look ahead for a long time.
So when we New Yorkers will come together on Monday to listen to the Astana Opera's performances at Brooklyn Borough Hall and at Carnegie Hall, we will appreciate the youth and talent of the musicians and the energy that drives them to establish their institution among the World's renowned music temples. But as we listen to music that echoes Kazakhstan's vast steppes we might also sense that we're living in a world where we cannot take for granted that humanity - as reflected in our cultural heritage - is moving inevitably forward.
If nothing else, however, we will witness how Astana Opera will appear - and without doubt remain - on New York's proverbial radar screen. Don't miss the opportunity to be among the first to know about it.
Calling all HuffPost superfans!
Sign up for membership to become a founding member and help shape HuffPost's next chapter