Because every good story has a good bad guy, the next album of the comic Asterix will introduce a Roman henchman ready to do anything to thwart the plans of our favorite Gauls. The 36th adventure of the little hero, titled "The Missing Scroll," will be available on October 22, but HuffPost France got the exclusive on the name and look of the villain, as well as a few other teasers.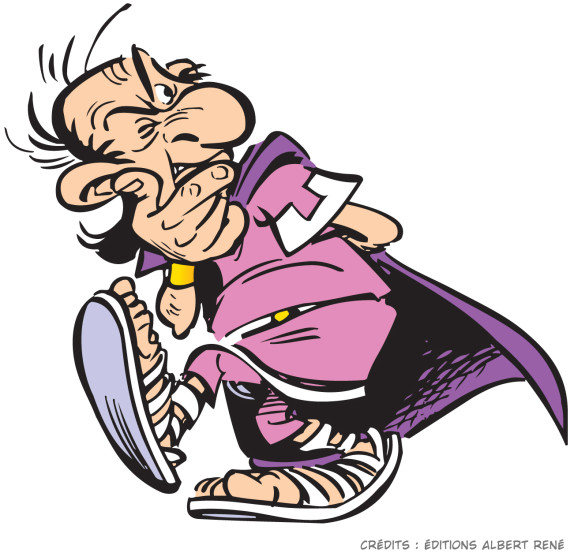 In English, the villain's name is Blockbustus. His name in other languages -- Asterix is translated into dozens -- is Bonus Promoplus (French), Promoplús (Spanish), Bestsellerus (Italian), Syndicus (German), Vendetudus (Portuguese) and Promocionus (Brazil).
And which French personality does he resemble? Of course, this is really the main question being asked, given the preponderance of caricatures in the small world of Asterix. Writer Jean-Yves Ferri and illustrator Didier Conrad are not hiding anything: They drew inspiration from Jacques Séguéla, the famous French publisher and founder of the agency Euro RSCG (now Havas Advertising).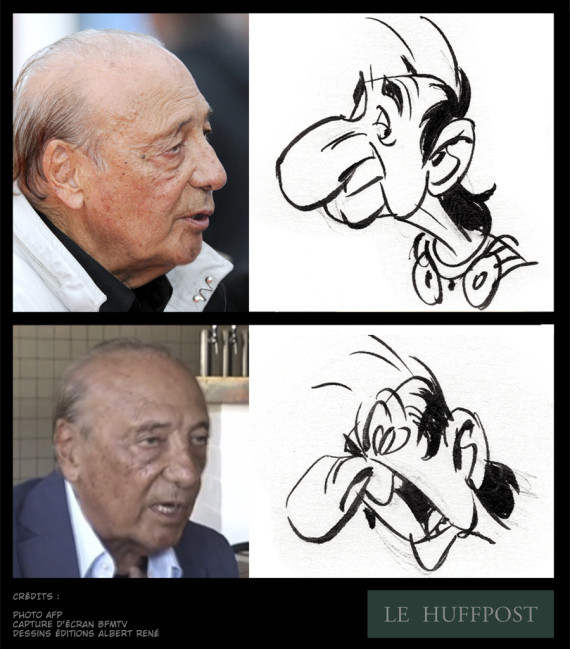 However, it is not necessarily a caricature of the man who ran Mitterand's presidential campaign in 1981; he was only an inspiration for the character. "He knows the machinations of power, understands them, and anticipates their next moves. This character is a back-room advisor, but is also comfortable in public and moving up in circles of influence. We needed to show this duplicity in his face."
Blockbustus is fairly old in age for the Asterix universe (though the series does include a few elderly characters, such as Geriatrix). "I had photos of an elderly Séguéla, so I started out with someone old," jokes Conrad, before explaining: "Long hair was a way of not only balancing a big nose and hiding his neck a bit, which seemed a little too bent given his facial features, but also a way to make him a little younger. It's an old man trying to be young."
What did Albert Uderzo, Asterix's creator, think about the new character? Though he is no longer illustrating, he keeps a close eye on his creation. "I think it great!" he reassured. "It holds quite true to the spirit of Asterix in terms of bad guys, certainly. He is small, has a nasty air about him. That suits me."
His only qualm was with Blockbustus's nose: "I think it is too big. Essentially, I always used to give 'big noses' to the Gauls only, and seldom to Romans! (We cannot blame them for everything, either!!) Only a privileged few are entitled to a purple and lumpy nasal appendage -- surely, you know who I am talking about (a recurring caricature of our friend Pierre Tchernia). They took my remark into consideration and corrected the nose, which drooped much too low."
Early sketches of Blockbustus (before "correcting" the nose)...
Séguéla was not the only source of inspiration for Blockbustus. His personality is also inspired by political figures such as Patrick Buisson and Henri Guaino, who wrote Nicolas Sarkozy's speeches during his presidency.
"At the beginning, I wanted to put [Julius] Caesar front and center [in the comic]," recalls Ferri. "But you cannot do whatever you want with Caesar. We needed to find someone who would take a few hits in his place ... So I thought of a man in the shadows, a hidden advisor. A Patrick Buisson, in his role, not in his physical presence."
Is Blockbustus based on previous Asterix bad guys? No, if we believe Uderzo. "He has a personality all his own and is quite different from the other antagonists. Bad guys are only around for one album. It is therefore best to invent a new personality for each character. Oh, there is a little bit of Codfix. And he reminds me somewhat of Surreptitus."
In July, Uderzo unveiled part of the plot of "The Missing Scroll." The adventure begins with the famous book by Julius Caesar, The Gallic Wars, a book that gave nightmares to generations of Latin students. It is not surprising, then, that Blockbustus' profession is as an editor and advisor plenipotentiary.
As a man in the shadows, Blockbustus is introduced within the closed circles of the Roman intelligentsia (note that "intelligentsia" is not a Gaul's name). "He is thoroughly urban and the prospect of training these Spartans in the Gaulish countryside does not really appeal to him. He leaves Rome, to his great horror," says Ferri. Replace "Rome" with "Saint-Germain-des-Prés" and some Parisian editors would easily see themselves in this character.
Initial sketches for the character Blockbustus
PHOTO GALLERY
Initial Sketches
Calling all HuffPost superfans!
Sign up for membership to become a founding member and help shape HuffPost's next chapter