Even when he's not raising his furious fist to the sky, Mickey Z. is outstanding in the crowd. That's something to say because as a political activist, he's in so many.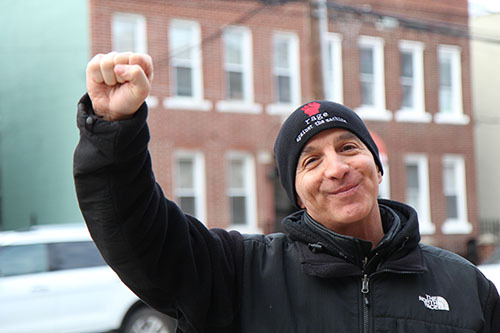 Photo by Nancy A. Ruhling
Mickey Z. playing the protester.
He's not a big guy so he's not easy to spot at first glance. He stands just 5 feet 7 and weighs in at 150, all of it body and brain muscle, none of it head hair.
What makes him different is his dimpled defiance. With his villainous arched eyebrows, he's fierce looking. Yet he's as sweet as apple pie and as polite as a preacher. His firepower is in his pen and his photos.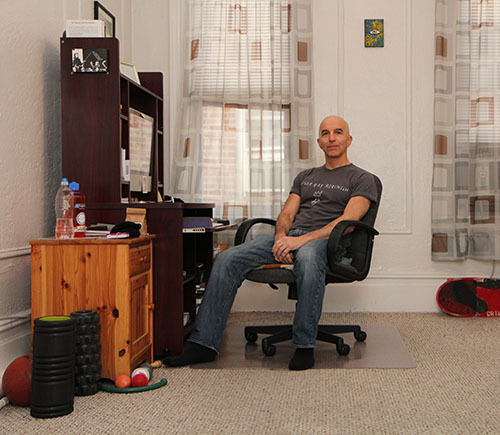 Photo by Nancy A. Ruhling
Mickey Z. in his command center, aka his living room.
On any given year, Mickey Z., his fist and his two cameras are front and center in somewhere around 100 protests, whose issues range from police brutality to animal rights.
He's never thought to count them. The idea of keeping a rally tally strikes him as superfluous.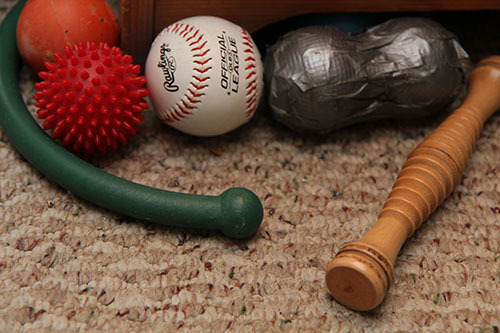 Photo by Nancy A. Ruhling
He uses the balls and rollers to relieve his aching feet.
"I stand up with and for the oppressed," he says, adding that he's been a prime presence at every effort from Occupy Wall Street to Occupy Sandy Relief.
He's sitting arrow-straight at his command center -- a desk in his surgically clean Spartan living room that harbors the faint scent of patchouli -- and rolling his stocking feet over small balls to defeat the knots. None of his recent protests have been sit-ins.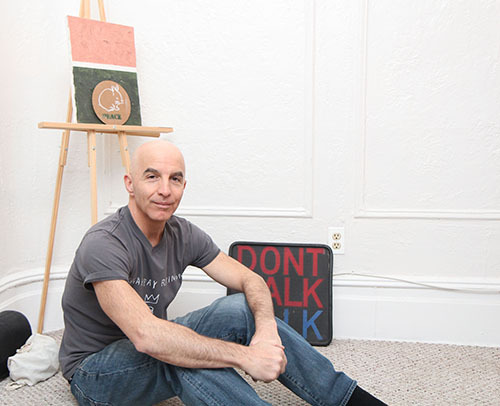 Photo by Nancy A. Ruhling
His living room looks like an art gallery.
The walls, gallery white, serve as display space for the street-wise art he creates when he's not on the march. One features a cute bunny and the placid message "peace;" another, a diptych, depicts the typewriter he used before he switched to an iMac.
"I keep re-painting them, trying to make them better," he says.
Mickey Z., whose mainstream parents named him Michael Zezima when he was born in Astoria 54 years ago, sees his life as an exciting evolving journey of self-education.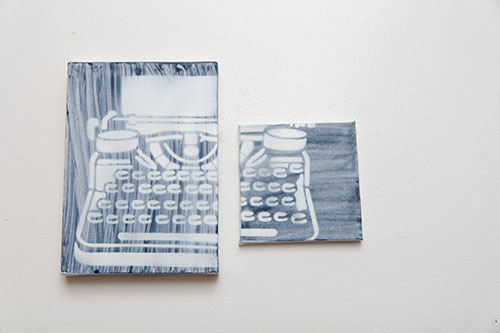 Photo by Nancy A. Ruhling
Mickey Z.'s painting is of his old typewriter.
This is odd because he never was much of a student; he attended Catholic schools, where it was hard for a creative, anti-authoritarian kid like him to adhere to the religious rules.
"My teachers were supportive of my writing," he says. "I didn't go to college because I didn't want to get stuck in jobs because of school debt. And my confidence was enormous. I thought I was going to get rich writing screenplays."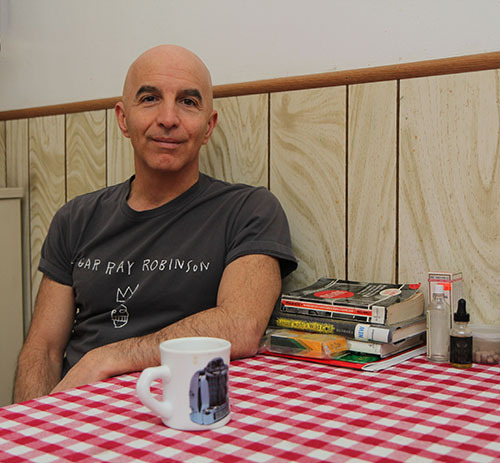 Photo by Nancy A. Ruhling
Mickey Z. became vegan in 1995.
Mickey Z. was smart enough, however, to get a real job. As his buff body attests, he still makes his money from working in gyms as a personal trainer and martial-arts instructor.
"I have a dual life," he says. "I see myself first as a writer, and you can put the word 'radical' in front of it. I like to get to the root of the situation; I'm big on filling in information gaps and decoding propaganda. I offer the type of perspectives that are not represented in the mainstream media."
He brings out a copy of his latest book. Occupy This Book: Mickey Z. on Activism is his 12th tome.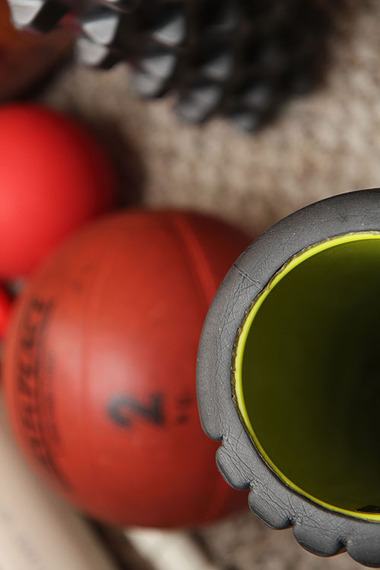 Photo by Nancy A. Ruhling
He works out between protests.
He doesn't remember the issue being protested in his first march, which had to be some 20 years ago, but he'll never forget how it made him feel.
"It invigorated me," he says. "So I started going to more, and it became a big part of my social life."
It also brought him to the attention of the world at large.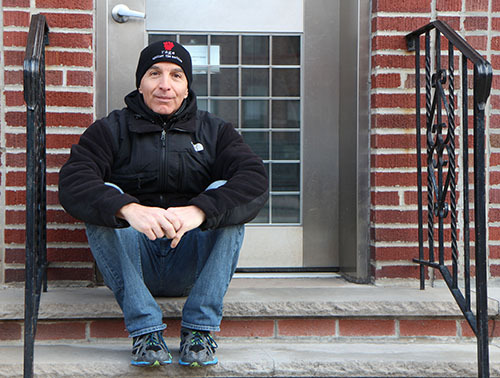 Photo by Nancy A. Ruhling
Mickey Z. has lived in Astoria all his life.
He likes to say that he's probably the only person who has appeared in both a political book with Noam Chomsky and a karate-kicker flick with Billy Blanks.
He, the college diploma-less man, has been called upon to lecture at MIT (on the U.S. role in Chile's 1973 coup) and Yale University (on how to advise students on non-traditional careers).
Around the same time he completed his first march, he became vegan.
He takes a cup of coffee out of the otherwise empty refrigerator in the kitchen, whose table is covered by a red-and-white checked cloth.
He was interrupted while he was drinking it so he seized the opportunity to turn it into iced coffee.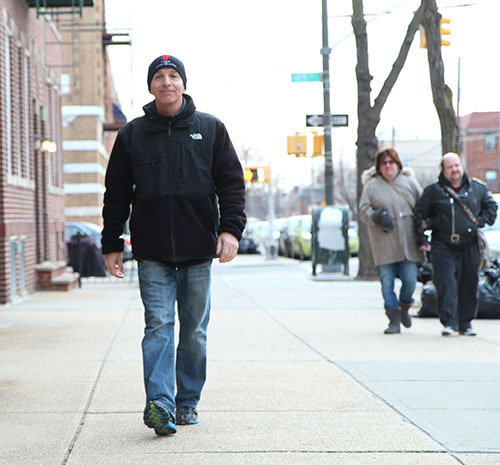 Photo by Nancy A. Ruhling
Mickey Z. on the march.
Mickey Z. was married for a long time, but that ended, and he's in a relationship with a woman he met at a rally. Like him, she's a vegan and a writer.
Make no mistake about it: Mickey Z. is not out to make headlines.
"I've never been arrested, and I have no interest in the idea of a symbolic arrest," he says. "But I have come close to being arrested. I've always been able to talk my way out of it. Besides, I'm a middle-aged white man, and I look more like the cops than the protesters."
Although Mickey Z. is happy with his marching orders, he's also looking forward to trying different things. Perhaps it is time, he says, to pass along some of the lessons he has learned so he can open more eyes and hearts.
"I have a sense of constantly looking for new perspectives," he says. "It keeps me young."
Nancy A. Ruhling may be reached at Nruhling@gmail.com, nruhling on Instagram.
Copyright 2015 by Nancy A. Ruhling
Related
Popular in the Community