As soon as Gene Coffey rolls up the ink-black metal gate at his tony tattoo parlor, he starts talking about his art studio.
It's right upstairs, so when he has free time between clients, he goes there to paint.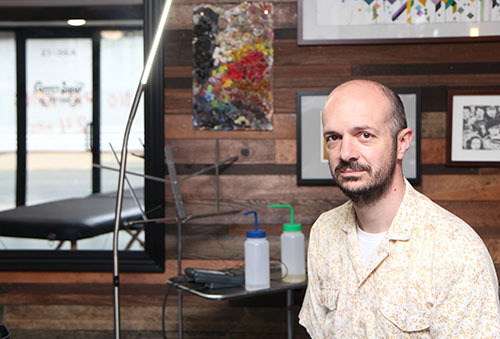 Photo by Nancy A. Ruhling
Gene opened Coffey Shop Tattoos in September 2015.

Follow him up the stairs and past a warren of jail-cell-like rooms until he stops at a plain black door. Inside, illuminated by a century-old skylight, the figures in his oil paintings spring to life.
In one series, a faceless black-and-white crowd stares silently. In another work, a group of people, framed by a window, sit together in their separateness.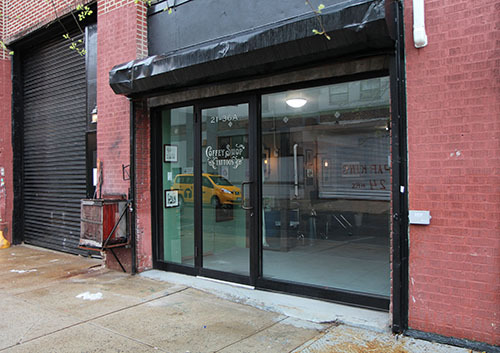 Photo by Nancy A. Ruhling
Coffey Shop Tattoos attracts clients from around the world.
He points out a portrait of a woman holding a baby. That's his wife, Angela, and their son, Oliver.
Like Gene's life, it's a work in progress. Each time he passes it, he adds a few brushstrokes. He's not sure it ever will be finished.
"I've been painting all my life," he says, "but it's only recently that I came to the realization that I'm an artist."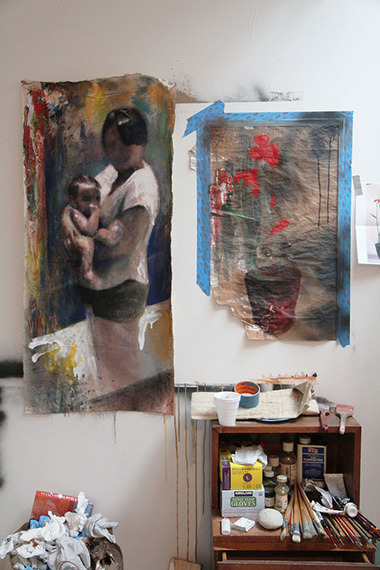 Photo by Nancy A. Ruhling
Gene's in-progress portrait of his wife and son.
It took Gene, a pencil-thin, lanky man whose left full-length tatt cuff is blessed with the faces of Bernini's beatific Baroque angels and whose right is decorated with Japanese peonies, a butterfly, cherry blossoms and a dragon, a long time to go solo as a tattoo artist.
When he was growing up in the small military town of Jacksonville, North Carolina, he whiled away his idle hours reading comic books and drawing pictures of Spider-Man.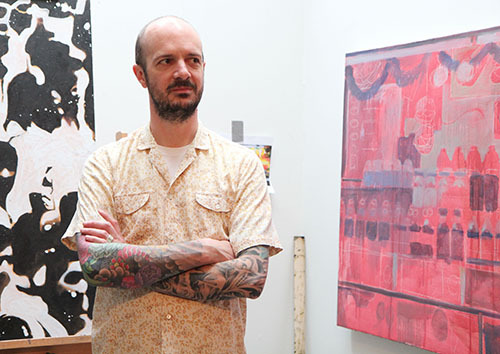 Photo by Nancy A. Ruhling
When Gene's not tattooing, he's painting.
Later, he painted along with PBS' Bob Ross, and by the time he was in high school in Plano, Texas, he was doing professional illustrations for the local paper.
"I had big ideas," he says. "I wanted to be like Jean-Michel Basquiat."
So he moved to New York City and enrolled in the School of Visual Arts. After a year, though, he decided to major in the art of partying.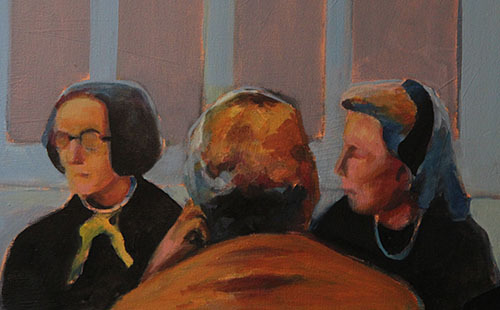 Photo by Nancy A. Ruhling
A detail of one of Gene's oils.
"I spent my time clubbing at places like the Limelight," he says.
As for his career, he became a serial temp worker, trading junk jobs every three months before settling down at a kitchen and bath design shop.
At 25, he got his first tattoo, a small stylized skull and crossbones on his right shoulder.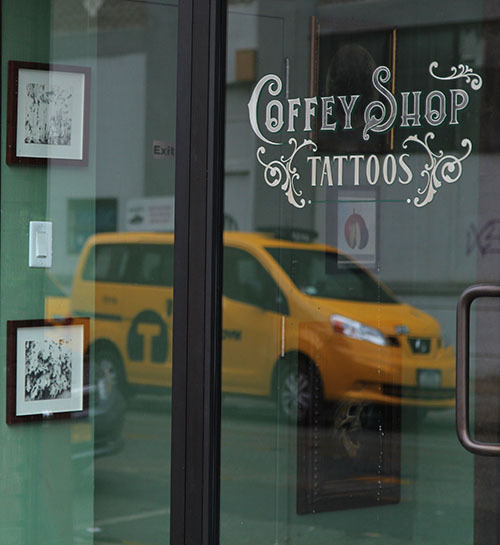 Photo by Nancy A. Ruhling
Clients apply for appointments, booking months in advance.
"Of course, I had to draw it myself," he says. "I redrew it about a hundred times and had it done at a tattoo parlor I picked at random."
Through the years, his body became a canvas for a lot more ink, but the skull remains the only one of his own design.
When he wasn't making layouts for everything including the kitchen sink, he was painting, taking classes at the Art Students League of New York and designing tattoos for a friend.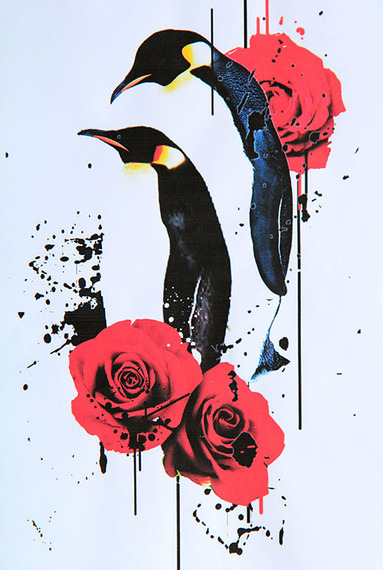 Photo by Nancy A. Ruhling
A Gene Coffey custom tattoo design.
Eventually, he apprenticed at a tattoo parlor, and when he was laid off by the kitchen-bath firm, he decided to make it his full-time career.
For a decade, Gene worked for Tattoo Culture in Williamsburg, Brooklyn, developing a striking signature style.
"I loved working there," he says, "but when Oliver was born 21 months ago, I started thinking more about the future."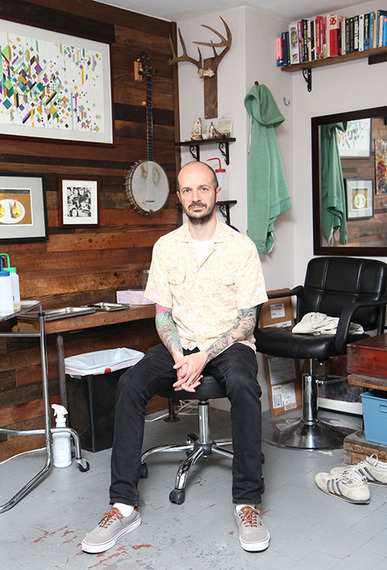 Photo by Nancy A. Ruhling
Gene would like to focus on fine art.
For the record, Angela, an immigration lawyer, possesses no tattoos. As their relationship grew, so did Gene's tattoos. When they started dating, his arms wore only half cuffs.
The shop, which specializes in large-scale projects and books three months in advance, has attracted clients from as far away as Australia.
Gene sees Coffey Shop Tattoos as the first step on his way to making his mark in the art world.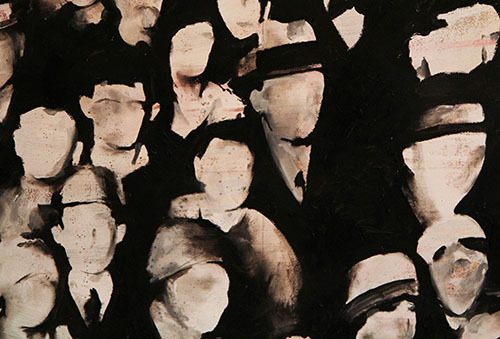 Photo by Nancy A. Ruhling
A detail from Gene's 'faceless crowd' series.
"Painting and tattooing are my passion," he says. "But tattooing lacks the intimacy of painting because it's more like illustration work. Painting is 100 percent mine and comes from a deeper place."
In the coming months, Gene hopes to bring his fine art to a new level. He envisions creating large works that incorporate not only painting and tattoos but also photographs and videos.
But right now, he has to run back downstairs.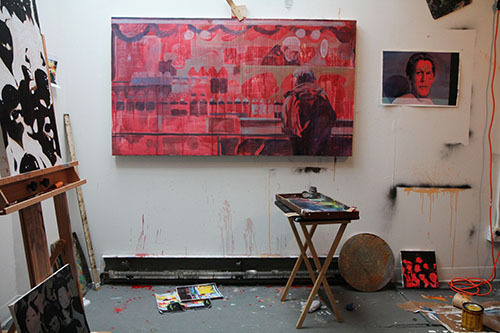 Photo by Nancy A. Ruhling
Gene's art studio awaits his return.
His next client is due in an hour. He still has to mop the floor.
"I'm living the dream," he says as he reluctantly locks the art studio's door.
Nancy A. Ruhling may be reached at Nruhling@gmail.com; @nancyruhling on Twitter; nruhling on Instagram. Copyright 2016 by Nancy A. Ruhling

Related
Popular in the Community