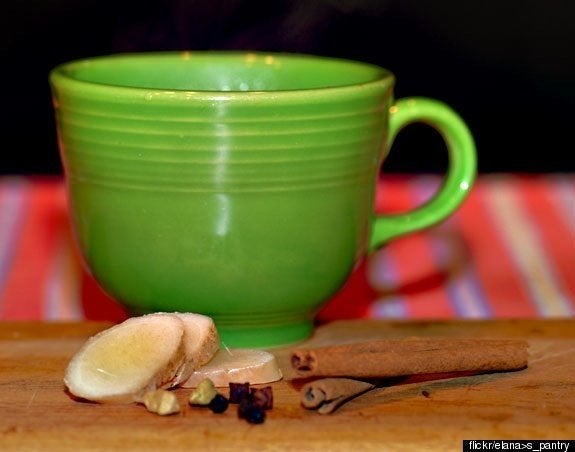 There's tea on the bakery shop's menu and Michael "Meesh" Schubert knows it, yet when it's his turn at the counter, surprisingly, he orders espresso.
When the proprietor brings it to the table - in a snowflake-white demitasse that is emblazoned with a crimson crest - Meesh declares it excellent at first sip. "It has a nice crema on it," he says as he swirls sugar into the frothy brew.
It's odd seeing Meesh sitting in a café not working in one, and it's stranger yet watching him drink a beverage that's not tea. He was the owner/barista of Freeze Peach, the gathering spot at 29th Street and Ditmars where he served camaraderie in a cup of herbal tea.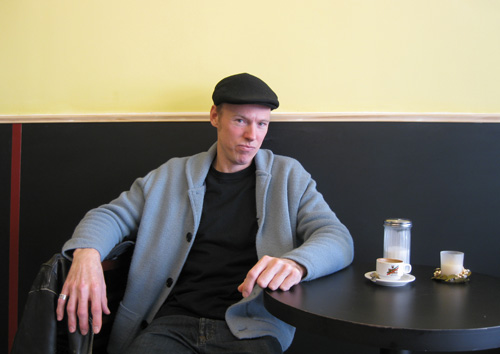 Photo by Nancy A. Ruhling
Meesh, of the late Peach, is a barista no more.
"It's funny, but when I started Freeze Peach, I didn't know how to make a cup of coffee, much less a cup of fancy tea," he says. "Now I can't drink tea that's made in a bag."
He sighs and tips back his ink-black hooligan hat. There's nothing like Freeze Peach in Astoria any more, and everyone, including Meesh, wishes there were a way to bring it back. "I started it to meet people," he says. "I didn't know anyone in Astoria, and if I hadn't opened it, I would have been totally isolated in the city."
Meesh didn't know anyone in Astoria because he came here from Hawaii, via Germany then Seattle, Wash. It's not as complicated as it sounds. His parents were from Germany and moved to Hawaii so his father could take a job in the sugar industry. Meesh grew up in Hawaii. He went to the same high school as Obama, who's a decade older, then studied architecture for two years at the University of Hawaii.
"I went to Germany because I could study there for free," he says. "I knew a little German, but I got there six months before school started. I spent my time sitting in cafés with a novel and a dictionary so I could translate it and learn the language. At night, I worked in a bar."
He stayed 3½ years then transferred to the University of Washington to finish his degree.
By this time, he was married, and his then-wife, a native of Japan with big-city wanderlust, got it into her head that she wanted to live in New York City.
"We bought a van for $700 and drove across country right after 9/11," Meesh says. "We had been planning the trip for months, so we weren't going to let the terrorist attacks stop us."
They chose Astoria because Meesh's cousin lived here and "I had done a lot of research, and Astoria was a rainbow of ethnicity," he says. "We lived with my cousin for about six months then leased the first apartment we were shown."
Although Meesh had been a furniture maker in Seattle, he decided to take a few months off to write a novel. "Writing is my hobby," he says. "I write because it's hard to find people who can really listen to you and connect with you. I like to connect with people who are fascinating and fascinated, people who are very curious and who know how to plug into other people. I wandered around Astoria looking for a place to write. There was no place to sit and think."
His quest for a café like the ones he had frequented in Germany took him to a restaurant that was set to open in a former laundry. "There were outlets all over the place, so I suggested they let me create a sideshow Internet café within the restaurant, which was a new idea at the time," he says. "It turned out to be not such a good idea after all - and eventually I got together with some other people, we found a new location and started Freeze Peach."
The partners spent eight months renovating the space. "We did everything ourselves and with our own hands," Meesh says, adding that Freeze Peach finally opened in September 2004. "Our idea was to create a space where people of all ages and from all different walks of life could meet face to face, sit together, have a cup of tea to stretch their minds and taste buds and talk."
The experiment, as he characterizes it, lasted four years, and consumed three partners and two owners. Freeze Peach closed at the end of 2008, when the building was sold to a bank. "We never came up with a way to make the business viable without selling alcohol or turning it into a restaurant," he says. "Both of which would have undermined the mission of Freeze Peach."
By the time Freeze Peach was frozen out, Meesh had returned full-time to woodworking. Since then, he's been working as a draftsman for a molding company in Greenpoint.
In terms of long-term plans, Meesh is as pliable as the leather biker's jacket he's wearing. "I'm not bound to any one place," he says in wonder as if discovering this fact for the first time. "But I am fascinated with the concept of 'place.' Like, what makes Astoria different from Brooklyn or Soho or Seattle."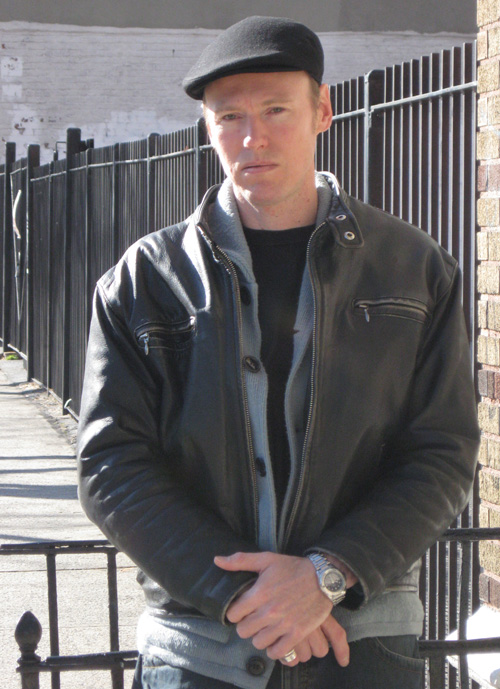 Photo by Nancy A. Ruhling
The Meesh novel? Hey, it's still in the works.
This is not to say that he wants to go out on the road. "Traveling is so passive," he says. "I'm drawn to places and somehow I journey there. I'm not interested in seeing places, I'm interested in creating 'place.' That's what I love about fiction, because it necessitates the creation of a 'world.'"
What he'd really like to do - aside from finishing his novel - is plant the seeds for a lot of Freeze Peaches. "I'd love to see one in every cool city in America," he says. "Not necessarily in big cities - I'd go to places like Muskogee, too. They would be part of a network that produces and distributes quirky but useful educational content and entertainment. We'd use the different locations as sets to create a dialogue about 'place.' By 'place' I mean neighborhood, town, country, world. That way, nobody would feel alienated."
Astoria would be the first to get one. "I just have to wait for the right time and the right space," he says as he finishes the last of the espresso.
Nancy A. Ruhling may be reached at Nruhling@gmail.com.
Copyright 2010 by Nancy A. Ruhling

Related
Popular in the Community