There's a padlock on the majestic wrought-iron gate that guards the dead at Lawrence Cemetery. The plot's red-brick wall is reinforced by a ring of shiny silver chain link that's crowned by barbed wire.
Nobody can get in -- and no bodies can get out -- unless James M. Sheehan lets them.
James is God's gardener. He has been keeping the cemetery alive for, well, it's going on 55 years now.
Before he pulls open the gate, he stops to brush away the vines growing over the cemetery's city landmark plaque.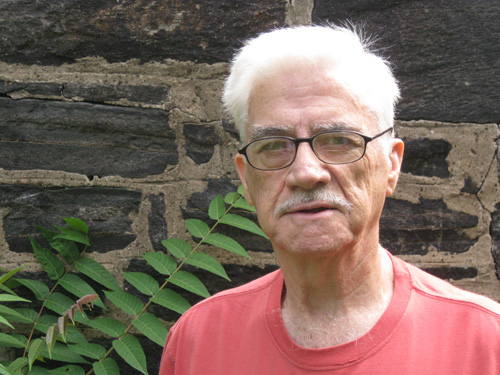 Photo by Nancy A. Ruhling
It is James who breathes life into the Lawrence Cemetery.
The weeds, the vines, they are the only things alive in this half-acre tombstone on 20th Road between the houses of 35th and 36th Streets. James, a robust, rock-solid man with smooth hands and marble-white hair, has been trying to kill them off for decades, but they keep coming back.
And this year, he's really behind. In March, he had his left kidney removed, along with a tumor and a blood clot. He's 82, so the doctors told him to take it easy, not that he's going to. (More photos.)
He stops at the cemetery's tallest monument, which is topped by a life-size angel. He'll have to cut the branches of the tree when he's stronger to free her face and wings from their shadow.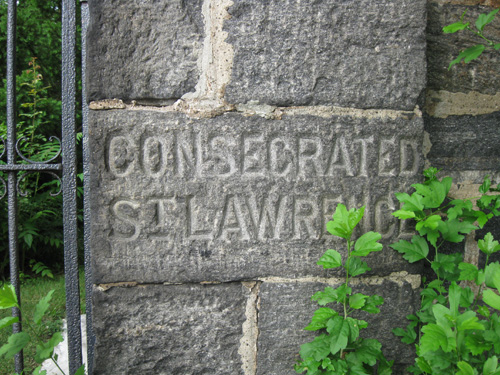 Photo by Nancy A. Ruhling
Lawrence Cemetery's entrance.
"You should have come when the lilacs were in bloom," he says. "The scent..."
His voice trails off as he inhales the memory.
There are nearly 100 graves in Lawrence Cemetery, and James knows all their occupants by name, even though only one was dug on his watch.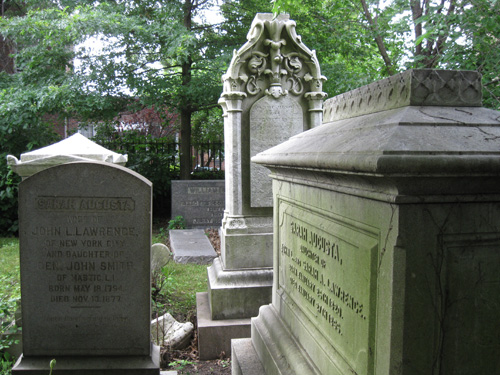 Photo by Nancy A. Ruhling
The graves span three centuries.

"It's heavenly living next to the cemetery," he says. "I consider the people there my neighbors, and I want to keep them looking good."
James' private cemetery was established in 1703 to hold the remains of Maj. Thomas Lawrence. The Lawrences are a distinguished clan: they are descendants of Sir Robert Lawrence of England, who was one of King Richard the Lionheart's Crusaders.
The other family members who have joined Major Thomas for eternity include Maj. Jonathan Lawrence, a statesman and Revolutionary War soldier; 12 military officers; seven governmental officials; and Ruth Lawrence, whose passing in 1956 led to James' becoming the sole soul caretaker.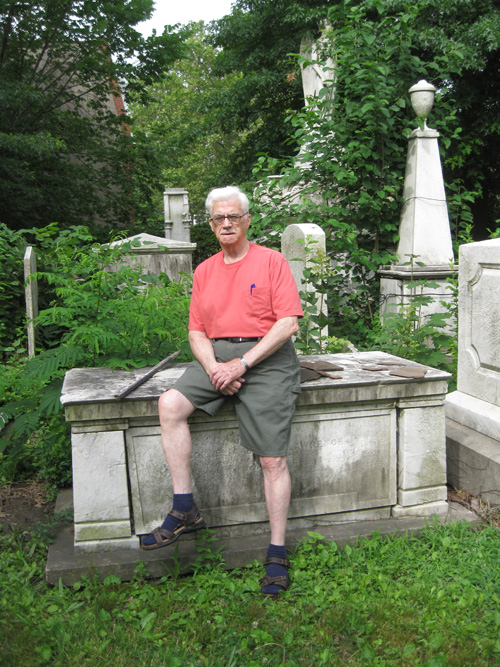 Photo by Nancy A. Ruhling
James says the cemetery's a good place to chill out.
"I take pride in doing this," he says. "People always ask me if it's scary. It's not. It's very tranquil here. I love to turn on the radio and sit out here in the evenings. But there are those scary moments -- you feel something tugging at your shoulder, and you turn around and discover it's the rosebush."
James is not a Lawrence and nobody in his family was a Lawrence. James was a young married man full of life when Ruth Lawrence left this earth and willed the cemetery and the house to his father-in-law.
James, whose parents hailed from Ireland, grew up in the Bronx and Brooklyn. He had ambitions to enter the printing field after he graduated from the New York School of Printing, in the years between World War II and the Korean War.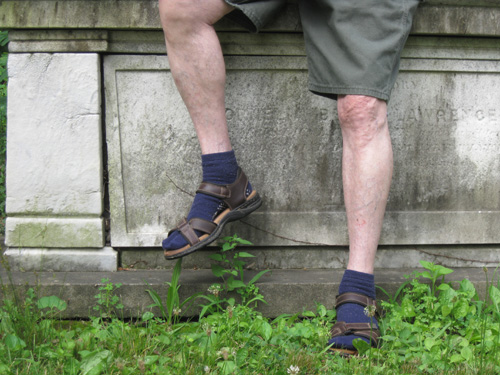 Photo by Nancy A. Ruhling
James, the cemetery's living monument.
"But jobs were hard to come by," he says. "I tried to join the Marines but was told it would take three months, so I tried to enlist in the navy. That was a two-month wait. So I signed up for the army because they told me I could start on Monday."
Army life agreed with him. He became a sergeant first class, and he and his bride, Peggy, lived for three years in Hanau, Germany.
"The priest who performed my ceremony had done many military weddings and thought they were a bad idea. He told us our marriage would never last," James says. "We've been together 62 years! I wish we could tell him."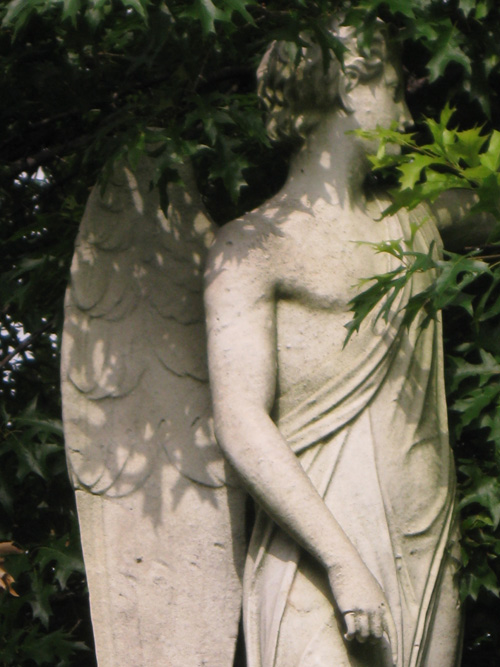 Photo by Nancy A. Ruhling
The angel in her verdant shroud.
When his hitch was up, the couple came back to New York. "My wife was making $88 a week, but I was only making $44 a week as a printer," he says. "We were living with my mom."
Around the same time, his father-in-law inherited the house and cemetery from Ruth Lawrence, who had cut her nephew, Oliver, out of her will. So James and his family moved into Ruth's house with him.
The plan was for James and Peggy to build their own house on the property. But in 1963, Peggy's father died, and she inherited everything, including the cemetery.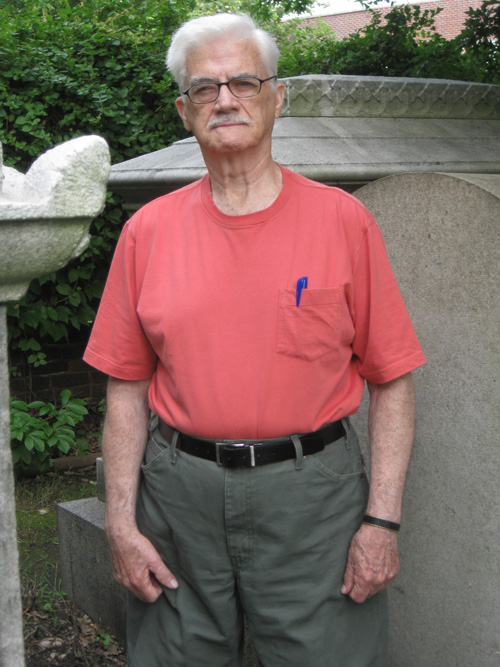 Photo by Nancy A. Ruhling
James frets about the future of the cemetery's soul mates.
"I've maintained the cemetery out of respect for my father-in-law," James says, adding that since he retired from his job as a Triborough Bridge and Tunnel Authority police officer 18 years ago, he has devoted his free time to the cemetery. "I've tried to keep it just as it was."
He looks at the crumbling, broken tombstones and sighs. Sandstone and slate don't make good grave markers. Time has weathered and worn them so much that an outsider might have a hard time telling who's buried where.
"They used to have headstones and footstones," he says. "So if I can't read the headstone, I still can read the initials on the footstones and figure it out that way."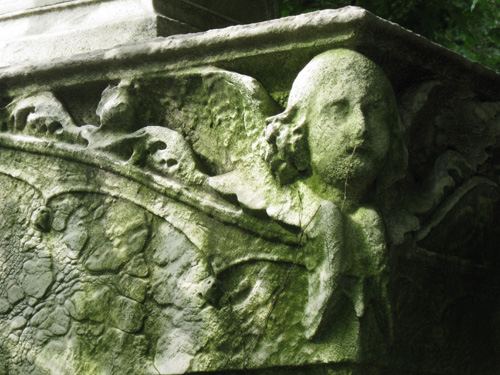 Photo by Nancy A. Ruhling
An aged cherub guards one tomb.
The children who died of cholera are tucked snugly along one wall. William T. Lawrence is resting in peace under the angel. And Oliver, the one Ruth disinherited, is close to the entrance.
"Every once in a while, members of the Lawrence family visit the cemetery," James says. "Oliver had asked me to bury him here, so I did. Someone asked me how I could put him in the same spot with Ruth, and I said, 'He's family.'"
Speaking of family, James does have two daughters, but he's not sure they or their children will want to carry on his caretaking tradition. As girls, they scared their friends silly by holding seances in the cemetery.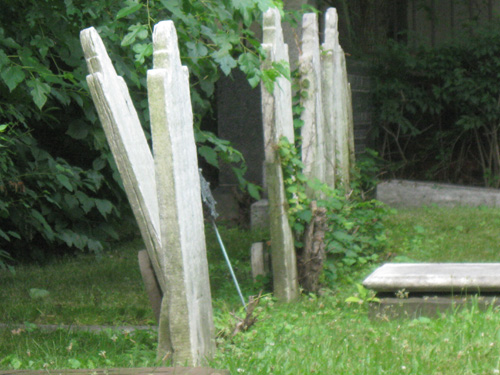 Photo by Nancy A. Ruhling
... and they all fall down dead.
"I really haven't discussed it with them," he says.
One thing he does know for sure: he'll not be buried in Lawrence Cemetery. "I'll go to Calverton with the other military men," he says. "I don't want my wife to look out the window and be sad. In fact, I've encouraged her to blend with her girlfriends more so when the time comes she won't be lonely."
James mentions the other Lawrence Cemetery in Astoria. It was at 37th Street and Ditmars Boulevard.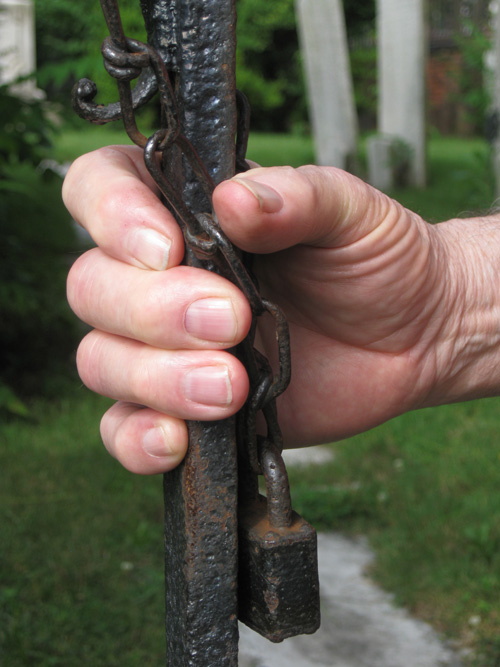 Photo by Nancy A. Ruhling
James doesn't want to let go of the cemetery.
"It passed away," he says. "In my time, that won't happen to my cemetery."
But time is running out. It used to be that James was so strong he could lift 100-pound bags; the last time he bought cement to make a home repair, he had trouble hefting 50 pounds. Even Peggy has noticed.
"I'll never sell the cemetery," he says. "But I would like financial aid. It costs a lot of money to keep it up. I'm hoping the city takes an interest in it or gets me some help with it."
He stops at one of the slate tombstones along the wall and stoops to read its faded words: "Reader, art though prepared to follow [the deceased]."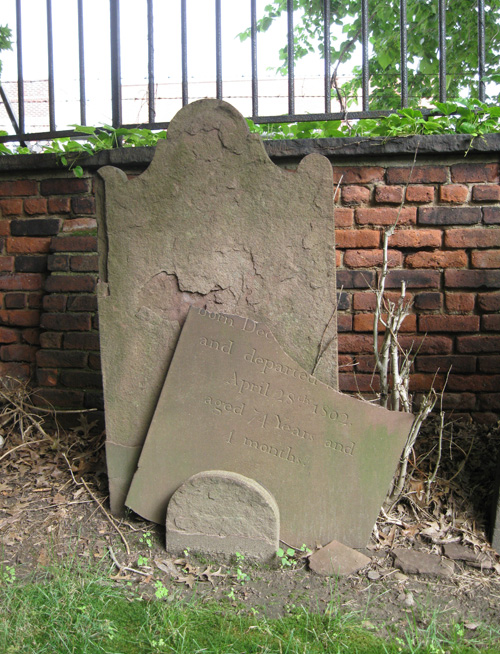 Photo by Nancy A. Ruhling
A grave reminder of the cemetery's mortality.
"Sometimes, after I've been working out here for so many hours I'm sweating, I look at those words and the answer is yes," he says. "But I figure I'll be doing this for another 20 years."
Tendril by tendril, life is overtaking death in the cemetery; it's starting to look like a jungle.
James has much work to do before he rests. As for the flowering bushes, he'll wait until they bloom before he trims them. After all, he says, they deserve to have some life.
Nancy A. Ruhling may be reached at Nruhling@gmail.com.
Copyright 2011 by Nancy A. Ruhling

Related
Popular in the Community