"I'm standing in the center field."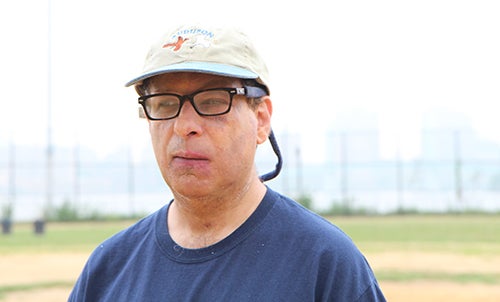 Neil Herdan wants to make sure I can identify him when I arrive at Whitey Ford Field, so that's the message he texts.
The Grape Dutches, a team in the Astoria Social Softball League, is supposed to have a playoff game, but it's so early that the players haven't arrived yet.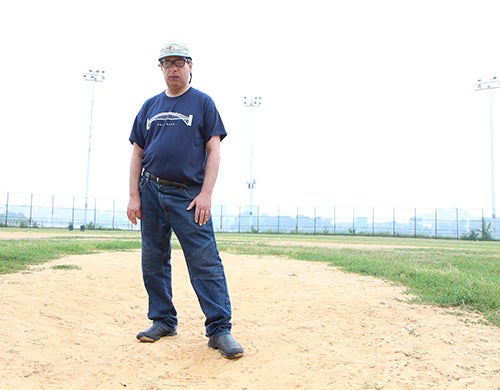 Neil is the only guy on the field.
And it's a good thing because he's not in center field. He's smack in the middle of the pitcher's mound. He apparently has no idea that there's a difference.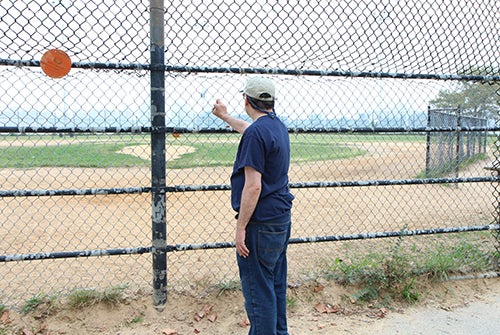 At any rate, his mapping mistake would not have mattered much because even amid a sea of sports uniforms, he's a standout on the diamond.
He's the guy wearing the jeans and the Audubon baseball cap.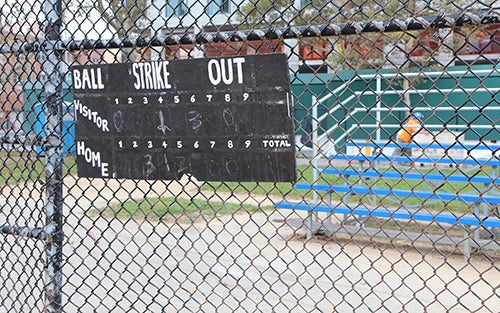 When it comes to those sports, Neil, a self-described "smallish" guy with spectacles, is the first to admit that he's the odd man out, whether he's in center field or on the pitcher's mound.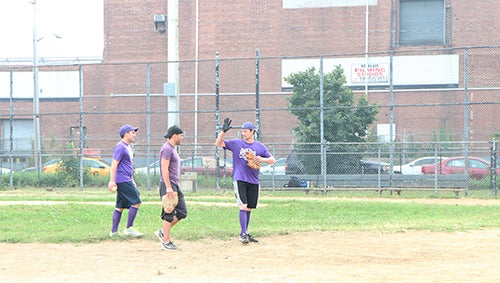 Neil, the co-chairman of the volunteer advocacy group Friends of Whitey Ford Field, makes no apologies for this.
He's British, so he never played the American-as-apple-pie ball game when he was a boy.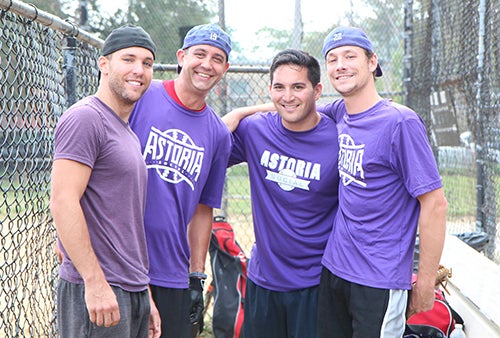 "I'm embarrassed to admit that I had no idea who Whitey Ford was," he says. "Or that he was an Astoria native, a Baseball Hall of Famer and the greatest pitcher the Yankees ever had."
Besides which, when Neil was growing up in the London suburb of Willesden Green, the home of prize-winning novelist Zadie Smith, he really was more interested in books than balls.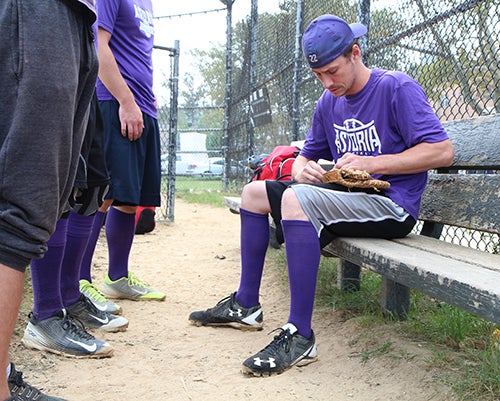 "When I was a kid, I did play rounders, which is a bat-and-ball game somewhat like softball, and I've always been a fan of football, which is what Americans call soccer," he says. "And I'm still an avid supporter of London's Chelsea Football Club."
Neil, a former corporate librarian who is the founder of the prospect development consulting firm 31St Avenue Project, didn't even know that Whitey Ford Field existed until he took a tour of it with the Greater Astoria Historical Society a couple of years ago.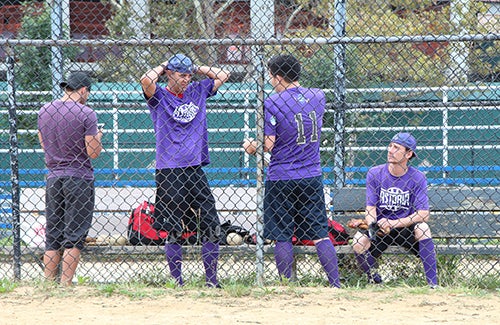 Although Neil has lived in Astoria since 1988 – he came to New York City in 1985 to work on a master's degree in librarianship at Columbia University – he had never before become involved in a high-profile community project.
"I never expected to be doing this," he says. "It fell into my lap."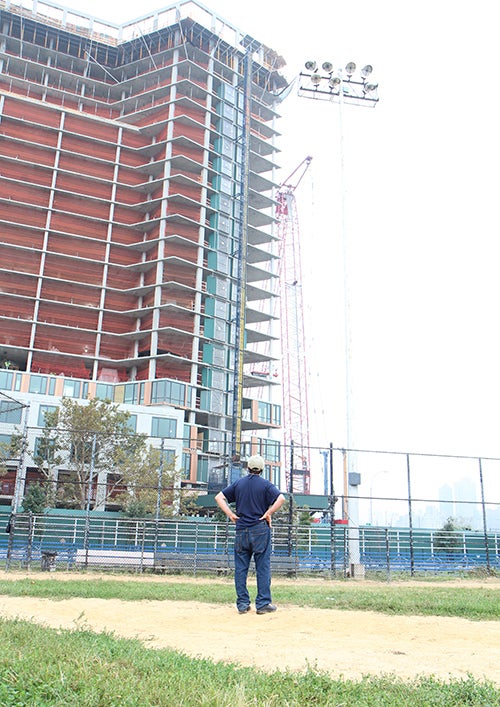 After attending some city council proprietary budget assembly meetings, Neil signed up for the parks and transportation committees.
When it came time to pick projects to fund, Whitey Ford Field popped into his mind.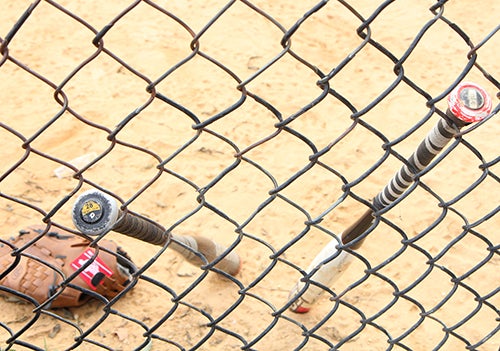 "It was the history of the spot – the first settlers in Astoria made their homes between 26th and 27th avenues – not the sports aspect that attracted me," he says.
Others had tried to get funding for the field, but nothing ever came of the proposals. Indeed, Neil's first two attempts, for $300,000 for fitness equipment, met similar fates.
So he was quite surprised this year when Councilman Costa Constantinides and Queens Borough President Melinda Katz announced they were designating $2 million for an upgrade of the field, which is next to The Durst Organization's Hallets Point Astoria Cove mixed-use project.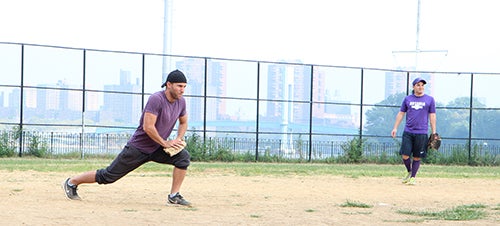 Faster than you can say, "three strikes, you're out," Neil was in.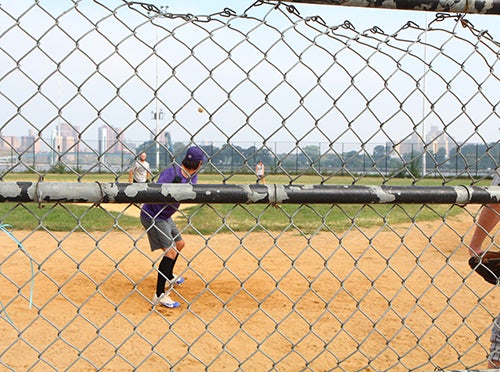 He's thrilled to be on the winning team.
"Where I grew up was very much like Astoria," he says. "It was very diverse – more than 100 languages were spoken there. I've been devoted to Astoria ever since I moved here, and I want to improve people's lives."
Neil, a sometime film producer and Baruch College assistant lecturer/adjunct, hopes the Friends of Whitey Ford Field becomes a model for other advocacy organizations.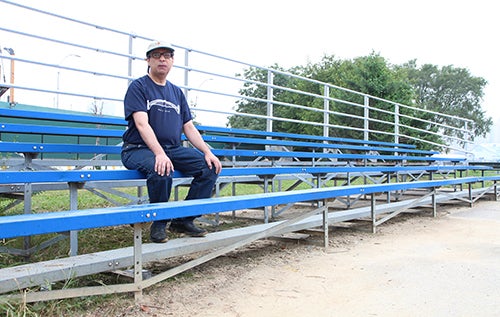 "I want us to be the best there is," he says. "And I want Whitey Ford Field to be the best ballfield in New York. I want it to be the envy of New York."
The upgrade of the field could take a couple of years, more than enough time for Neil to learn to play ball.
"I'm 55 -- too old to play, and I have a bum leg," he says, carefully climbing off the bleachers, where he retreated as soon as the Grape Dutches fielded the first pitch.
Nancy A. Ruhling may be reached at Nruhling@gmail.com; @nancyruhling on Twitter; nruhling on Instagram, nancyruhling.com, astoriacharacters.com.
Copyright 2017 by Nancy A. Ruhling
Related
Popular in the Community