"My house is like a zoo on Saturday mornings," says Erin Black.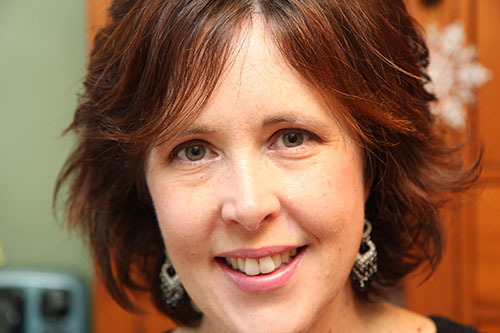 Photo by Nancy A. Ruhling
Erin is an Emmy-winning costume designer.
So consider yourself warned and enter at your own risk to meet her husband, Eric, who is trying to feed Emmett, the nearly 12-month-old baby, who thinks food is something that should not go into his mouth today or ever.
Introduce yourself to Tessa (3), Quinn (6) and Lyla (she says she's 113, but Quinn declares that she's actually 8) who are playing at putting on their hats, coats and boots. They're off to services at the synagogue; they're excited because they get to walk in the snow.
Erin stays behind; Emmett hasn't learned to sleep through the night, so she's taking advantage of the fact that he finally has closed his big, bright eyes for a second.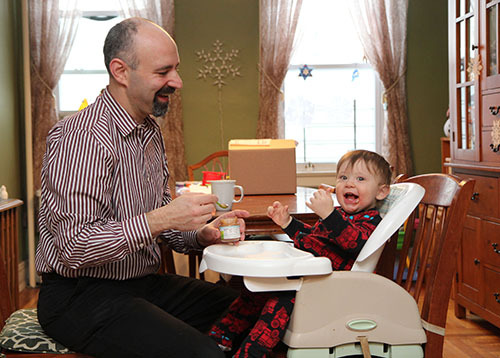 Photo by Nancy A. Ruhling
Eric and Emmett eating breakfast.
Four children are more than two handfuls but you'd never know it from watching Erin, an unflappable and energetic Emmy-winning costume designer for Sesame Street.
Erin, a tall, polite woman with auburn hair and the patience of a saint, handles them all with the certitude of a CEO commanding a Fortune 500 company.
Although she does not come from a large family, her child-caring skills come naturally. She and her younger brother grew up in Oshkosh, Wisconsin, the city where the aw-shucks-cute kids overalls are made.
Her mother had a sewing machine, and Erin couldn't wait to try it out.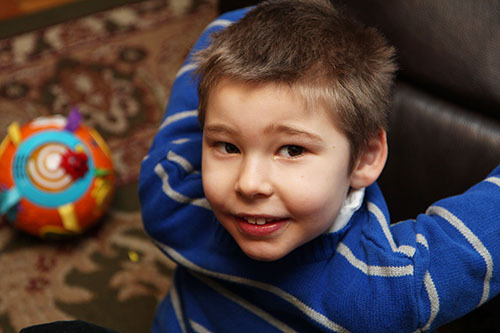 Photo by Nancy A. Ruhling
Quinn is an energetic 6.
"She wouldn't let me touch it," Erin says. "When I was in fourth grade and she wasn't home, I taught myself to sew by reading the directions. My first real project was a Cabbage Patch doll."
By the time she was in high school, Erin was the stage manager for school plays.
"Most of my job consisted of ironing clothes," she says, "but I thought it was really cool."
She considered sewing a skill, not a career, and when it came time for college, she decided she wanted to be an elementary school teacher. She took a work-study job making costumes for the drama department's productions.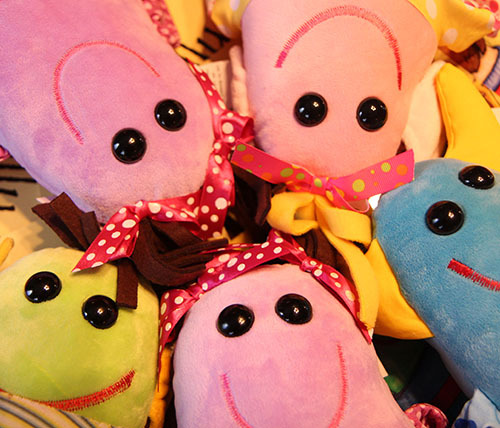 Photo by Nancy A. Ruhling
Lyla Tov Monsters scare bad dreams away.
"As I got close to graduation, I decided that I didn't want my life to be totally about kids," she says and laughs. "I decided to postpone that reality by going to graduate school."
After earning a master of fine arts degree in costume design, she started working for Sesame Street. She met Eric, who worked on the show's production team, the first day on the job. They married a decade ago.
Erin has to be prompted to mention the two Emmys she won while there.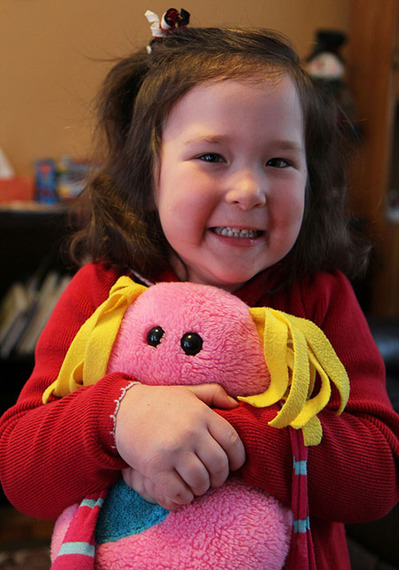 Photo by Nancy A. Ruhling
Tessa, 3, wants to be in the picture.
"Where do I keep them? They are in the garage," she says, adding that that's where she stores her costume supplies.
It pains Eric to hear her say this; he thinks they should be prominently displayed.
They are only daytime Emmys, she insists, and she won them as part of a team. There were no red carpet or paparazzi when they were presented. And she didn't wear a designer ballgown. It was a luncheon, for goodness sakes.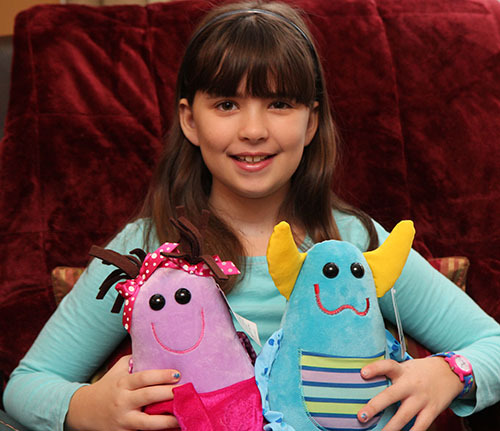 Photo by Nancy A. Ruhling
Lyla with her creations.
After Lyla and Quinn was born, Erin took a break from the show, eventually taking a full-time job as an instructor in technical theatre at New York University's Tisch School of the Arts.
When the two became four, she returned to Sesame Street, working on select projects. It was she who designed the distinctive distinguished blue suit for Walter in the 2011 movie The Muppets.
In her spare time -- is there such a thing? -- she began doing creative projects with Lyla.
The most tangible and tactile result is Lyla Tov Monsters, a series of snuggly stuffed dolls designed to scare away bad dreams.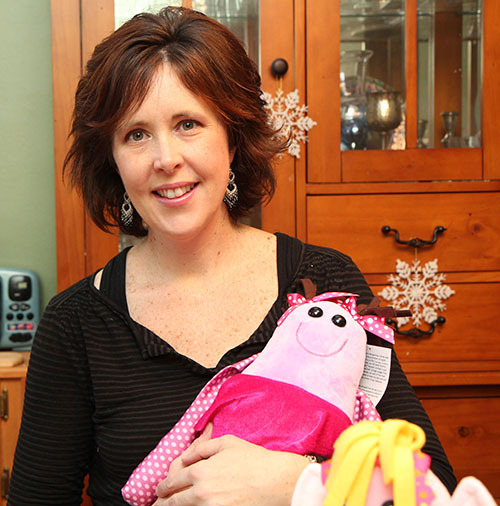 Photo by Nancy A. Ruhling
The monsters began as a mother-daughter project.
"Lyla designed the first monster at 3," Erin says, adding that it was made in her basement on the Kenmore sewing machine her grandmother gave her for her college graduation. "It was a gift for her daddy. She didn't know how to sew, so we made it together."
Soon, they were selling Lyla Tov Monsters at craft fairs, and when the venture took off, they financed it through a couple of Kickstarter campaigns.
"It's not so much about making money," Erin says. "We are at the break-even point now. It's about teaching Lyla about giving to others. A percentage of the profits is donated to a charity of her choice."
Lyla is taking it in stride: She was thrilled to receive the Toy and Game Inventors Excellence award in 2014 for Young Inventor of the Year. During her acceptance speech in Chicago, she was so poised that she didn't need to hug a Lyla Tov Monster.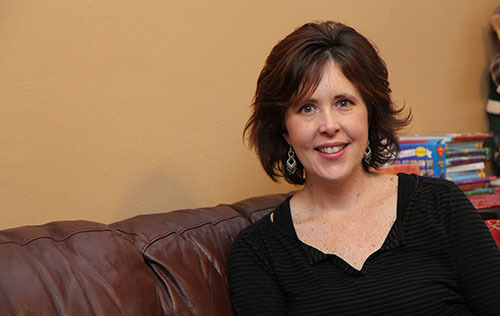 Photo by Nancy A. Ruhling
Erin's happy right where she is.
For many costumer designers, the ultimate goal is Broadway or Hollywood, but Erin, who is 41, is happy right where she is.
"I like doing wildly imaginative costumes," she says.
Her work with Lyla has taught her that she still likes teaching. Just the other day, she had a group of Lyla's third-grade classmates from P.S. 85 over to make costumes for a production the first graders were putting on.
But she doesn't see herself returning to the classroom any time soon.
"Right now," she says, "it's hard to think beyond changing the next dirty diaper."
Nancy A. Ruhling may be reached at Nruhling@gmail.com; nruhling on Instagram.
Copyright 2015 by Nancy A. Ruhling

Related