Forty-eight. That's how many years the Victory Sweet Shop, Astoria's oldest Greek bakery, has been serving its traditional desserts.
Forty. That's how long George and Antigoni Sakalis, the owners and bakers, have been married.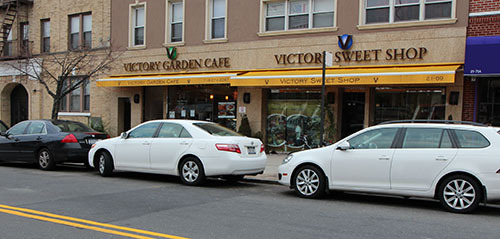 Photo by Nancy A. Ruhling
Victory Sweet Shop & Victory Garden Cafe, 21-69 Steinway St.
Fourteen. That's how many days they knew each other before they became man and wife.
They don't think there's anything unusual about their quick wedding or, for that matter, their long marriage and longer-established business.
They don't understand why these numbers astound people. It's so simple, they say, that you don't even have to do the math.
They have worked hard -- seven days a week -- on each.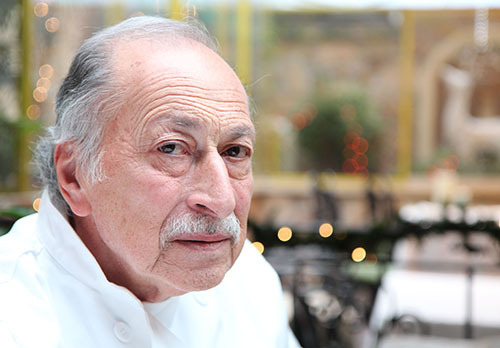 Photo by Nancy A. Ruhling
George is from Nisyros.
As for their marriage, they were forced to make a swift decision.
George was on vacation visiting relatives in Rhodes, where Antigoni lived, and he had to get back to Victory in two weeks.
"I was at my uncle's," George says. "Antigoni's sister lived upstairs, and she came to visit her while I was there."
Antigoni says the decision to leave her family and island was easy because "I admired George's honesty. I knew there wouldn't be any surprises."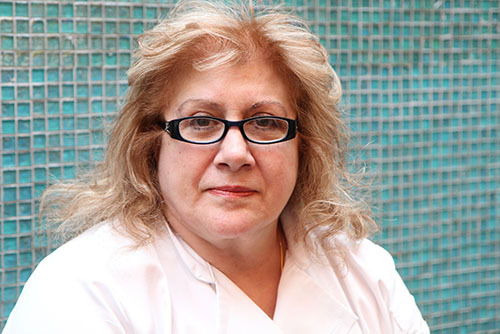 Photo by Nancy A. Ruhling
Antigoni left Rhodes for George.
United, they turned Victory into a neighborhood icon famed for its galaktoboureko, kataifi, melomakarona, kourabie and koulouria and its oh-so-sweet breads vasilopita and tsoureki.
They make their success sound as straightforward as mixing flour, sugar and eggs, but it was -- and still is -- a tremendous amount of work, even though their daughter, Anna, has joined the team.
George and Antigoni were born in the Greek Dodecanese, the dozen-island chain in the Aegean Sea. George grew up in Nisyros; Antigoni is from Rhodes.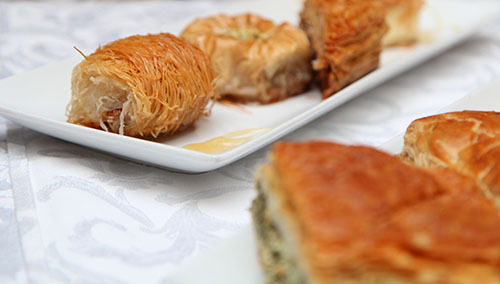 Photo by Nancy A. Ruhling
Victory is known for traditional Greek pastries.
At 13, George, who is one of five children, joined the workforce. He moved to Rhodes to help out at his uncle's business, which made baking supplies like phyllo dough.
"I was going to mechanic's school," he says. "I went to classes during the day and worked in a factory at night for the course. On weekends, I helped my uncle."
While he was thus engaged, members of his family began moving to Astoria.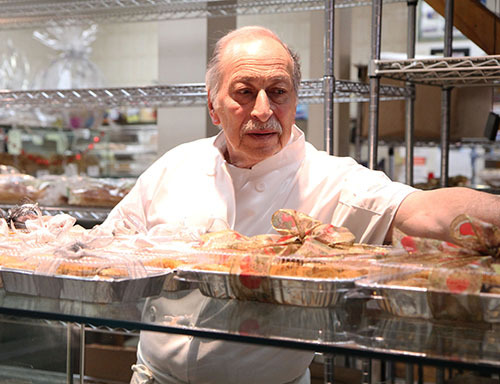 Photo by Nancy A. Ruhling
George does most of the baking.
When George graduated from school, he joined them. For two years, he worked in an Astoria factory that made parts for the military.
The job, which he held during the Vietnam War, kept him off the killing fields.
At night, he worked in the pasteurization department of a Dannon yogurt plant.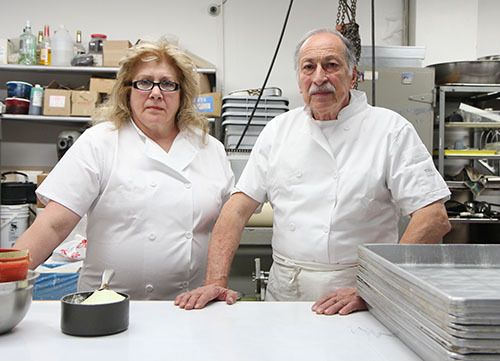 Photo by Nancy A. Ruhling
Antigoni and George love working together.
In 1968, he bought the Victory, which was a small luncheonette on 23rd Avenue at 28th Street. (Today, it is the home of Kokkoris Insurance.)
"The owner was a Korean War veteran," George says. "He named it for America's victory, and I never changed it."
Nine years after George arrived in Astoria, he went to Rhodes to visit his uncle and came back with his bride.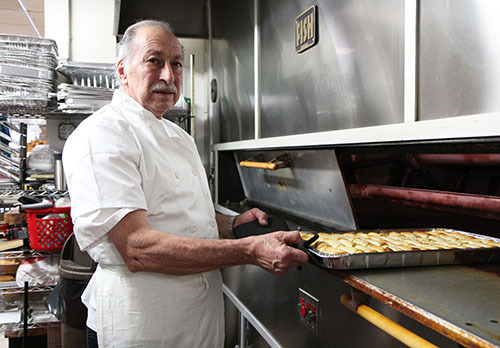 Photo by Nancy A. Ruhling
Fresh from the oven.
Antigoni, who has long, bouncy golden hair, comes from a family of eight. She was earning her living sewing furs when she fell for George and his dashing mustache.
She had some experience baking, having learned the basics from her father, who was a chef. George taught her everything else she kneaded to know.
"We work very well together," she says, as George nods in agreement.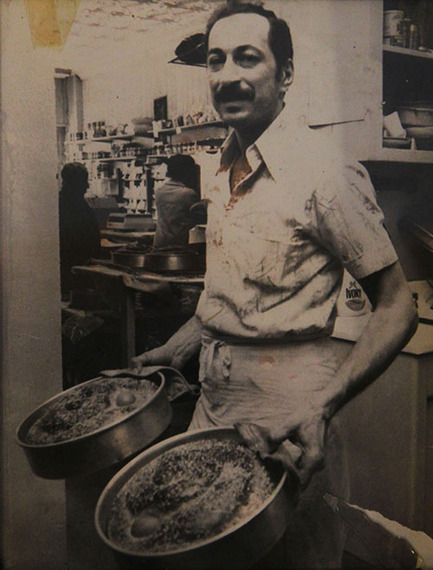 Photo by Nancy A. Ruhling
George in Victory's early days.
Things went so well that in 1986, they expanded Victory and moved it to Steinway Street.
Their two children helped out, and in 2008, Anna gave up her career as a hedge-fund analyst to join them full time.
In 2012, they enlarged the business again, adding the Victory Garden Café.
They divide their duties and their shifts, but each is on the job seven days a week.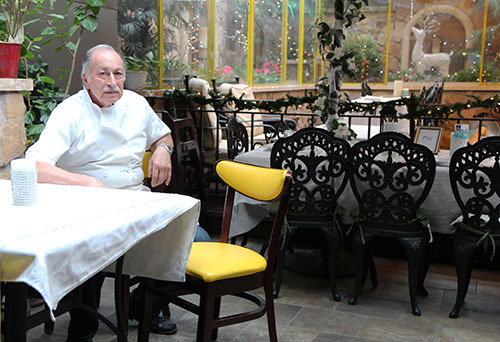 Photo by Nancy A. Ruhling
George taking a baking break.
George, with a staff of four, does most of the baking; Antigoni makes the mini and rolled pastries.
She starts later because she's the chef for the café, which features a Mediterranean menu.
Anna, who just had a baby, is focusing on events planning and increasing the wholesale business. (Victory's pastries are sold at a number of retailers, including Key Food, Bloomingdale's and C-Town.)
When they are not at Victory, they still see a lot of each other: George and Antigoni live a house away from Anna in Upper Ditmars.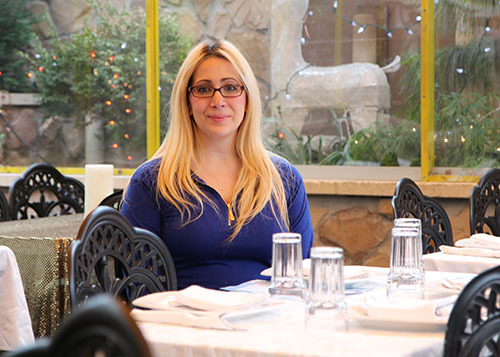 Photo by Nancy A. Ruhling
Anna in the Victory Garden Cafe that opened in 2012.
"We're used to the work, and we like it," George says.
Antigoni adds, "We have a good relationship with our customers. They are like family."
Speaking of family, if George and Antigoni ever do retire -- he's 67, she's 64 -- it will still be a victory for Victory because Anna will take it over.
In her hands, they figure that Victory will hit the century mark.
Nancy A. Ruhling may be reached at Nruhling@gmail.com; nruhling on Instagram. Copyright 2016 by Nancy A. Ruhling

Related
Popular in the Community