At the door that separates the formal living room and dining room, there's a basic-black chin-up bar. Erin and Eldar Spahic are having their morning coffee; he's gulping his out of a super-size-me beer stein, and she is sipping hers from a round mug that doubles as a soup bowl.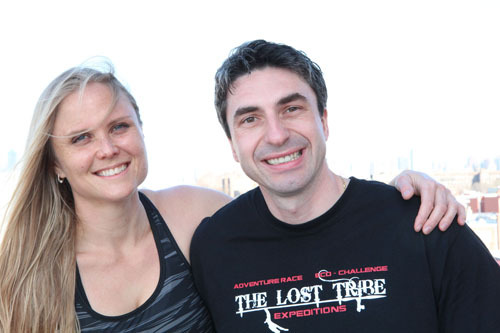 Photo by Nancy A. Ruhling
Erin and Eldar have entered the 2014 Death Race.
Caffeine is their training fuel of choice, and they really need to chug-a-lug jolts of java because this weekend they are going to participate in the 2014 Death Race.
Participate is the key word. Only 10 percent of the racers reach the finish line of this, the ultimate physical and mental endurance challenge, and Erin and Eldar are determined to be among them.
Erin and Eldar have been competing in adventure races for nearly a decade, but this one, which is billed as 48 or so hell hours in the wilderness, will present them with their greatest challenge.
Erin, whose long blond hair likes to hitch a ride on the wind, and Eldar, who always smiles when it does, grew up with a sense of adventure.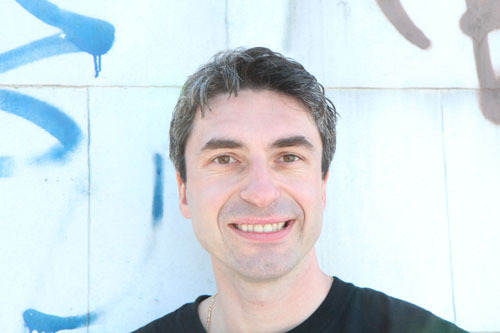 Photo by Nancy A. Ruhling
Eldar learned his survival skills in the Bosnian war.
Eldar was a child of war. He grew up in Tuzla, Bosnia, site of the infamous 1995 Serb street shelling that killed 71 and injured more than 200.
"There was so much shelling in my neighborhood that I got to know the caliber of each shell, where it was coming from and how many seconds it would take to run to shelter," he says. "Some of my friends were killed. The war taught me the survival skills I use in the races."
Erin, an itinerant military brat, was born in San Diego and raised, for the most part, in the dollhouse town of Dover, Arkansas. At one point, she did endurance racing on horseback and spent some of her working life in Africa.
They met at a Greek restaurant in New Paltz. He was a customer, she was a belly dancer and love was the main and natural course.
Erin used to do endurance racing on horseback.
The couple traveled about a bit, eventually earning degrees in nursing. (Eldar is the assistant director of nursing at Lenox Hill Hospital; Erin is the emergency department nurse manager at Mount Sinai Hospital of Queens. They will earn their family nurse practitioner degrees in December.)
Erin and Eldar started the running first, working their way up from 5K events to ultra-marathons, and recently added the adventure races, which make Marine boot camp seem like a pillow fight at a slumber party.
They climb mountains and scale cliffs with bulging backpacks strapped to their strong backs. They trek through rain, sleet and snow. They run mile after mile on treacherous trails, relying only on their wits to guide them.
Survival, Eldar assures, is a matter of common sense. When something happens, such as the time he saved the life of a plane passenger over the Atlantic, he thinks before reacting and acting.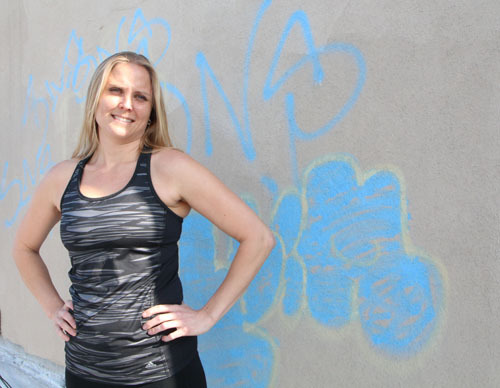 Photo by Nancy A. Ruhling
Erin's emergency unit nurse manager at Mount Sinai Queens.
Nothing scares him. Standing on the roof of his three-story apartment building, he climbs on the ledge and starts doing pushups. He lifts one foot in the air and keeps pumping. There's a serene smile on his face.
"We keep upping the ante," Erin says. "Every race is life changing."
Their finishes inspired them to found The Lost Tribe, an eco-challenge company that hosts adventure expeditions that pit more mortals against the forces of nature.
"Essentially, we train people in survival," says Eldar, who like Erin is a licensed New York State outdoor guide. "We see this as an extension of our nursing careers and as a way to help people on a larger scale."
Getting people to get a move on, Erin adds, will go a long way toward eradicating obesity.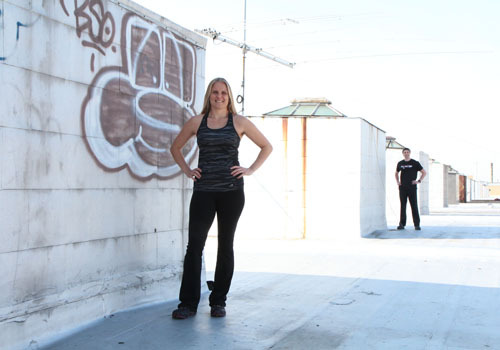 Photo by Nancy A. Ruhling
They're in the 2014 Death Race to the end.
"We envision traveling and teaching people about healthy living," she says. "Our goal with The Lost Tribe is to take it on the road to places like the Alps and Machu Picchu to give people an experience and an adventure."
Eldar echoes her thoughts. "I want to make people happy and help them bring fitness to the next level. As a war survivor, I feel I got a second life, and I want to make new footprints, I don't want to follow in someone else's."
Erin and Eldar have a lot on their plates right now, but they don't even seem to notice. There are not too many people who can work full time, attend school full time, do clinical residencies, train for adventure races and still get eight hours of sleep every night.
"It is about time management," Eldar says. "I feel energized after each race."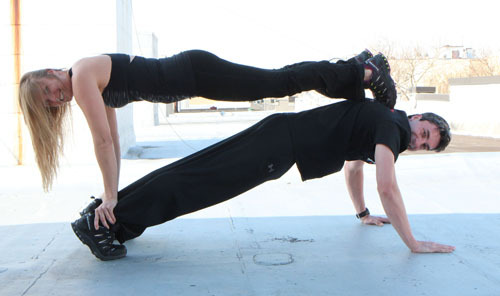 Photo by Nancy A. Ruhling
Erin and Eldar train a couple of hours per day.
Adds Erin, "We are moving constantly; we don't waste time on things like TV."
Erin and Eldar work with a personal trainer and are in the gym or on the run a couple of hours every day. Weekends are spent climbing in the Catskills.
"The training hurts every single day," says a grinning Eldar.
"It never gets easier," Erin agrees.
Of course, after the 2014 Death Race, if they live to tell about it, they may not be feeling anything.
Nancy A. Ruhling may be reached at Nruhling@gmail.com.
Copyright 2014 by Nancy A. Ruhling

Related
Popular in the Community