It's tough being famous. Just ask Oskar.
He's standing in the window of his chic pet boutique, The Jumping Bulldog, getting ready to sunbathe on his royal-red bed when I show up.
Nobody told him about this interview and photo shoot, and his day is packed with play dates. But like all great celebrities, he smiles and takes it in stride. His mommy, Tanja R. Firrigno, will hear about it later no matter how many treats she proffers in apology.
Oskar -- like Cher and Madonna, he doesn't need a last name -- is only 3, but ever since Tanja opened the boutique last year, he has been the reigning monarch of Astoria's French bulldog kingdom, which at last unofficial count numbered 35. His fame spread in November, when a story about him and his subjects became the No. 1 article in the New York Times.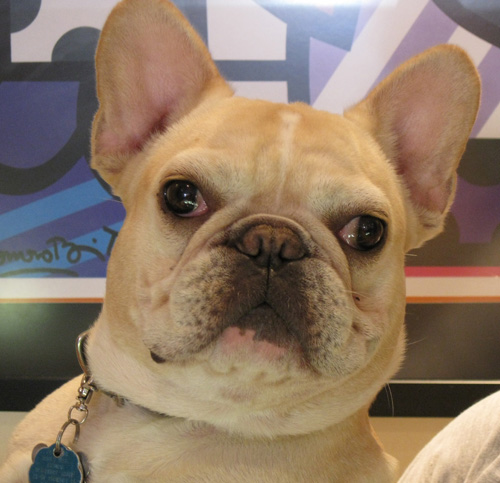 Photo by Nancy A. Ruhling
Cuddly cute, Oskar -- Ozzie to insiders -- is a neighborhood favorite.

Oskar -- Ozzie to his inner circle -- is a feisty fawn Frenchie who decided to let Tanja adopt him when he met her in a Manhattan pet store. She scooped him up in her arms and whispered sweet nothings into his ear as he nuzzled her neck. "She told me I was as cute as a button, and I wasn't even trying to be cute," Ozzie says smugly. "I knew that I'd always have the upper paw."
Just as Ozzie sensed, Tanja was smitten, and without hesitation, she put his purchase on her credit card. "She really wanted me - the bill was $5,300 -- and I didn't even weigh 5 pounds, so that was over $1,000 per pound!" says Ozzie. "And she paid it off in full!"
He agreed to be named Oskar with a K as a tribute to Tanja's German heritage. "I didn't want a doggy name like Spot or Muffin," he says. "As the only child and heir, I wanted a people name."
Ozzie was one sick puppy, but he didn't know it. He had giardiasis, an intestinal illness caused by a microscopic parasite, and ended up in the hospital for two days. "My mommy stayed with me constantly," he says. "She even took time off from work to be with me and eventually left her job in corporate America to be my stay-at-home mommy."
Tanja opened The Jumping Bulldog so she and Ozzie could spend quality time together. "It's named after me," says Ozzie proudly. "When I get excited, I jump and it makes Mommy laugh because I look like a bunny rabbit."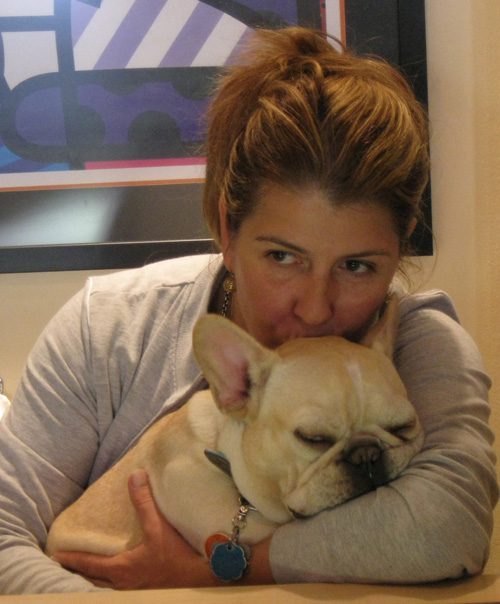 Photo by Nancy A. Ruhling
After a hard day, Ozzie takes a nap in Tanja's arms.
As the shop's mascot, Ozzie has a busy schedule. He wakes Tanja around 7 each morning and after doing his stretching, he helps her get ready. "She's a woman, so it takes her more time," says Ozzie. "I sit on the bathroom mat while she puts on her makeup. I try to keep her on schedule."
Ozzie's not a fussy eater, but he does have his favorites. He's on a holistic human-grade diet. He also loves apples, strawberries, bananas, organic yogurt, peanut butter, eggs and brown rice. Special treats include buckwheat blueberry pancakes. "I try to keep a trim figure," the 24-pound Ozzie says. "It's hard because my mommy is a great cook. We eat every meal together; I don't like dining alone."
At the shop, he spends his time greeting customers and playing with his pals.
Donut, Jack and Romeo, his best Frenchie friends, drop in all the time, and his "stepsister," Lexy, the calico cat, is his constant companion.
"I'm having a terrible time with the tabloids," he confesses. "They keep speculating about my love life, so I want to set the record straight. I'm seeing Snooch. She's a 3-year-old, 65-pound English bulldog, and we're in love. Our parents agree that we make a wonderful couple and would be happy to see us liaised legally."
At night, he takes Tanja for a walk, but if Ozzie is tired, he sometimes lies in the street and tells her to carry him. At home, there is more play time. "We don't have organized games," Ozzie says. "I like to play tug-of-war with a sock, and sometimes Mommy blows on my side to make me jump up."
When it's time for bed, Ozzie snuggles with Tanja. "I have several beds of my own, but I like Mommy's best, because she lets me sleep in her arms," Ozzie says. "She thinks my snoring is adorable. I have to admit that she's right."
Ozzie's dance card is so full that he rarely has time for his hobbies, which include squirrel chasing. "I haven't caught one yet," he says, "but I'm getting close."
He also likes to travel. "I love Florida," he gushes. "It's so warm there that I don't even have to wear a sweater."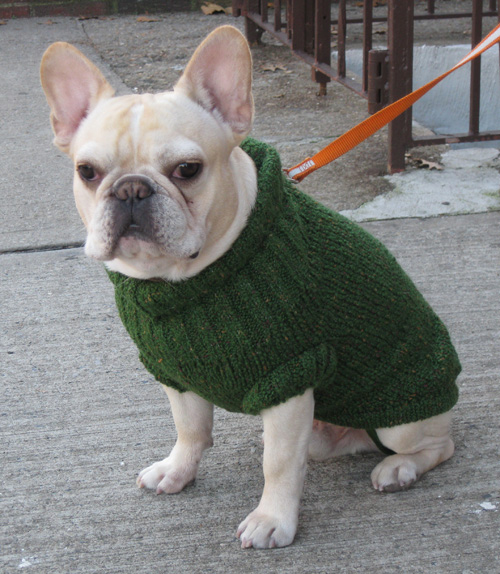 Photo by Nancy A. Ruhling
The fashionable Ozzie does his catwalk thing.
Ozzie is proud to say that it only took him three years to train Tanja. "I have the run of the house and of the shop," he says. "It's a big responsibility, but somebody has to do it."
The shop is getting crowded, and Ozzie is getting bored. Posing is such a hardship. As soon as the photo shoot is over, Ozzie lets down his leash and jumps around with Raya and Louie, a pair of rat terriers who have come to play.
Nancy A. Ruhling may be reached at Nruhling@gmail.com.
Copyright 2010 by Nancy A. Ruhling
Related
Popular in the Community