"Would you like me to make breakfast?"
Because the asker is Peter Giannakas, the chef at Ovelia, the answer is an enthusiastic YES.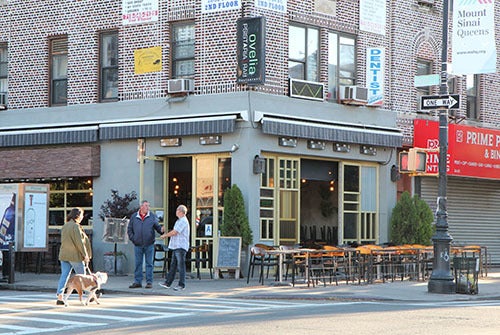 "I'll just fix something simple," he says as he begins frying organic eggs in Greek olive oil. "A traditional Greek family-style breakfast."
Within minutes, he brings the platter of eggs to the table.
Then he presents country-style pork sausage made with leeks and orange zest; grilled halloumi cheese from Cyprus; grilled pita bread seasoned with salt and pepper and oregano; a dish of deep-fried boiled potatoes, onions and red and green peppers; and tomatoes and cucumbers dressed in olive oil and oregano.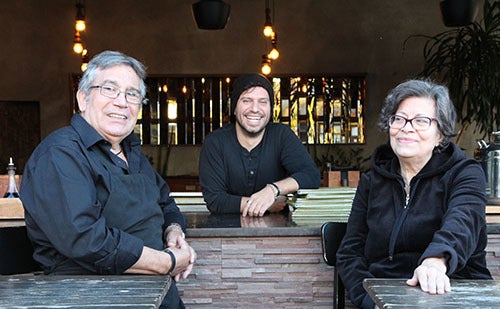 "This is how we usually eat," he says, popping a potato into his mouth. "We share and mix and match everything."
By "we" he means his family: his parents, John and Litsa, and his older brother, Chris.
Restaurants run in their family. John and Litsa owned an eatery in Athens, Greece, which is where they are from.
In 1974, John left to help his nephew open a restaurant in Manhattan.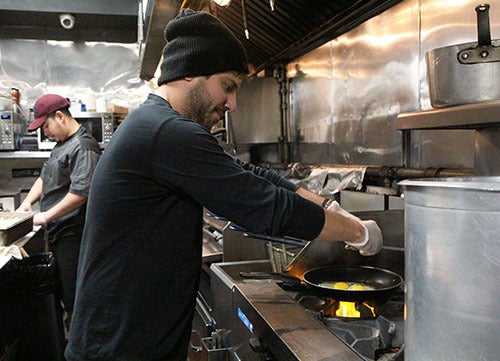 Litsa and Chris joined him a year later, and after Peter was born, Litsa became a stay-at-home cook while she raised the boys in Astoria.
"We were fortunate – and all a little pudgy," says Peter, a muscular man with dark brown curls that can't stop themselves from peeking out of his knit hat.
John worked in other people's restaurants throughout his career.
Eleven years ago, when John was near retirement age, the family opened Ovelia, the Hellenic grill house and bar on 30th Avenue at 34th Street.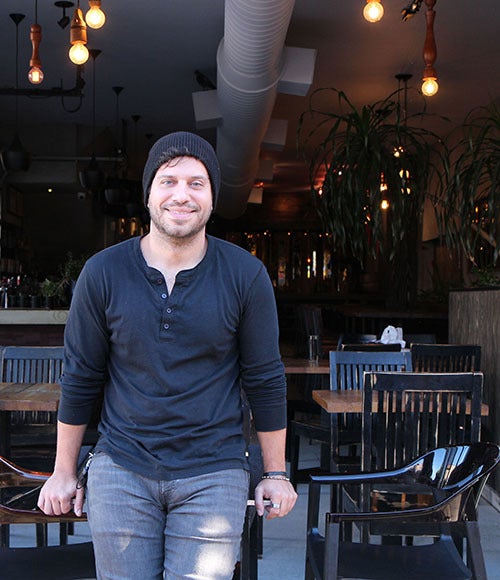 They named it for the ancient Greek ritual of roasting a lamb on a spit over an open flame, which Ovelia does out on the sidewalk on Greek Easter and Aug. 15, the Greek Orthodox feast day of Dekapentaugusto, which also happens to be Peter's (Panagiotis') name day.
"My father, who is 72, has been cooking for at least 40 years, and my mother, who is 66, has compiled recipes from both their moms," Peter says.
In a neighborhood saturated with Greek restaurants, Ovelia has made a name for itself with its traditional Mediterranean menu.
It's known for its feta cubes (deep fried, crusted with sesame seeds and drizzled with Greek honey); skirt steak marinated with Greek coffee; lamb tigania (pulled leg of lamb, warm and tossed with kefalograviera cheese and served with fries); and Monastiraki Bifteki (a kebab of ground beef, pork and lamb placed on a flat skewer and flame-broiled over a grill).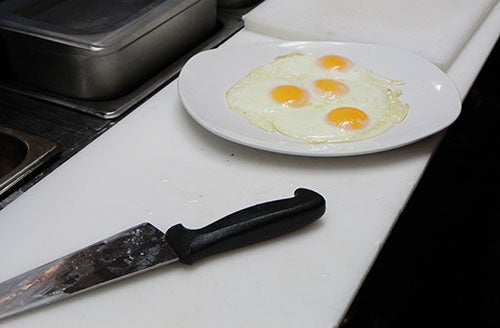 "Monastiraki Bifteki, our signature dish, is not usually seen in Greek restaurants in America," Peter says. "The name Monastriaki refers to an area in Athens where there's a row of restaurants that serve it. It's also a homage to the city my parents are from."
Despite their culinary credentials, nobody in the family had planned to open a restaurant.
Ovelia came about because Peter and Chris were driving by and saw a "For Rent" sign in the window.
"It had been a café that wasn't doing well," Peter says. "Before that, it had been a hardware store that specialized in plumbing supplies. I remembered it from my childhood."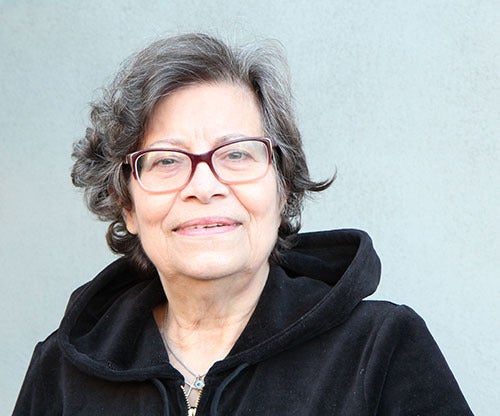 In short order, the brothers had signed a lease, and after renovations, they opened it in 2006.
Although Chris gave up his career as a paralegal in a law firm to run the restaurant with his parents, Peter stayed on the sidelines.
He was working on a master's degree and thought he was headed for a PhD and a career in medical research.
"I started helping out at Ovelia," he says. "I took it upon myself to design the brunch menu. I wanted it to Greekify all my favorite foods. When it was introduced, it quadrupled our business. I was hooked."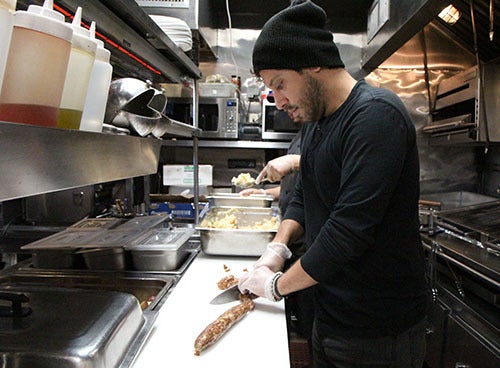 Peter, who is 38, didn't mind giving up his other career.
"I was getting tired of science," he says. "The rewards were few and far between. I'm a very social person, and I had had enough of spending 10 hours a day in a lab."
Peter, who grew up cooking with his mother, was no neophyte in the restaurant business.
He spent six years working part time for Taverna Kyclades on Ditmars Boulevard.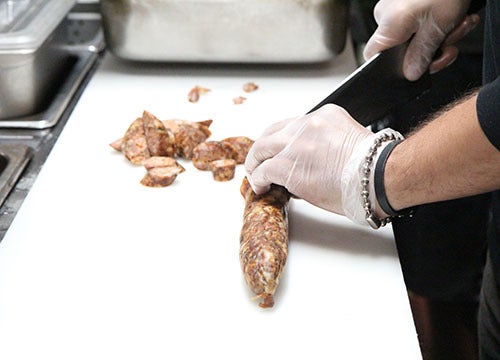 He started as a busboy when he was 15 and eventually became the manager.
At Ovelia, he headed straight to the kitchen to begin learning from the gas burners up.
"I have an affinity for cooking," he says. "Even when I was a kid, I could taste the flavors before I created a dish. Our goal at Ovelia is to be as different as possible and to create traditional and unique dishes."
Working the kitchen, he says, is exciting.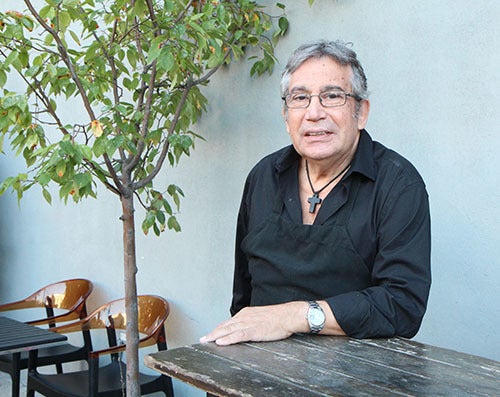 "I like the intensity," he says. "When the orders pile up, I'm at my sharpest and most confident."
Peter loves the fact that Ovelia is all in the family.
"Chris and I push each other," he says, adding that they share a two-family house they recently bought in East Elmhurst. "We give each other a kick in the ass when we need it."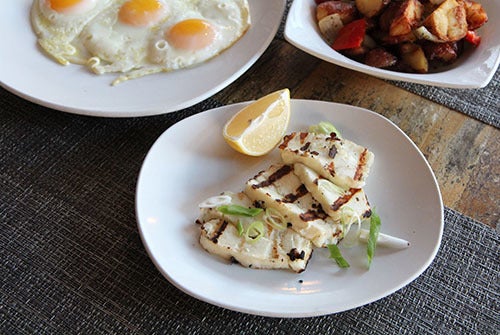 Although Peter spends about 60 hours a week at Ovelia – "I'm lucky because I work only five days a week" – he doesn't want to be known only as a restaurateur.
"When I have free time, I go fishing at Gantry Park on the East River or at Costco," he says. "I also write poetry, which I have been doing since I was 13. It's a way to communicate things I cannot say to people face to face."
The down time gives him a chance to think of new ideas for Ovelia.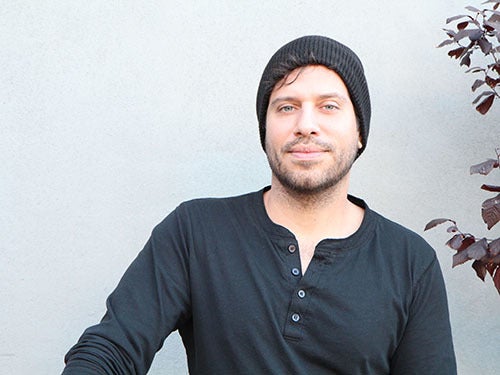 "We're always evolving," he says. "We've thought of opening more restaurants. But it has to be the right situation and right for the whole family just like Ovelia was."
As brunch crowd arrives, Peter clears the plates from the table.
"Ovelia is a labor of love," he says, heading toward the kitchen. "I love our neighborhood, and we hope to be a part of the community for at least another 20 years."
Nancy A. Ruhling may be reached at Nruhling@gmail.com; @nancyruhling on Twitter; nruhling on Instagram, nancyruhling.com, astoriacharacters.com.
Copyright 2017 by Nancy A. Ruhling
Related
Popular in the Community