Marion Duckworth Smith stood shivering in the central hallway holding a candle. Its flickering flames kindled her heart.
"I knew that the house had been waiting for me," she says. "And I said to myself, 'I'm going to bring it back to life, and it will bring me back to life.'"
It was on that cold November night in 1979 that her romance with the house and with the man who owned it began.
It was her second date with Michael M. Smith, and he had asked her whether she wanted to see his cemetery. She called his bluff and found herself at the Lent-Riker-Smith Homestead, the city's oldest house that's still used as a private home. (More photos.)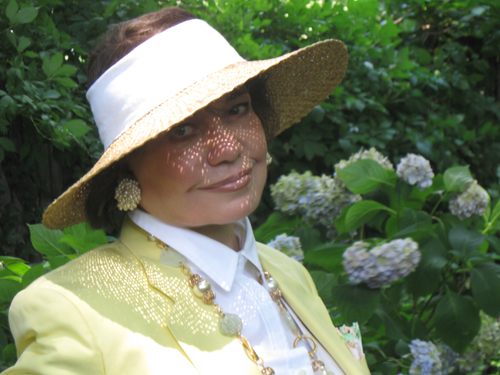 Photo by Nancy A. Ruhling
Marion is the mistress of the Lent-Riker-Smith Homestead.
"Our life together in this house was like a fairy tale," she says, tears pooling in her eyes.
Marion is speaking in the past tense because Michael, her husband of 28 years, is no longer with her. He left her on Nov. 21 and is waiting to be laid to rest in the cemetery he took her to in 1979.
Interment, like her love for Michael, is forever. So she's taking her time about choosing a tombstone. "I'm too sad to do it," she says.
Long before she met Michael and his house by Rikers Island, Marion was a romantic. She grew up in Williamsburg, Brooklyn. "I was the runt of our litter of three, and I was the baby," she says. "I always wanted to be a ballerina, but I have flat feet, so that dream fell down."
When her sister, a Playboy bunny, posed for a centerfold, the photographer, a man 20 years Marion's senior named Paul Duckworth, asked whether she had any more at home like her. "There weren't," Marion says. "But there was me. My sister stopped traffic. I was just cute."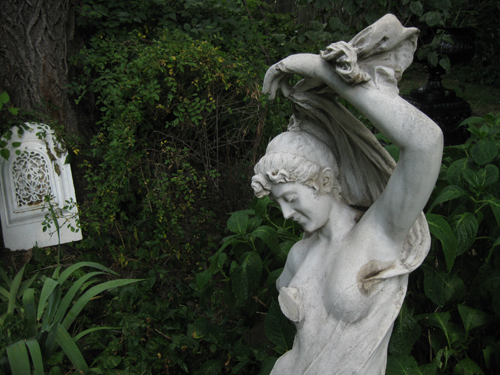 Photo by Nancy A. Ruhling
The one-acre grounds are filled with antique statues.
Marion is more than just cute. Small in stature but larger than life in a daffodil-yellow jacket accessorized with baubles and beads, she looks like Liza Minnelli getting ready to channel Judy Garland so she can dance in a 1940s Hollywood musical.
Marion, who was just 17, did more than pose for him. "I dropped out of high school, and we eloped when I was 18," she says, adding that she had her first and only child, a daughter, shortly before her 19th birthday. "I left a note for my parents on the kitchen table."
That's how Marion came to run Duckworth's Manhattan photo studio. "I did everything from being his darkroom assistant and stylist to being his muse," she says. "He tried to teach me photography, but I wasn't interested."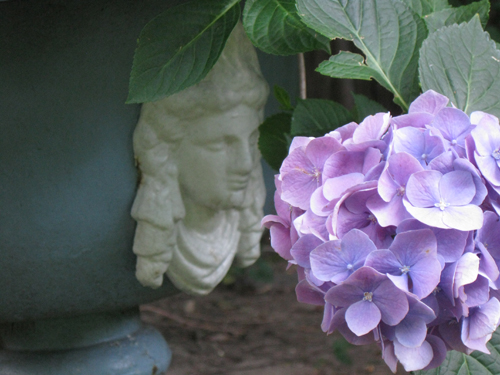 Photo by Nancy A. Ruhling
A hydrangea frames a face on a flower pot.
But, after 22 years, she was interested in leaving him and the business. "I wanted to be the star, I wanted to be out in the world," she says. "At 40, I felt I had so much to discover."
What she discovered was that she needed a job before she could even contemplate a divorce. She became a part-time proofreader in Michael's publishing company.
"During the interview, I thought, 'I like this man.' I got the job, I got the man, and the rest is history," she says.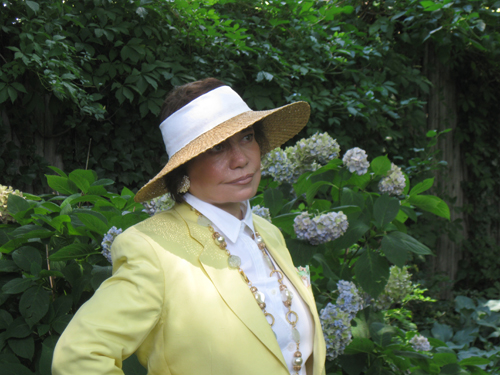 Photo by Nancy A. Ruhling
Marion, a singular bloom in the garden.
It was the 350-year-old homestead's history that she set about to preserve, turning the long-neglected eight-room Dutch Colonial into an architectural showpiece.
"It has been a labor of love," she says. "When I was a kid, I wanted to fix up an old house and live in it. This was my little girl's storybook dream come true."
Once the interior was restored, Marion set about turning the exterior into a carefully choreographed, period-style landscape. She cleaned up the overgrown cemetery. She built a gazebo and gingerbread house and added a wedding-cake-tiered Victorian fountain to the one-acre property.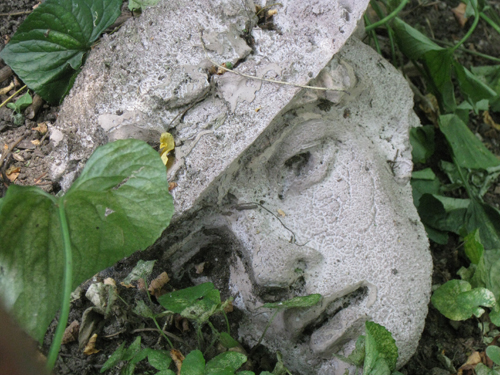 Photo by Nancy A. Ruhling
A woman mourning in the cemetery.
"Michael always called it Paradise Acre," she says, "but it's always been my Enchanted Cottage."
It was here that Michael and Marion celebrated their life together. They married on May 15, 1983, and every month thereafter, they planned something special on the date that united them.
"On our eighth anniversary, Michael filled the house with white roses," she says. "There were bouquets in every room. There were 96 roses, one for each month of our marriage."
There was the Valentine's Day, it doesn't matter which year, that Marion took all the cards and love letters Michael had ever sent her and strung them from the ceiling of their bedroom.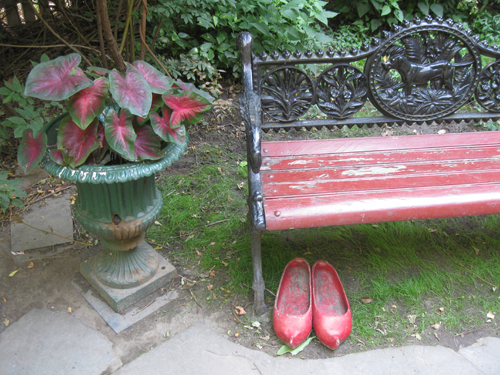 Photo by Nancy A. Ruhling
A bench awaiting the arrival of visitors.
"I covered the bed with all the big heart-shaped candy boxes he had sent me and tied a big, red ribbon around them," she says. "We were always doing things like that."
Michael loved to buy her things. More rings than she had fingers for. The 1888 Steinway grand piano in the front parlor. The AE-1 Canon that got her started on her own photography career.
"Once I looked through the lens, that was it," she says. "I learned by doing, and I got the idea to do greeting cards."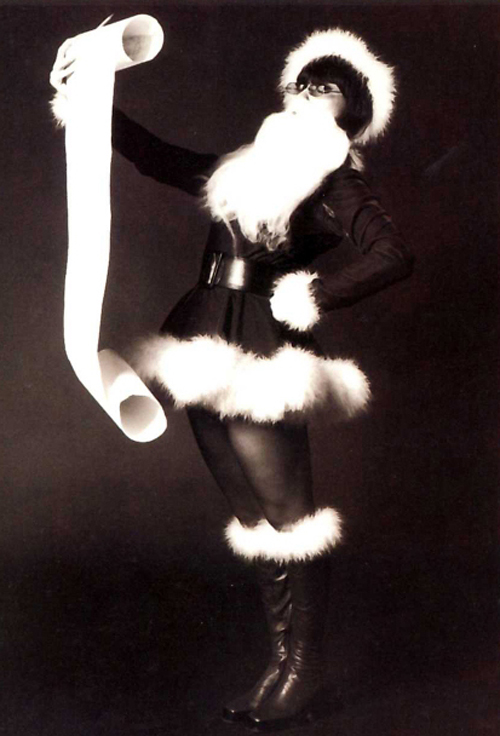 Photo by Nancy A. Ruhling
Marion plays Santa on a greeting card.
Soon, her images were appearing on cards and calendars. Her 2004 book, The Romantic Garden, became her own valentine to her historic homestead.
"My work is my fun because the ideas just keep coming," she says. "When I look through the camera, I'm never depressed."
Marion spent three years saying her good-byes to Michael during his final illness, and now she's trying to jump back into life. "My life began at 40 when I thought it was over," she says, adding that she's ready for new adventures. "I didn't realize then that it hadn't even begun."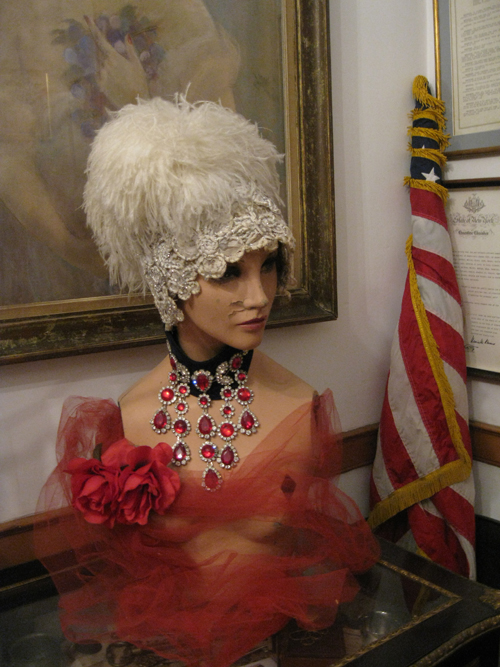 Photo by Nancy A. Ruhling
A gift from Michael: A Larry Vrba necklace Carol Channing wore in Hello, Dolly!
She's thinking not only of her own future but also of that of the homestead. "If I live longer than the next couple of years, I don't know how I will be able to keep it," she says.
The Lent-Riker-Smith Homestead has had only four owners. Built by Abraham Riker circa 1654, it was passed to Abraham Lent, a Riker descendant, then William Gooth, a personal secretary to the last Riker to call it home. Michael bought it in 1975.
Marion's hoping to get some of the Riker family descendants interested in preserving the house. In her ideal plan, she would be allowed to live there until her death.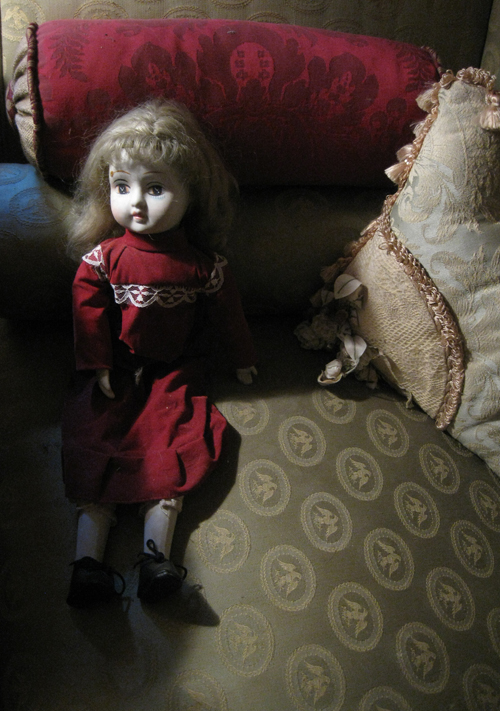 Photo by Nancy A. Ruhling
A doll from Marion's collection of antiques.
It's near the end of the season for the garden, but Marion finds some hydrangeas that are still in bloom. She clips them, along with the last red rosebud, and gently places them on her mother's grave.
It was only three years ago that her mother died, so that grief, too, is as fresh as these newly cut flowers. She's resting next to Marion's brother, who was buried in 1988; it wasn't right that he died so young. When Michael joins them, there will be 135 graves.
"My mother, my brother, my husband," she says. "I've done this three times, but it doesn't make it any easier."
Marion's well-meaning friends are telling her to leave this house. "It's too big, it's too much work," they say. But she's listening only to her heart, which brought her here in the first place.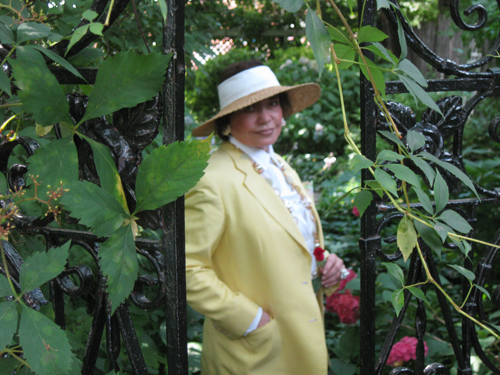 Photo by Nancy A. Ruhling
Marion's waiting for the next chapter in her life to unfold.
"I have everything I need here," she says, as she walks down a stone path. "This is where I want to be."
Marion's had decades to study the scripture on the old Riker gravestones. But she's chosen "our song is completed now" to memorialize her husband, the best man on Earth and in heaven.
"This has been a year of loss," she says. "At 71, I'm standing alone, and it's been hard."
If God's willing, she'll be buried here. At Michael's side.
Nancy A. Ruhling may be reached at Nruhling@gmail.com.
Copyright 2011 by Nancy A. Ruhling
Support HuffPost
The Stakes Have Never Been Higher
Related
Popular in the Community