Laughter. That's the first thing you hear in Gregory Briggler's second-floor walkup.
The giggles and guffaws are coming from his three boisterous boys, 12-year-old Harry, 9-year-old Simon and 6-year-old Adam.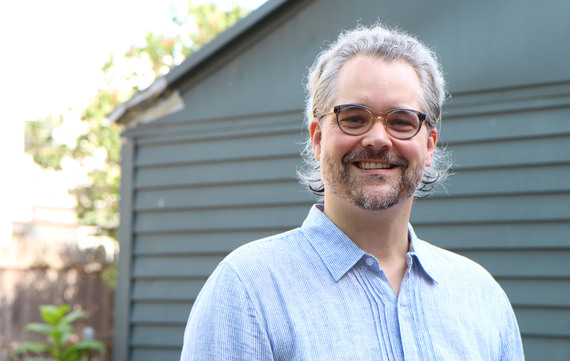 Photo by Nancy A. Ruhling
Gregory's the principal trombonist for the Astoria Symphony Orchestra.
They're clowning around as Gregory's wife, Katarina Vizina, prepares a mid-morning snack in the kitchen, and he presents homemade ice tea in tall glasses.
"I inherited the recipe from my mother," he says, his voice as sweet as the cup of sugar she pours into every half-gallon pitcher.
Gregory judiciously cuts the sugar in his version to a quarter, but he suggests toning it down further with a dash of lemon.
As a musician, Gregory is an astute student of sound, whether it trumpets from his trombone or free-falls from the mouths of his trio in training.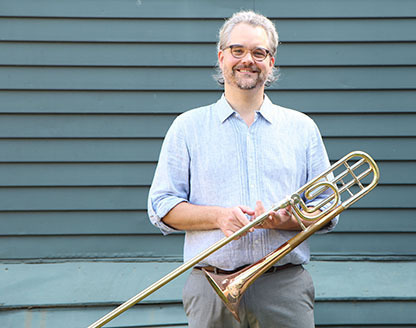 Photo by Nancy A. Ruhling
He started playing at age 10.
"I love sound, sound effects and music," he says. "I get a lot of energy when I play. This week, for instance, I was up to midnight every night, and I had no trouble waking up every morning to go to work."
Gregory, the longtime principal trombonist for the Astoria Symphony Orchestra, is also the full-time manager of The New School's Music Library.
He's been orchestrating his life between day and night jobs ever since he picked up the trombone some 30 years ago.
This moment innocently occurred in Conway, Arkansas, the small college-centric town near the foothills of the Ozarks where Gregory was born and raised. He was in elementary school.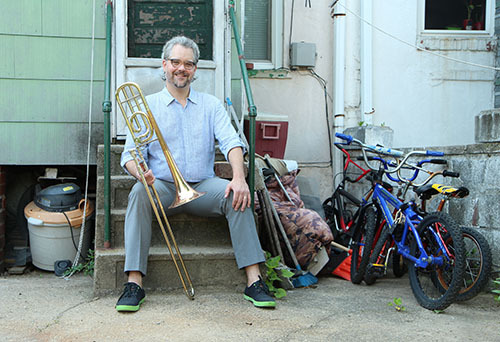 Photo by Nancy A. Ruhling
Portrait of domestic bliss.
"I'm not sure why I chose the trombone," he says, adding that "even at that age, 10, I liked its versatility, which ranges from jazz to classical, because I've never been 100 percent anything."
By 13, he was listening to all kinds of music and completing his homework to the beat of classical compositions.
"I heard a lot of good country music," he says. "Willie Nelson's Red Headed Stranger was my Sgt. Pepper."
He enrolled at the University of Central Arkansas, which is in his hometown, but after two years transferred to the University of North Texas, where he earned a bachelor's degree in music history.
"I wanted to get out of Arkansas and see bigger things," he says, adding that right before graduation, he headed to Brno in the Czech Republic to study. "Prague was the hot-spot destination for Americans at that time. I thought I would at least experience a little of that magic. I thought I would find Paris in the 20s. Instead, I felt it was awash in boring Americans."
It was there that he met Katarina, who is not American and is, decidedly, not boring. He calls her into the living room so she can help him tell the story.
A native of Bratislava, the capital of Slovakia, she, too, was a student. They became friends because she was one of the few people at the school who spoke English flawlessly.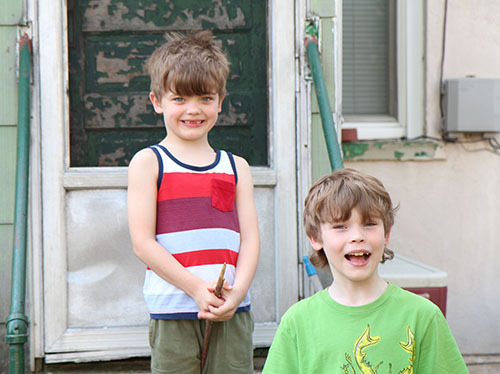 Photo by Nancy A. Ruhling
Adam, top, and Simon goofing around.
"When we met, I called him a fat American," she says.
"And I was a fat American," he adds.
She looks at him and laughs.
"But as soon as I saw him, I knew that he was the one. Ever since I was 16, I had been praying every night to marry a good husband," she says. "I prayed for an American with black curly hair."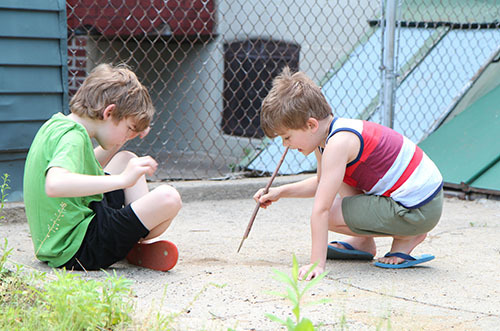 Photo by Nancy A. Ruhling
Simon, left, and Adam making a discovery.
It's Gregory's turn to laugh. He notes that he wouldn't fit her ideal image now.
Time may have painted his ravishing ringlets silver, but he's still got tall and handsome going for him.
"To her, I was an exotic foreign exchange student," he says.
Anyway, they fell in love, and when they parted -- Gregory for a job as a trombone teacher in Texas and Katarina for a position as a translator and as an actress in a touring musical -- they knew it was not forever.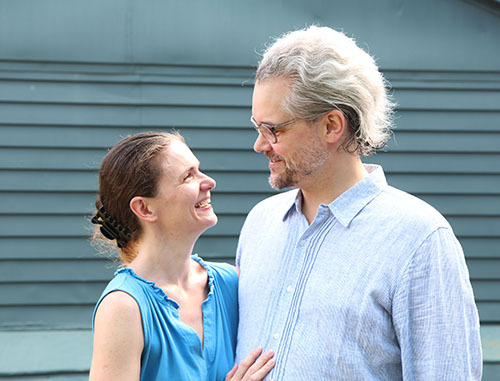 Photo by Nancy A. Ruhling
Katarina and Gregory met when he was an exchange student.
Indeed, Gregory not only returned for a job with Berlitz teaching English as a second language in Bratislava, but he also asked her to marry him.
They came to New York City so she could further her career as an actress.
"I've always been attracted to New York City," he says. "And we thought it would be a welcoming place for an immigrant."
It wasn't long after that that Gregory answered an ad in The Village Voice for a touring gig with The Monkees. He went on to play in solo shows for Davy Jones and Mickey Dolenz for several years.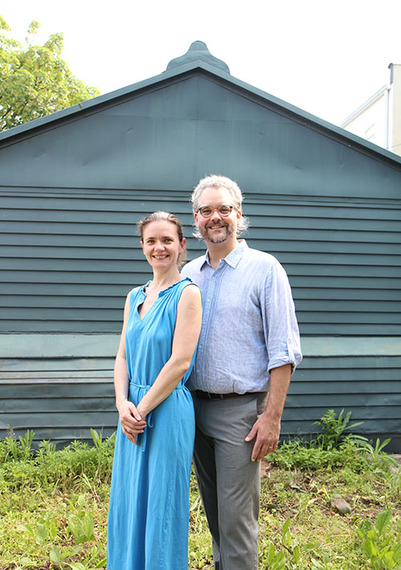 Photo by Nancy A. Ruhling
They came to New York City for Katarina's career.
"I loved doing the tours," he says, adding that they took him all across the United States as well as Canada and the United Kingdom. "I love to travel. I've never been much of a partyer. I wanted to see boring towns and amazing things and meet memorable people. I also like to sit and watch the road go by."
Gregory, who has a master's degree in music from Stony Brook University, has lots of projects in the works. He mentions an idea for a trombone solo and a dancer. And he's toying with creating a show called Songs I Hate.
He's also content to spend time with his boys.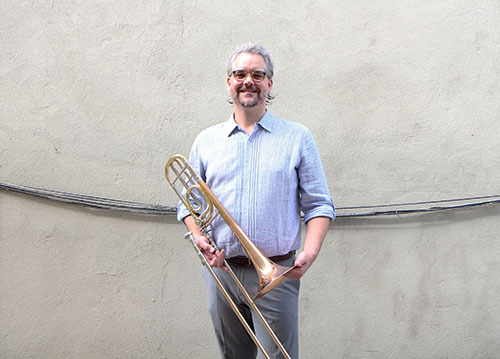 Photo by Nancy A. Ruhling
Gregory's all set for the next stage.
"I have no expectations for them to be professional musicians," he says, "but in this house, music is part of their education."
Harry plays the clarinet in the school band, Simon is taking lessons on the piano, and Adam, who likes to dance and prance, has shown interest not only in the piano but also the guitar.
Perhaps they will form a family band someday.
Right now, though, their voices are their main instruments. And they're filling the apartment with a joyful noise.
Nancy A. Ruhling may be reached at Nruhling@gmail.com; @nancyruhling on Twitter; nruhling on Instagram. Copyright 2016 by Nancy A. Ruhling
Related
Popular in the Community