When Nick Pavlou shakes hands, he offers his right one. But he can't let it let go of his cane, so the most he can manage is a feeble three-finger touch. For nearly two decades, his left arm has hung, useless, at his side.
If you don't recognize his face -- there's a wicked scar that runs from his left eyebrow and over his forehead to the back of his head -- you may recall his name.
Nick is the guy who made headlines as the Hard-Hat Hero in October 1996 when he risked his life to save a woman and her son and granddaughter from a crane's crashing boom at a Harlem construction site. (The crane operator, Paul Foti, Nick's partner, was killed instantly.)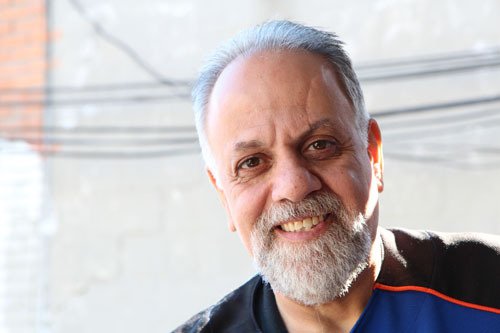 Photo by Nancy A. Ruhling
Nick was injured nearly two decades ago.
Nick's legs were crushed by the 6-ton boom, and he lost his spleen, the use of his left arm and the muscles on his left side. His stomach is held together with mesh, and his skull was fractured. He was declared dead not once but twice, something he won't ever get over.
"The doctors told me I would never walk again," says Nick, his brown eyes afire with defiance. "But I proved them wrong."
It took about 60 surgeries -- Nick lost count along the way -- and tens of thousands of hours of rehab for him to regain minimal mobility.
Nick accepts the fact that things never will be the way they used to be. A big, strapping guy who often is mistaken for Billy Joel, Nick made it a practice to walk from Astoria to his jobs in Manhattan and Brooklyn. Now, on a good day, when the weather is picture perfect, he can hobble about four blocks, a journey that can take him an hour and a half. Football, which he always looked forward to playing, is a mere memory.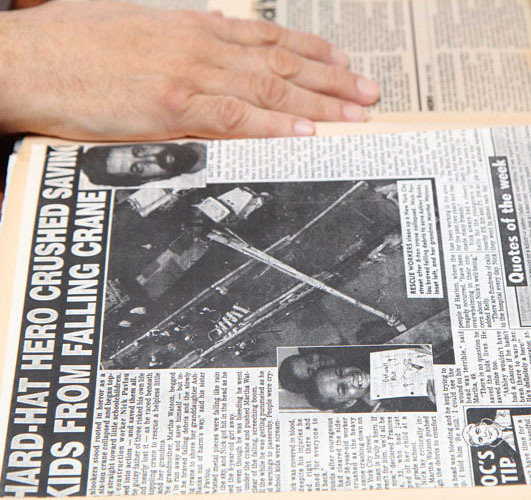 Photo by Nancy A. Ruhling
Nick's family made him a scrapbook of the headlines.
"If I had not saved those people, they would have been killed," he says. "And I would not have been hurt. But I have no regrets."
To say that the accident changed him is a vast oversimplification. Generally, Nick copes with it by not talking about it. He prefers to focus on his charity work. After a decade of raising money for children in need, five years ago, Nick founded Save a Young Life Foundation, a nonprofit that provides financial and emotional support to those battling catastrophic illnesses.
"I want to help as many young people as possible," he says, an urgency in his voice.
Trading in his hard hat for a halo has given new purpose to his life.
Nick, the son of Cypriot immigrants, was born and raised in Astoria, and he's lived in the same house since he was 8. In his youth, the place was filled with the laughter of six children, the strictures of parents and the wisdom of grandparents. Nick's parents owned a restaurant in Brooklyn, and the children were put to work. Nick joined the family business at 13.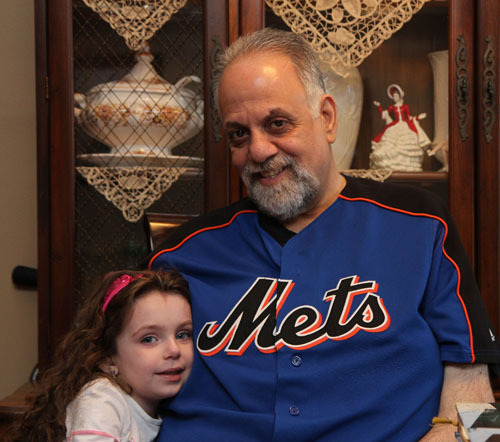 Photo by Nancy A. Ruhling
All pretty in pink, Lia pays a visit to her grandfather.
"There are lots of memories in these walls," he says. "And they continue because one of my sons and his family live upstairs. The grandchildren always come to wake me up in the morning."
A few minutes later, 4-year-old Lia, dressed as a pink ballerina, dances in. Vasoulla, Nick's wife, feeds her homemade spinach pie.
Like Nick, Vasoulla is from Cyprus. In fact, that is where they met. When Nick graduated from high school, the family went back home to Khirokitia to live.
"My mother and I saw Vasoulla in church," Nick says. "She was beautiful. It was an arranged marriage, but it worked out fine. We've been happy together for 36 years."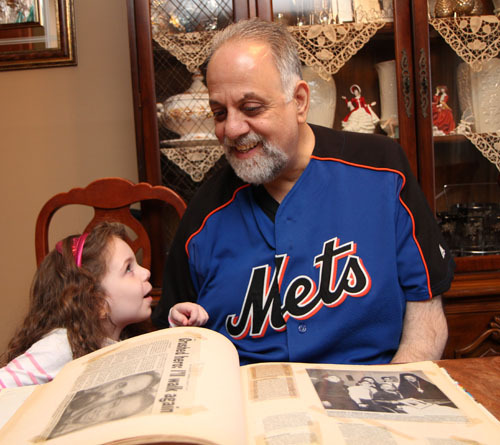 Photo by Nancy A. Ruhling
For Nick, family is everything.
Vasoulla smiles in agreement. Nick was her first boyfriend.
The newlyweds returned to Astoria, where Nick took a job at the Waldorf Astoria, working his way up to head houseman while Vasoulla stayed home to raise their three boys. After 10 years of service, he left to open a coffee shop down the block from his house. A short time later, he took up construction work.
"I used to work two to three jobs a day," he says. "I once went two years without a day off. I wanted to retire at 50 to spend time with my kids."
That's why Nick was at the Harlem construction site that fateful morning. He and Paul were supposed to do a job in Brooklyn, but at the last minute, they were called to Harlem to move some steel plates, which turned out to be too heavy for the crane's boom.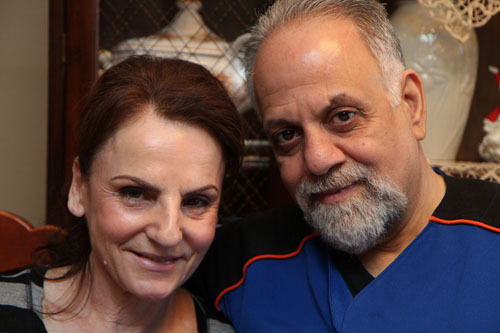 Photo by Nancy A. Ruhling
Vasoulla and Nick have been married 36 years.
When he realized the mast-like boom was falling, Nick, whose boys were 17, 15 and 11, moved into harm's way and pushed the trio to safety.
"I didn't even think twice about it," he says. "If you see somebody who needs help, you do it."
When he came out of the coma a month later, he eventually was put into rehab.
"I insisted on doing the workouts seven days a week," Nick says, adding that he didn't get to come home until 15 months after the accident. "I would spend seven to nine hours in the gym at a time."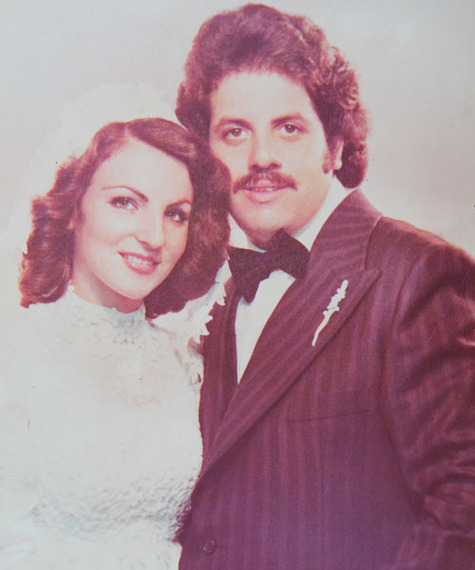 Photo by Nancy A. Ruhling
Vasoulla was 21 and Nick was 19 on their wedding day.
Nick, who just celebrated 56 years of life, is still in rehab. He used to go three days a week, but recently, he was able to scale back to two. He's moving more gingerly than usual because he is recovering from knee surgery. He may have to have the other one done, and he's considering arm surgery to relieve the pain.
"My legs don't hurt," he says, pulling up his pants leg to reveal a limb that looks as though it were cobbled together by Dr. Frankenstein. "I have constant pain in my back, but my left arm, it only hurts from my elbow to my fingertips. I don't sleep much because I feel pain when I relax, so I don't go to bed until 3 or 4 in the morning, and I get up at 8."
While Nick is raising money to help others, he gives little thought to his own financial situation. A quirk in the law prevented him from collecting any money in court.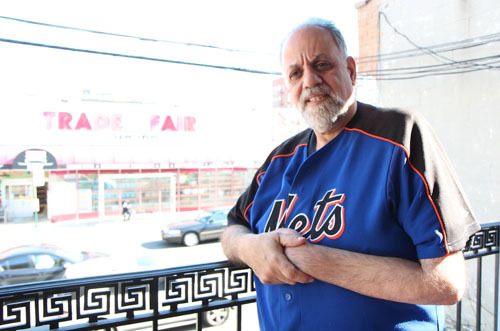 Photo by Nancy A. Ruhling
He spends his time raising money for charity.
"Because I put myself in the line of danger, there was no liability," he says. "According to the law, it was my own fault, but if I hadn't acted, those three people wouldn't be here."
Nick and Vasoulla live, just barely, on Social Security and Nick's pension. Worker's comp picks up the never-ending medical bills and provides monthly disability payments.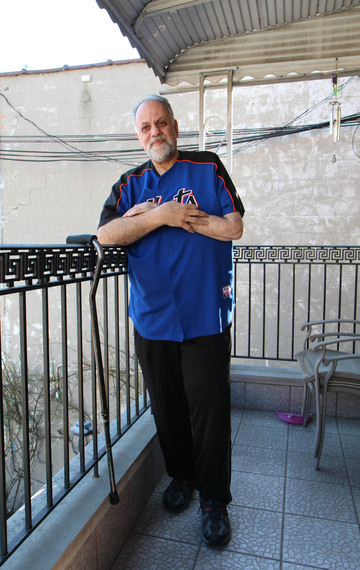 Photo by Nancy A. Ruhling
He doesn't consider himself a hero.
"We don't buy anything we don't need," he says, adding that family is really his only necessity.
"I'm happy with my life, and I look forward to waking up every morning," he says. "I can't hold my grandchildren over my head or get down on the floor to play with them, but I have everything I need."
Vassoula is getting Nick ready for his latest doctor's appointment. It's the first one since his knee surgery. She doesn't know whether he'll be able to bend his knee enough to get into the car.
Nancy A. Ruhling may be reached at Nruhling@gmail.com.
Copyright 2014 by Nancy A. Ruhling

Related
Popular in the Community