There is a glass and brass door on 31st Street right under the El. Even if you take the subway every day, you've probably never noticed it.
That's because it's painted green, just like the one next to it. If you don't know any better, you'd think each is an entrance to Teddy's Florist.
But this door, the one on the left, is a portal to the past. To get there, you travel through a dark, tunnel-like passageway and emerge into the blinding brightness of day. The vision -- for at first it doesn't seem real -- is of a Victorian house that's Grant Wood American Gothic. (More photos.)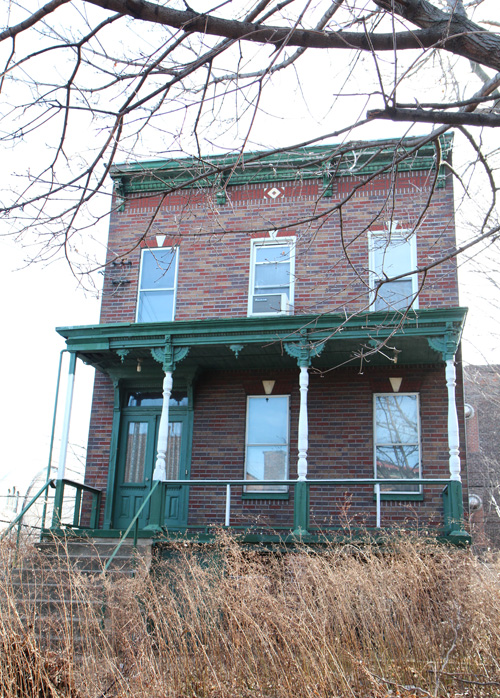 Photo by Nancy A. Ruhling
The house time has forgotten.
How did it get there? Did it run away from home when its bricks were brand-spanking new and hop the fence while playing a game of hide-and-seek? Or did it fall from the sky like Dorothy's during the twister?
Amid a sea of wild weeds, it stands sentinel, staring wide-eyed as the rest of the world goes about the business of living.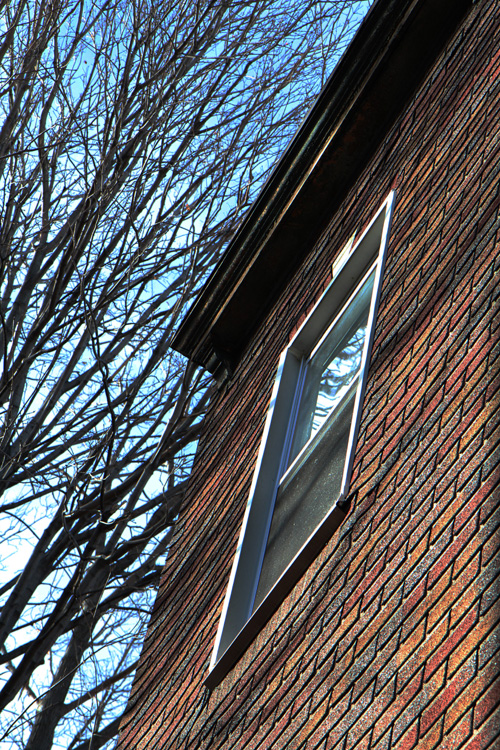 Photo by Nancy A. Ruhling
A view of the back.
No one is sure how long the house has been there, and its complete history is a mystery.
"There are secret houses and houses in plain view with secrets in Astoria," says Bob Singleton, executive director of the Greater Astoria Historical Society. "We hear a steady stream of whispers on where the bodies are buried."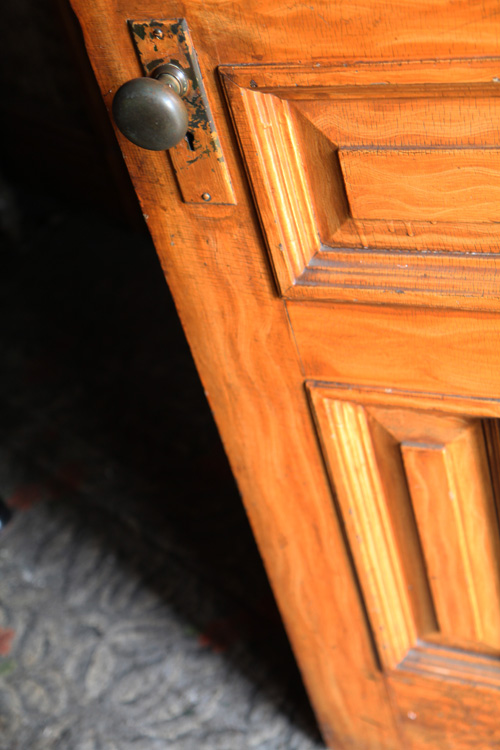 Photo by Nancy A. Ruhling
Many original details, including the double front doors, remain.
There's aren't any bodies (or even any ghosts of record) on this property. But the etched-glass panels on the front doors are covered with long-ago lace curtains, and there's an old-fashioned sink visible through a broken back window.
This much is known. The house was built on the lot at 22-41 sometime before 1910, when 31st Street was widened to accommodate the El. At that time, 31st Street was home to residences, not businesses, and the houses were moved back from the street to make room for the station.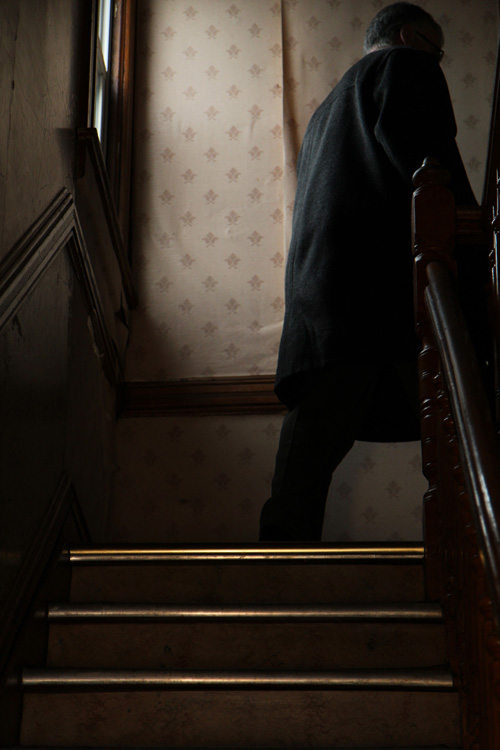 Photo by Nancy A. Ruhling
It's been decades since the house has had inhabitants.
As the mom-and-pop stores were built up in front of them in the teens and early '20s, many of the houses were torn down.
But for some reason, this one wasn't. Teddy's Florist was established in 1922, but it grew up a couple of doors away at 22-55. It wasn't until after 1948, when Theodore Kostakis, the owner's grandson, and his bride, Evangeline, took over Teddy's that it was moved to its present site.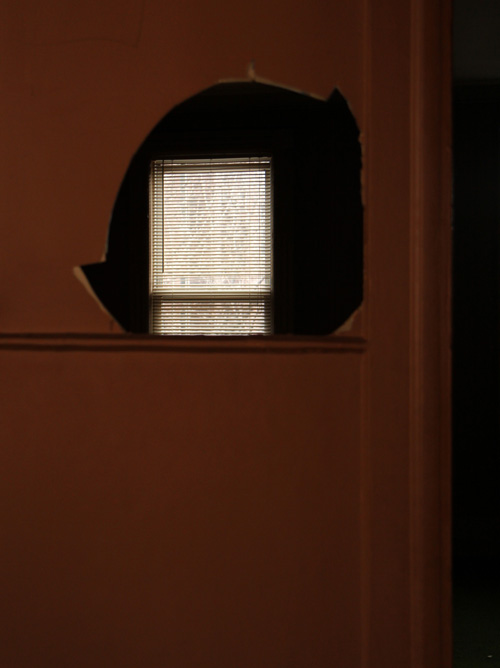 Photo by Nancy A. Ruhling
The hand of time has punched a hole in the pocket door.
Old-timers say that the Kostakis family and their son Peter lived in the house until at least the 1970s, when Theodore died. Peter, a military man, is said to have stayed at the house when he was between assignments.
At any rate, by the time Teddy's current owners took over, in 1984, the house was virtually vacant. And so it stayed until 2011, when it and the lot Teddy's occupies were sold by the Kostakis family to a group of Manhattan real estate agents. Now, the land is being subdivided, and the house is up for sale.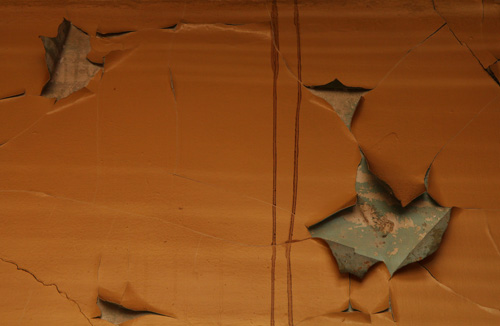 Photo by Nancy A. Ruhling.
Peeling paper looks like a piece of abstract art.
Its future is uncertain, and time may stop for it.
These days, the only steady visitor, besides the squirrel squatters, is George Halvatzis, who comes now and then to show it to prospective buyers.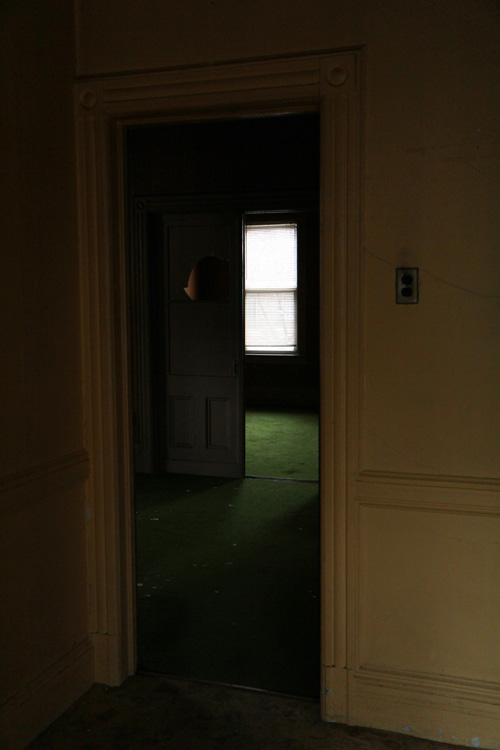 Photo by Nancy A. Ruhling.
History makes no mention of ghosts.
"In my 32 years as a real estate agent in Astoria, I've never encountered such a unique property," George says. "Detached homes are rare here. This one offers convenience -- it's close to public transportation -- and seclusion and privacy. The Victorian details -- the pocket doors, the elegant central banister, the entry door and claw-foot tubs -- add to the charm."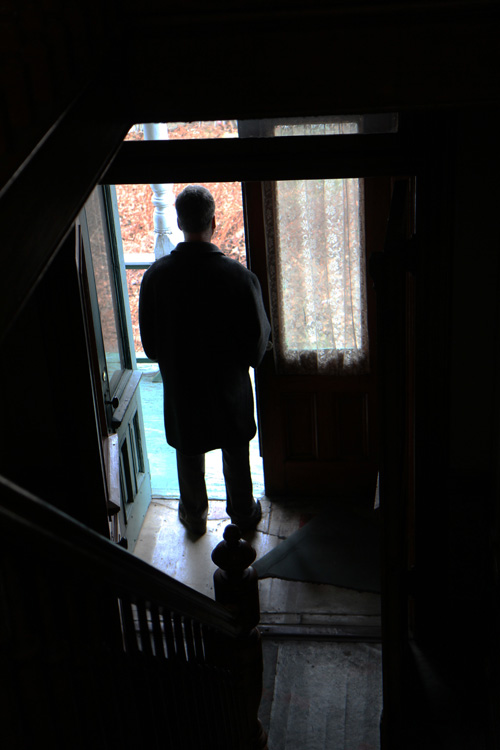 Photo by Nancy A. Ruhling
The house awaits Fate.
As he speaks, the subway screeches into the Ditmars stop. The commuters are so close you can almost high-five them. Then a squirrel scampers by.
The house sees all. It doesn't so much as blink.
Nancy A. Ruhling may be reached at Nruhling@gmail.com.
Calling all HuffPost superfans!
Sign up for membership to become a founding member and help shape HuffPost's next chapter