On the emerald green front door of Stanley and Kathleen Rygor's 1890 cottage, there's a Claddagh knocker whose well-worn brass shows that it's no stranger to visitors.
"It is an honor to have you in my house," says Stanley, as he leads the way through the foyer. He doesn't have to say welcome; the souvenir sign from Ireland -- Céad Míle Fáilte - conveys that warm message no less than 100,000 times.
Curiously, it is framed by a Celtic cross and a crisscrossed Christmas-red AIDS ribbon.
Kathleen is slowly climbing the stairs from the basement, and before she appears, the brogue of her birth, a sweet counterpart to Stanley's elegant elocution, trills like a songbird.
Stanley, a spritely 83, and Kathleen, an active 80, have been married for 57 years, and for the last 55 of them, they have lived in this house, which is on the way to Kaufman Astoria Studios and within the sound of the bells of Most Precious Blood Roman Catholic Church. She's an Irish immigrant; his father was English and his mother hailed from Sicily, but he was born in Manhattan and has lived 80 of his 83 years in Astoria.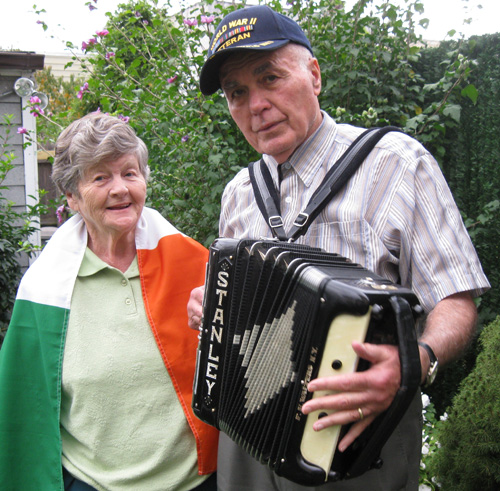 Photo by Nancy A. Ruhling
Kathleen's the dancer, Stanley's the musician, and life is their act.
Dwarfed by a brand-new McMansion, the "little green house with the American flag out front," as Kathleen calls it, looks as though it were tossed into its lot by a Kansas twister. What it lacks in stature, it makes up for in heart and hearth.
Stanley and Kathleen are from the old school; he plays gentleman to her lady. Like a ballroom dancer, he takes the conversational lead, and as he's a trifle hard of hearing, she follows and interprets. It's their habit to read the New York Times cover to cover and to serve tea and biscuits to their guests.
"Everyone always asks what the secret to our successful marriage is," says Stanley, whose slightly British accent evokes that of a 1940s stage actor. "We're not exactly that compatible, but we're complimentary. Our interests are different. I'm just average, but Kathleen's got intelligence, she's got an IQ through the roof."
Kathleen rolls her eyes. "He's exaggerating."

The story of how Stanley met Kathleen ended up together is the stuff of classic Hollywood musicals.
In 1944, when he was 17, Stanley enlisted in the Navy. "It was an easy decision," he says. "The Navy uniforms were very attractive to girls. The Army uniforms were horrible."
Stanley came home from World War II 2½ years later, Kathleen had just come over from Ireland, and they found true love on a Manhattan dance floor. "The first time I saw her, I thought she was beautiful beyond belief," Stanley says.
A bashful and blushing Kathleen adds, "I thought he was handsome, too."
They married, had five children - their framed photos are on the piano in the living room - and set out to have ordinary lives.
It didn't quite turn out that way.
Stanley threw himself into his career. In six decades, he worked his way up from messenger boy to senior vice president at the Wall Street ad agency Doremus. Kathleen held down the homefront. In the same six decades, she did everything from sewing school clothes to laying the parquet tile on the living room floor.
One year, Kathleen gave Stanley an Irish button accordion. He taught himself to play so she could dance the Stack of Barley and the Siege of Ennis.
They were pretty much going to go quietly into retirement. Although he wouldn't officially clean out his desk until he turned 80, Stanley cut back his office time to two days a week when he turned 65. "I could have gone on after 80," he says, "but I didn't want to break any Guinness world records."
He "was lured into singing" with the choir at Most Precious Blood and started playing his accordion in public. (He has a gig at Dempsey's Pub in the East Village every Tuesday evening and goes to Long Island City to play for the New York City Marathon runners as they hit the halfway point.)
Then it happened. Their son Robert announced that he was gay. Stanley and Kathleen hadn't seen this coming. They were shocked. When Robert, who became ACT UP's spokesperson, told them he had AIDS, they turned themselves into activists, and when he died of the disease, at age 40 in 1994, they put his ashes in a blue urn on the piano and continued their gay-rights crusade.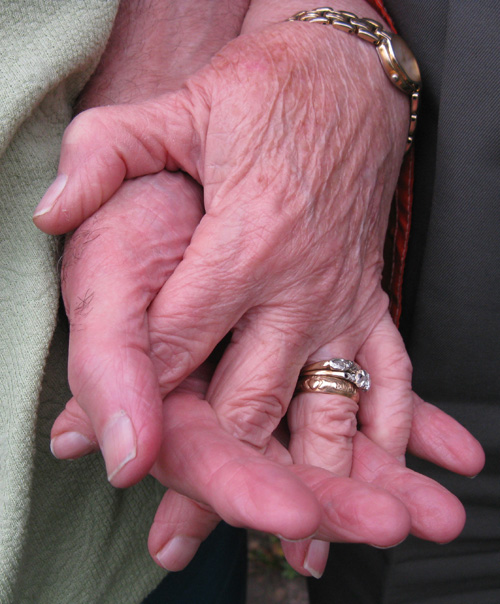 Photo by Nancy A. Ruhling
For 57 years, Kathleen and Stanley have been devoted to each other.

"I'm conservative in everything else but gay rights," Stanley says. "I feel strongly about gay rights and marriage equality because I know this is what my son would want."
Kathleen's legs aren't as agile as they used to be, but Stanley still rallies himself for the St. Pat's for All Parade in Sunnyside and the AIDS Walk New York. The 10k AIDS Walk gets harder every year, he says, which is why he diligently trains. "I have to keep it up," he says, "because I raise a lot of money."
Recently, he walked the three miles to and from Astoria Park, where he went around the track eight times, adding two miles to the tally. "I think I overdid it," he says, shifting the pumpkin-orange AIDS Walk baseball cap on his head.
As for Kathleen, she's keeping busy, too. As did her mother and her grandmother before her, she's knitting traditional Irish sweaters for her yet-to-be-born great-grandchildren.
Stanley and Kathleen dream of Ireland, but if God doesn't see fit to let them get there again, their beautiful memories will sustain them.
Nancy A. Ruhling may be reached at Nruhling@gmail.com.
Copyright 2009 by Nancy A. Ruhling
Related
Popular in the Community