Madeleine's Hosiery, which has been on Steinway Street forever, or at least for as long as anyone can remember, probably won't be there the next time you pass by.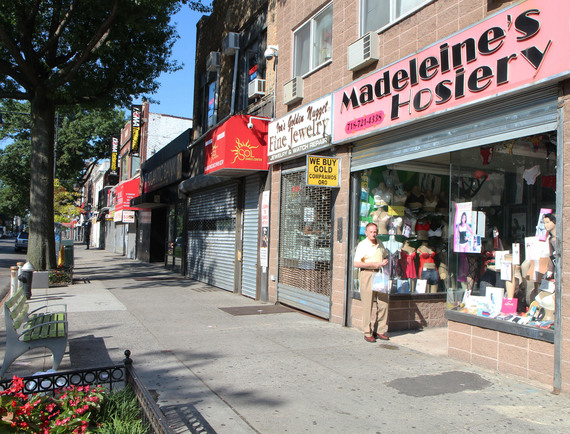 Photo by Nancy A. Ruhling
Madeleine's Hosiery on Steinway Street at 30th Avenue.
In a couple of weeks, there will be a big sale, and after that, it and its girly-girl pink sign will vanish.
Michael David looks around the shop. Between now and then, he has a lot of lingerie to sell.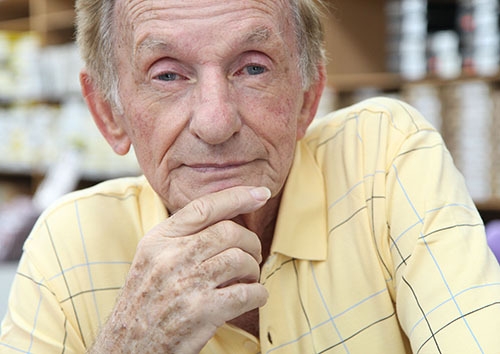 Photo by Nancy A. Ruhling
Michael was born in Belgium.
He's not worried. He gave birth to Madeleine's some 40 years ago, and he figures he can officiate at its death.
Besides, it's not as though he's being forced to shut down. He's 82, and he's been planning this for a while.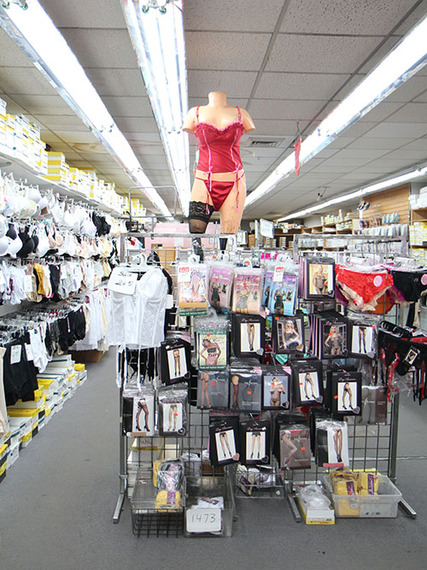 Photo by Nancy A. Ruhling
Madeleine's offers lingerie at discount prices.
"I never changed much in the shop," he says. "It's always looked this way."
By "this way" he means 1970s discount department store.
Madeleine's is high style only in the sense that the merchandise, much of it boxed and labeled in Michael's handwriting, reaches to the ceiling.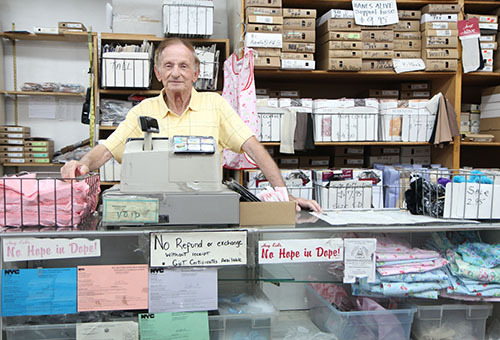 Photo by Nancy A. Ruhling
Michael went to France to escape the Nazis.
He walks past the gridlock girdles and bodacious brassieres and heads toward the back.
There's an old desk there shoved in a corner. It's nothing fancy, but he calls this section of the stockroom space his office.
In case you haven't guessed it, Madeleine's is named for his wife.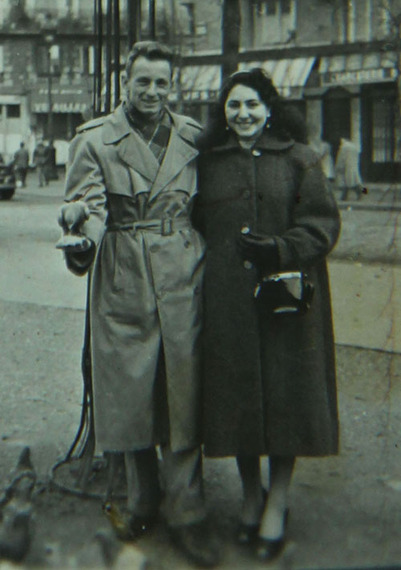 Photo by Nancy A. Ruhling
Michael and Madeleine in Paris in 1954.
Michael looks through his worn wallet and produces a photo the size of a postage stamp that shows him and Madeleine feeding pigeons. On the back, it says "Paris 1954."
It was, by the way, Madeleine who suggested they open a business, and it was she who told Michael when it was time to close it down.
The original Madeleine's was in Manhattan; Michael moved it to Astoria some three decades ago. He started out in the smaller space next door, which is occupied by a jeweler.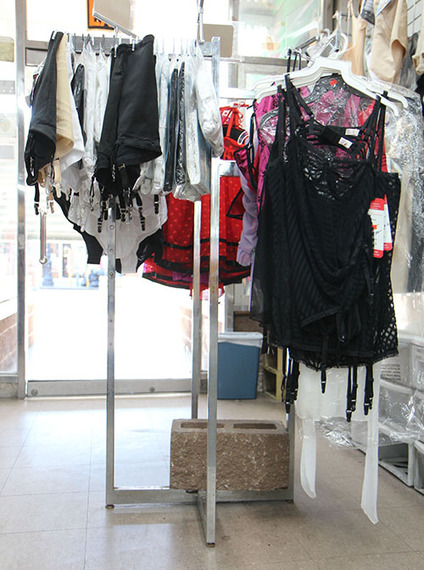 Photo by Nancy A. Ruhling
A cement block anchors a display.
Again, Michael insists that closing Madeleine's is no big deal, adding that he's used to moving and moving on.
Michael, who is Jewish, spent the first seven years of his life in Antwerp, Belgium. During that time, he was called Nickolas.
"In 1940, when the war started, we escaped the Nazis by getting on a train to France," he says. "We took nothing with us."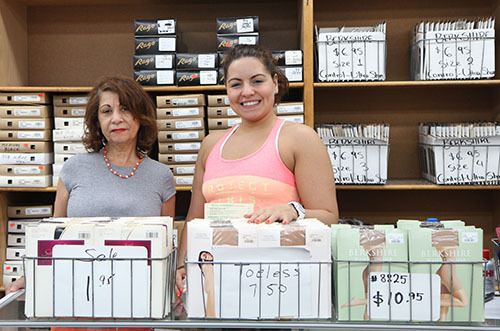 Photo by Nancy A. Ruhling
Employees Daisy Kraus, left, and Argyro Damoulianos.
The family, which also included Michael's sister, split up and went into hiding.
"I kept changing cities and families, and I was called by the French name Michel," he says. "It was too dangerous for me to even go to school."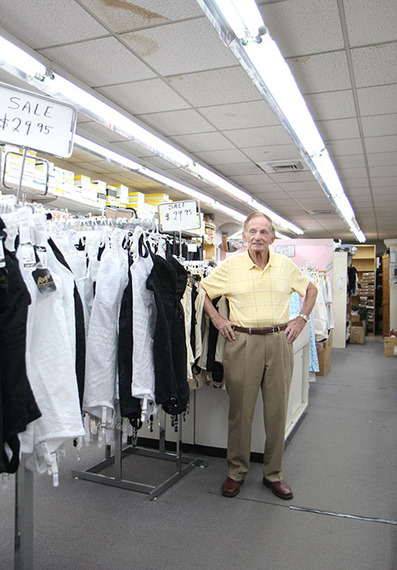 Photo by Nancy A. Ruhling
Michael served three years in the Israeli army.
Michael's father died during the war, but the rest of the family returned to Antwerp when the Allies won.
"I did not want to stay there," he says. "There were signs in the shop windows that said 'No Jews, No Dogs Allowed.' As soon as I could, I went to Israel, which was created in 1948."
After three years in the army, Michael began learning the diamond trade.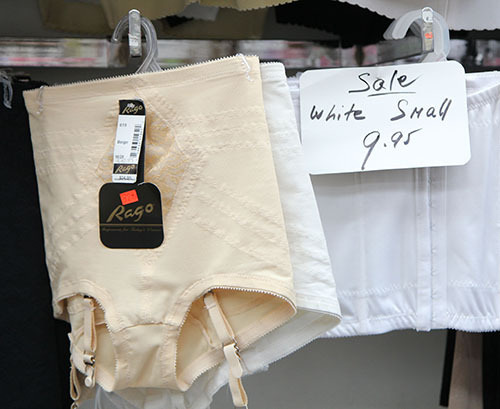 Photo by Nancy A. Ruhling
A big going-out-of-business sale is planned.

He met Madeleine, a visiting Frenchwoman, through a Jewish organization.
"We went out a couple of times, and I told her I wanted to get engaged," he says. "I didn't have any money, so I gave her a ring I got for a nickel in a machine. She said it was the gesture that counted."
Michael followed Madeleine to Paris, where they married and worked the flea markets.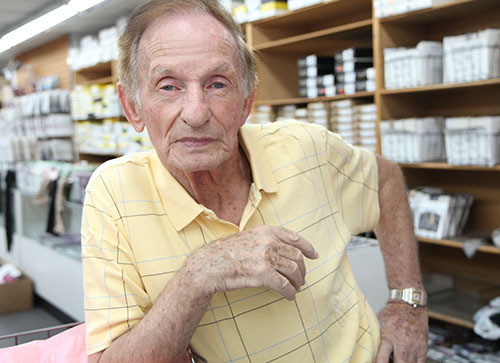 Photo by Nancy A. Ruhling
Michael came to New York City in 1955.
In 1955, they came to New York City.
"We got the money for the tickets from a Jewish organization," Michael says. "I don't remember how much it was, but I do know that it took me 10 years to pay it back."
Michael, for that is what he started calling himself in his new country, got a job in the Diamond District, and Madeleine became a seamstress in the Garment District.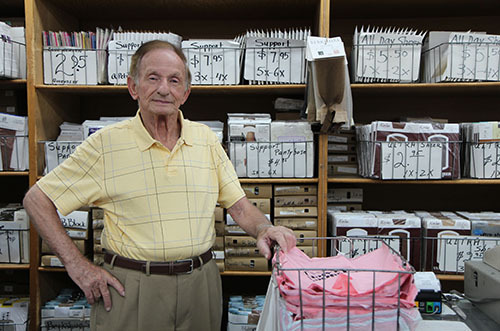 Photo by Nancy A. Ruhling
Michael says Madeleine's was like his baby.
"It was very hard at first," he says. "We didn't know any English. I never took lessons, I just learned it on the way."
An acquaintance had a wholesale lingerie and hosiery business and offered to give them stock on consignment.
They bought out a tiny perfume shop at 72nd Street and 2nd Avenue for the then-large sum of $3,000 and added the lingerie.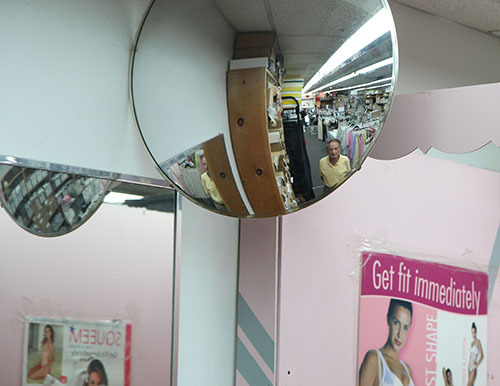 Photo by Nancy A. Ruhling
Michael has until the end of August to leave.
"We didn't know anything about what we were selling," Michael says, adding that Madeleine helped out during the first years. "Every time we had a question, we called the guy who gave it to us."
They made their first sale within the first hour and moved Madeleine's to Astoria when they outgrew their space.
By this time, they had a son and daughter and owned a house in Bayside.
Eventually, they bought a house in Great Neck, a place in Boca Raton, Florida, and the three-apartment, three-business building that houses Madeleine's.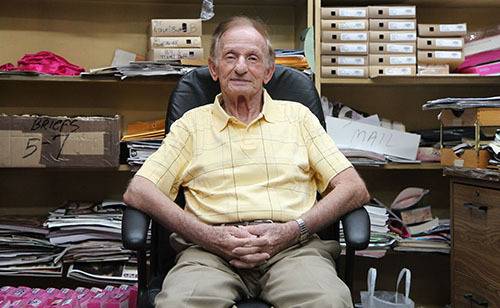 Photo by Nancy A. Ruhling
He says he's not sad about the closing.
"I've worked at Madeleine's seven days a week for 40 years," says Michael, a small, short man with blue eyes and ginger hair. "Madeleine's is like my baby, but I'm tired, and I need a little rest."
A bride-to-be and her maid of honor walk in.
They're trying not to panic. The wedding is only three hours away, and they are in desperate need of a gel bra.
In two minutes, the sale is complete, and they leave relieved.

Photo by Nancy A. Ruhling
Going, going, gone ...
Six months ago, Michael sold the building. Under the terms of the deal, he and Madeleine's have to be out by the end of August.
Michael hasn't given much thought to what he will do when he retires.
"I'll find something," he says. "I'll travel to France, and I'll learn the computer. I have to catch up on my schooling because in my entire life I only had two years of education."
He claims he's not sad to let Madeleine's go. But this time he doesn't sound very convincing.
Nancy A. Ruhling may be reached at Nruhling@gmail.com; nruhling on Instagram.
Copyright 2015 by Nancy A. Ruhling
Related
Popular in the Community