As Sharon Florin climbs the wide staircase to her top-floor studio, an act that she has done going on 40 years, it reminds her of how much things have changed.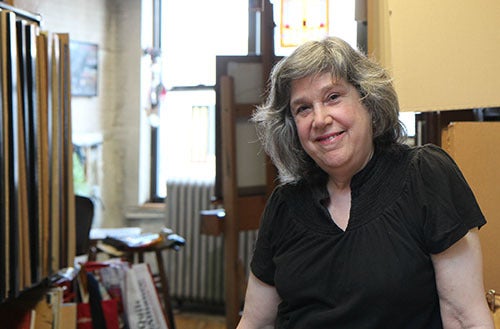 The three-story red-brick building started out life as a factory in the 19th century, and by the time she and her canvases came in 1980, her floor had been divided to house artists like herself.
There used to be five of them. As the last one to arrive, Sharon got the smallest space.
But it has a big window, and the bright light seduced her.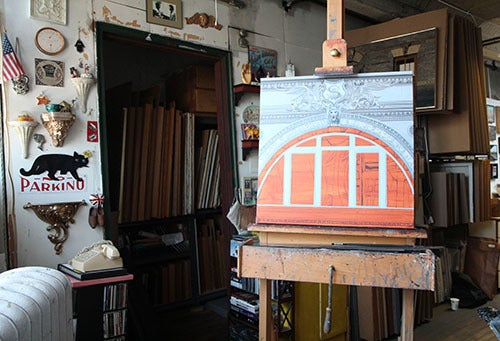 Back then, she had a full-time office job. By necessity, painting, her passion, was relegated to nothing more than a weekend pursuit.
Growing up in Woodhaven, Sharon had always been attracted to color and texture and recalls being enchanted by an exotic second-grade art teacher who had red hair and green stockings.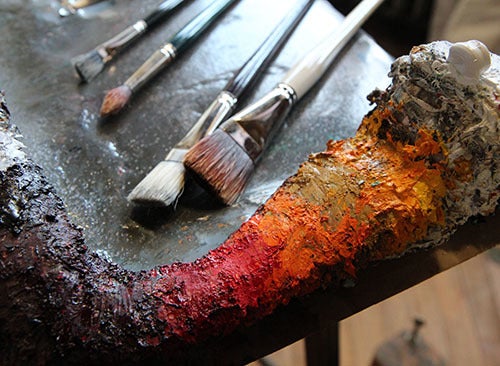 After taking an oil painting class the summer of her 15th year, Sharon knew that an artist was what she was going to be.
Upon her graduation from Adelphi University, she continued her studies at The Art Students League of New York.
She set up a studio in her bedroom and armed herself with a 35-mm camera.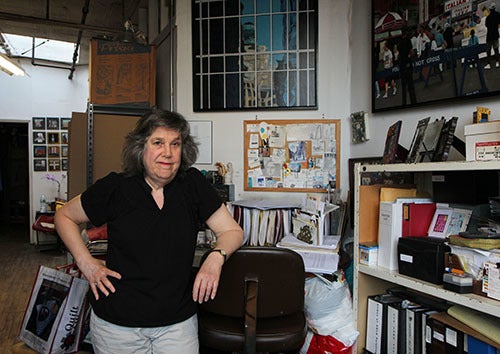 The photos she took – of antique buildings watched over by god-fearing angels and glaring gargoyles – became the basis for her realist architectural oils.
"My work is in the tradition of such painters as Edward Hopper," she says. "He told the story of time through the buildings of a small town, and I narrate the City of New York. Each building, window and architectural ornament tells its unique tale."
Sharon found herself painting the passage of time in the tale of a city that never sleeps or stays the same.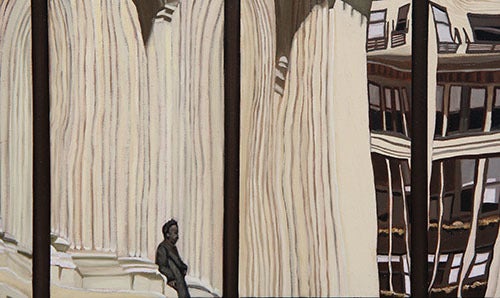 Places like Tower Records, Pearl Paint, The Bottom Line and Brentano's seemed to vanish at the touch of her brush, which gave an urgency to her work.
Sharon shows us what we might miss ― the ornate Long Island City Fountain, the spired tower of the Sherry-Netherland hotel and the intricate bay window of Alwyn Court.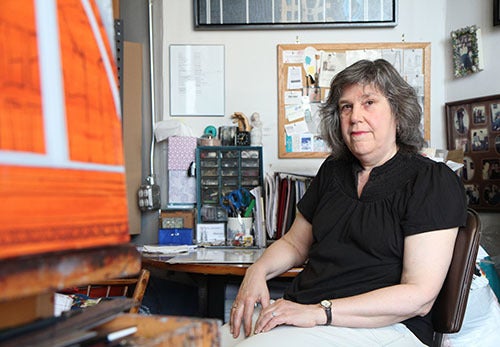 Playing the role of urban documentarian, she brings us along with her to Coney Island and Madison Square Garden. We stand with her on a Long Island City rooftop to see mighty MoMA PS 1 and the colossal Citigroup Building.
Or with her at our side, we reflect upon the Met Life Building and the 59th Street Bridge as they preen in the mirrors of Gotham's glass Goliaths.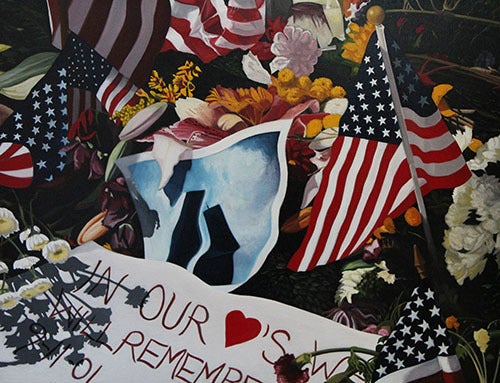 "I see the soul of the city through time," she says. "Time changes buildings, casting shadows at different hours of the day, turning concrete, brick, stone and wood into patterned abstraction – if you're looking."
Sharon, as compact as her studio, has had ample time to look at – and paint – her own building. She has captured its shifting landscape on canvas twice during her tenure.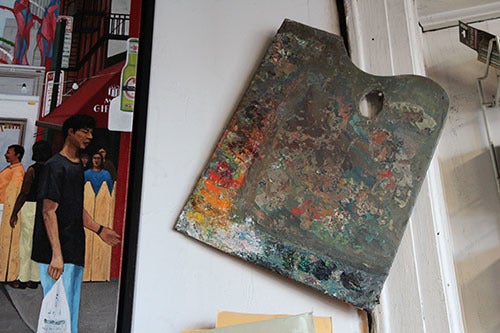 About a year ago, a fancy beer hall/pub called Bierocracy took up residence on its corner.
In years past, the ground floor held a shuttered bar, an office and a printing establishment. Later, a series of restaurants, most notably the Jackson Avenue Steakhouse, anchored the building.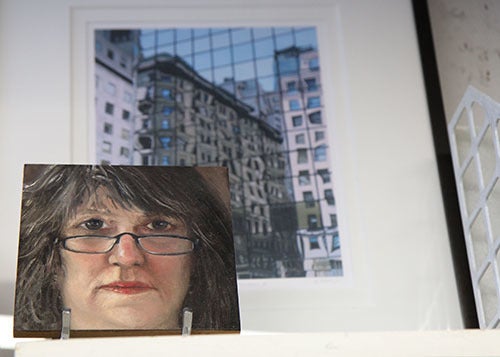 For a long time, the second floor was taken up by a factory where seamstresses sewed skirts. Artists have taken their place.
The changes in Sharon's life have occurred more slowly. She had to hold her office job for two decades before taking to her easel full time.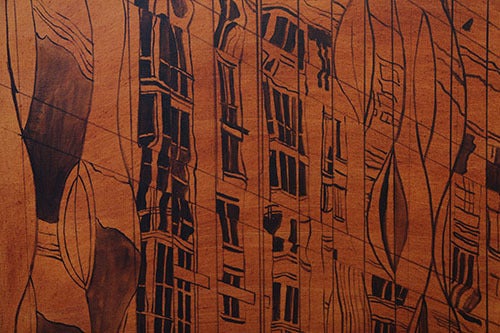 "My father died in 1993, and my mother followed in 1994," she says. "And in 1995 I was diagnosed with ovarian cancer. I didn't know how much time I had left, and I wanted to use it to paint."
It's been a long time since Sharon painted her studio building. She doesn't know whether or when she will do an update.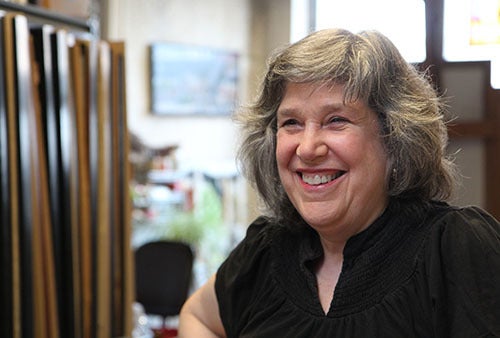 There's a pay phone on a pole in the adjoining studio. At one time, that was the only way she and the other artists could communicate with the outside world.
She doesn't remember when it was disconnected or when everyone forgot about it.
"When I'm gone," she says, "I hope my work lives on."
Nancy A. Ruhling may be reached at Nruhling@gmail.com; @nancyruhling on Twitter; nruhling on Instagram; nancyruhling.com; astoriacharacters.com.
Copyright 2016 by Nancy A. Ruhling
Related
Popular in the Community