She has an appointment for a shampoo and haircut.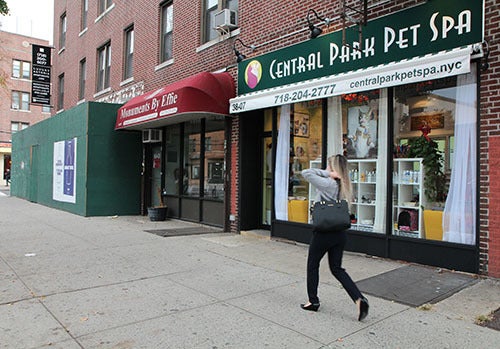 The grooming salon on Ditmars Boulevard at 38th Street is new, and she's never been here so it's unclear whether she knows about her upcoming beauty treatment.
She's only a year old, so when her mommy walks out the door, she cries like a baby until Reda Elabd, the spa owner, scoops her up in his big hands and plies her with puppy kisses and treats.
By the time he trims her toenails, gives her a shower and styles her hair, she's ready to move in with him (at least until Mommy shows up to retrieve her).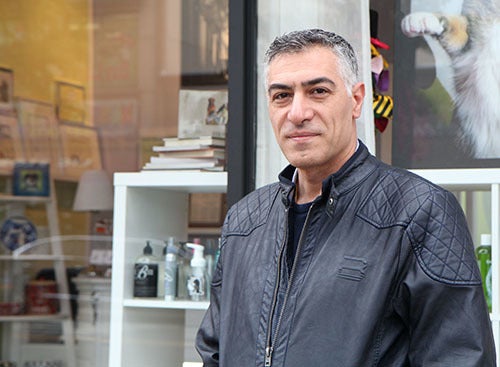 Reda, who has been a groomer for more than two decades and a pet-spa owner for a decade, has always had a way with animals.
His first pet was a beautiful white kitten who appeared as if by magic and adopted him for life when he was 2.
"I was sleeping with my mother and father," he says. "I was afraid of the dark and didn't want to get out of bed because I thought there was a beast in the closet. But I heard a meow, so I followed the sound until I was outside. I picked the kitten up and took it back to bed with me."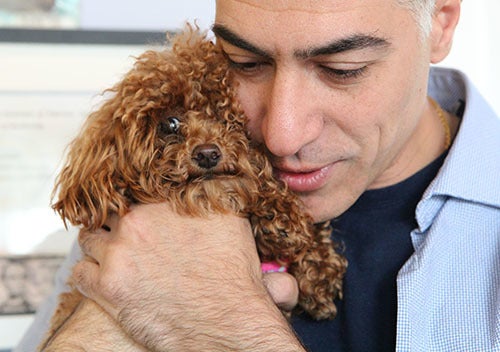 Reda and the kitten were inseparable.
"She was huge, and I was tiny," he says. "I used to carry her around, and she used to eat with me from my plate. She was my guardian angel. Ever since then, when one cat leaves me, another one comes into my life."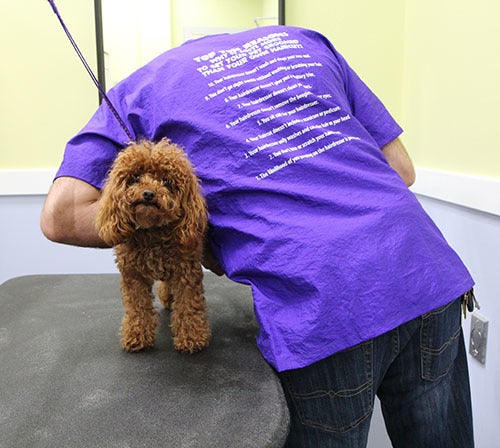 That's what happened with Batata, a gray-and-white stray who recently found a home with Reda, his 18-year-old daughter, Yasmine, and 16-year-old son, Yusuf, in Jackson Heights.
"My other cat, Lola, is 12 and sick," Reda says, adding that Batata is Spanish for sweet potatoes, which he loves nearly as much as he does the kitten. "So this will be her replacement. I've never had to buy a cat; they always find me."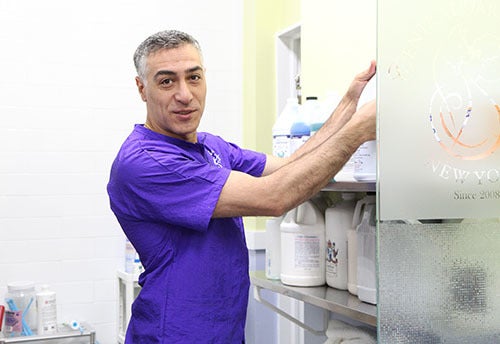 That may be because Reda, who is from Damanhur, Egypt, began rescuing them from the streets and feeding them.
"I look into their faces, and I see beauty," he says, adding that he also grew up with dogs.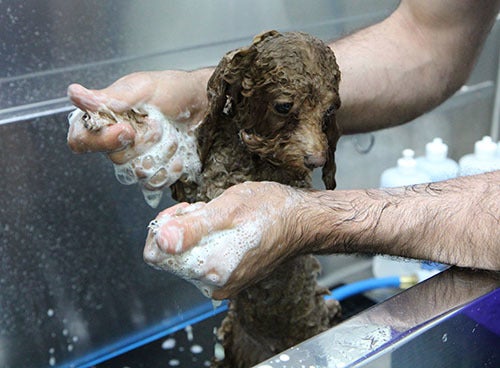 Despite his affection for those of the canine and feline persuasions, Reda never dreamed he would end up working with animals.
Reda, who is sleek and chic, spent his youth playing roller hockey, becoming the goalie for Egypt's national team and training others in the sport.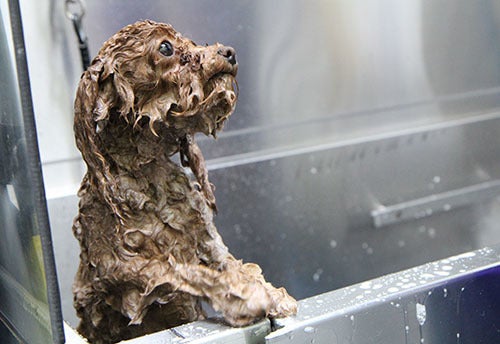 "They used to call me The Octopus because I was so talented," he says.
When he was in college working on a physical education degree in 1994, he decided to come to America.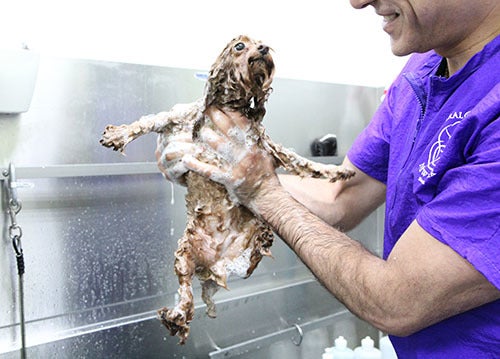 "I'm No. 5 of six boys," he says. "All my brothers were traveling, and I felt lonely. I wanted to play for the Rangers and made up my mind to come here and contact them."
While he was waiting for his big break, he went from shop to shop in Manhattan looking for work.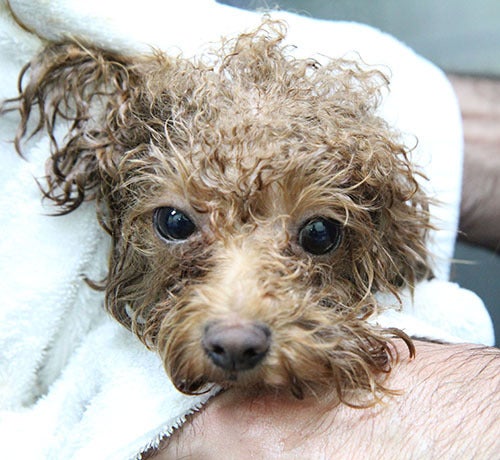 "I didn't know any English, and nobody wanted to hire me," he says. "I walked into a grooming shop. I didn't know there was such a job."
He got hired immediately because the owner saw how well he related to the pets, but he decided to keep looking.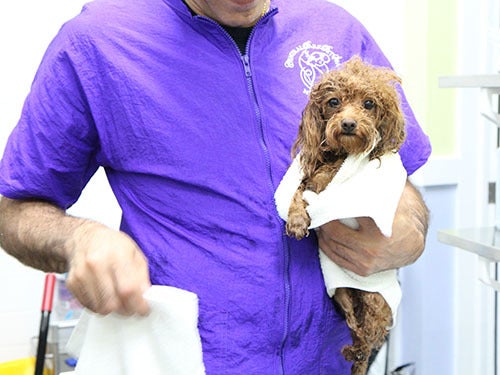 "I was 23 and had no money," he says. "I needed to have a job where I could eat, so I took one with a deli. But I got fired after three days because I didn't know anything about the business. So I ended up at the grooming shop."
It was, he laughs, supposed to be temp work.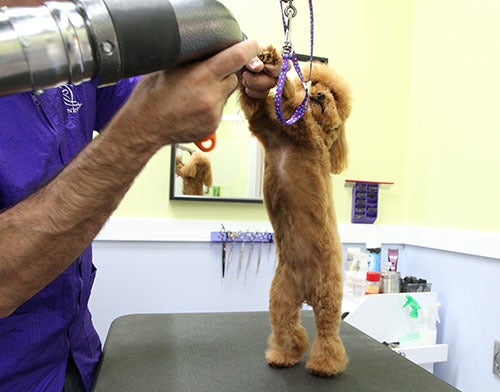 After a decade working for other groomers in the metro area and completing grooming school, Reda opened Central Park Pet Spa in Manhattan in 2008.
This year, he closed it temporarily because of a plumbing problem and opened a replacement in Astoria, which in addition to grooming and day care sells everything from ceramic food bowls (for pets) to diamond pet-themed jewelry (for pet parents).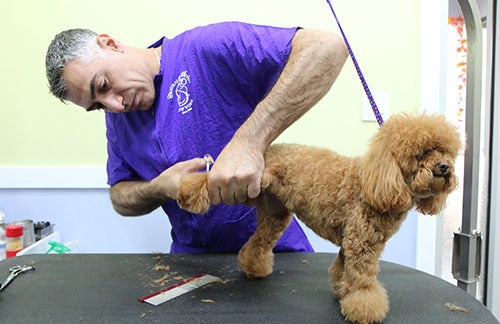 "This is my love, not a living," he says, adding that he tried other jobs, including cab driving. "I don't make much money off of this. I have several real estate investments in Egypt. That's where my income comes from."
When Reda opened Central Park Pet Spa in Manhattan, his goal was to have a shop on each corner of the park.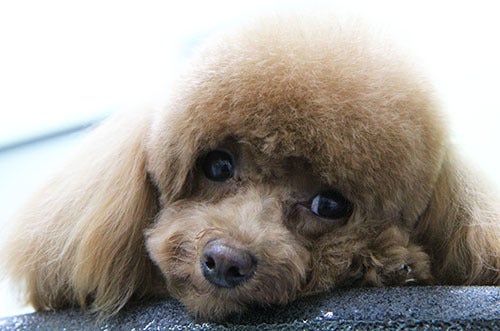 "It's coming one day," he says. "I don't know when, but it's coming."
And so is Ginger's mommy.
Nancy A. Ruhling may be reached at Nruhling@gmail.com; @nancyruhling on Twitter; nruhling on Instagram, nancyruhling.com, astoriacharacters.com.
Copyright 2017 by Nancy A. Ruhling
Related
Popular in the Community