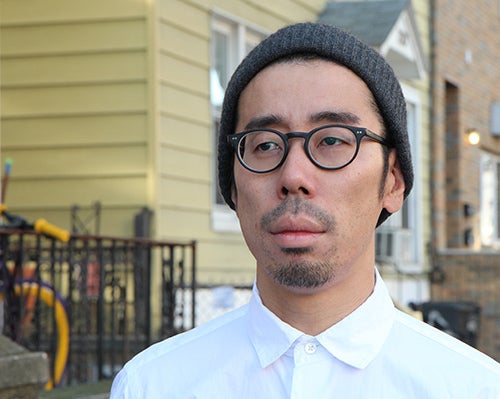 His images are artfully and carefully composed. The people in them are merely props meant to blend in with their surroundings.
"I tell the sitters to have no expression or feeling," he says, with no expression or feeling. "I imagine the subject matching the background. It is as if they are in an old painting."
Fumi demonstrates. He stands next to a graffiti-scrawled wall and stares straight ahead like a Secret Service agent guarding a president.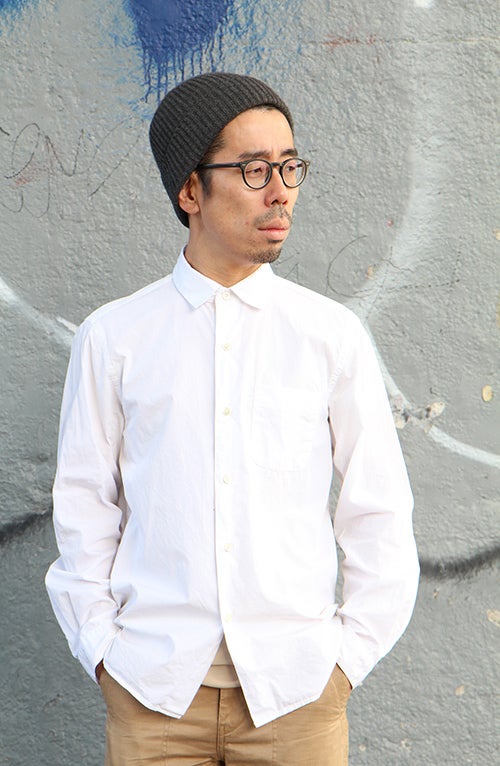 He's small and slim; only his owlish eyeglasses and his Canon 5DS R betray his presence when the sun glances off their lenses.
In Fumi's own life, the most significant scene occurred at age 7. That's when he got his first professional camera.
He had been making do with a cheap point-and-shoot, snapping away during the baseball games he was playing in.
But he couldn't get the effect he desired, so he asked his grandmother for help.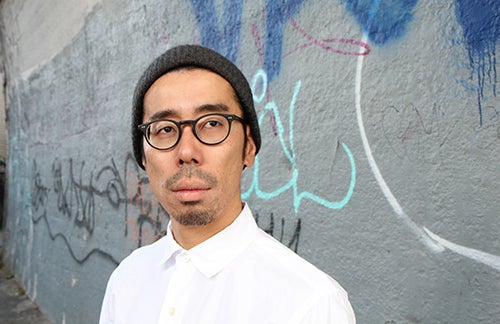 Fumi's family lived with her in an old house in Osaka, a large city on the Japanese island of Honshu.
"She bought me a Minolta 7000," Fumi says. "It was a film camera. And it was used. I bought my own lens. It was about $500, I think. There's a tradition in Japan of giving children money on the new year, so that's what I used."
The lens was long, and Fumi was little, so he stuck out in his crowd of kids.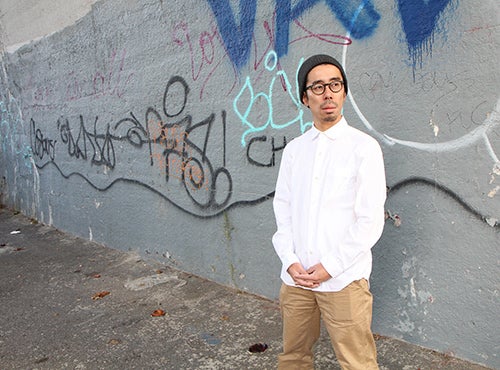 That didn't stop him from shooting everything he saw.
"When I was 10, I went with my father on a business trip to Thailand, and I took the Minolta with me," he says.
He kept taking pictures through grade school but stopped when he was in junior high.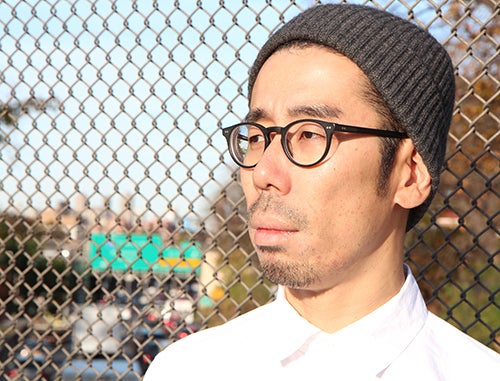 In high school, he put it around his neck again to take portraits of his friends.
"I bought myself a motorcycle with my new year's money," he says. "And I drove out to the countryside to shoot landscapes."
Taking pictures, he thought, was nothing more than a hobby, which is why he majored in English language and culture instead of photography when he was at Eichi University.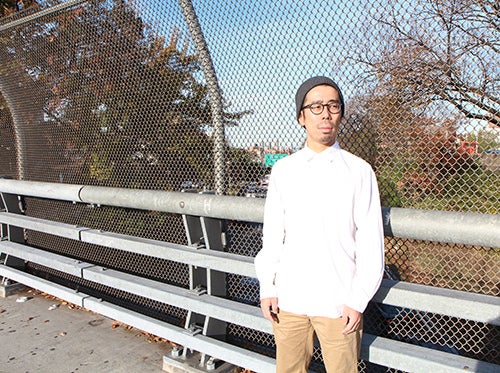 When he wasn't studying, he was working part time as a photographer's assistant in Osaka.
"The photographer told me to go to Tokyo to learn technique if I wanted to get serious," Fumi says. "And he introduced me to the people at a studio."
The first month there, Fumi worked 17 hours a day, seven days a week.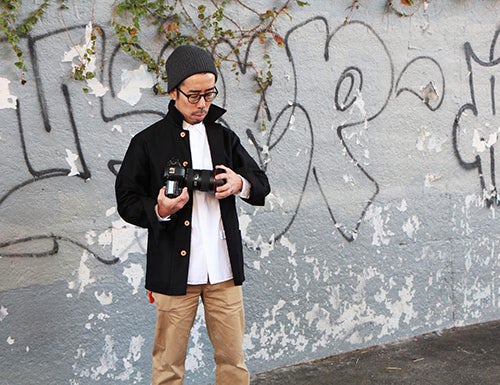 For the rest of his time there – 1 year and one month – he only had to work six days a week.
"It was like going to school," he says. "I learned everything."
The round-the-clock work left him no time for a life without lenses.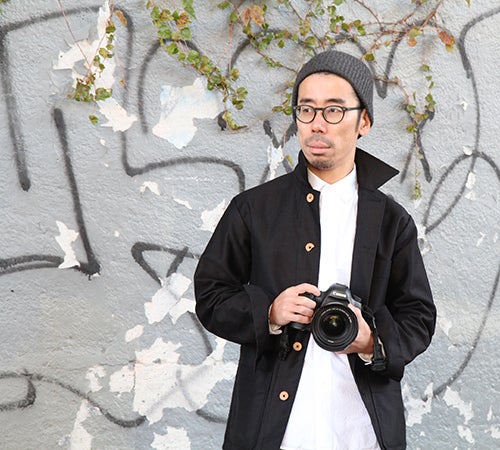 "I lived with 30 other people, and I worked so many hours that I only slept three hours a night," he says. "We each had space for a bed, but there was no privacy because each room had a swinging door like in a Western saloon."
Needless to say, Fumi was excited to get his first real job.
For one and a half years, he worked as a photographer's assistant in Osaka.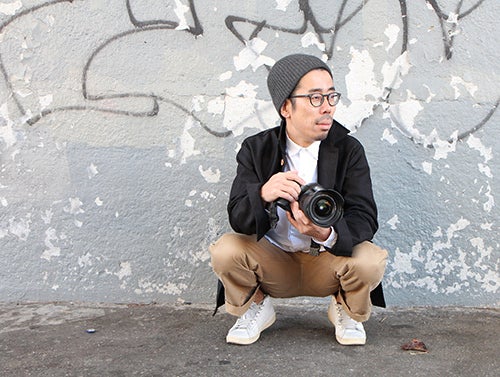 Then, in 2004, he came to New York City. He didn't have a job lined up, but he figured his enthusiasm would carry him.
"I came as a student," he says. "I was studying English as a Second Language, and some of the Japanese people I met in my class introduced me to photographers."
For the next two years, Fumi worked as a photographer's assistant.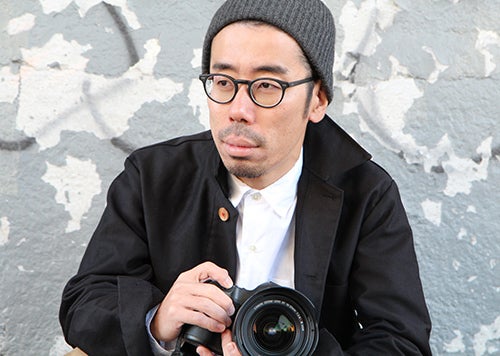 "It was an unpaid internship," he says. "I lived on my savings."
He started getting his own jobs, and in 2009, he began shooting for Japanese magazines, developing his shutter-signature art-portrait style.
"In the future, I want to keep doing my environmental portraits," he says. "I want to do more groups and family events like weddings."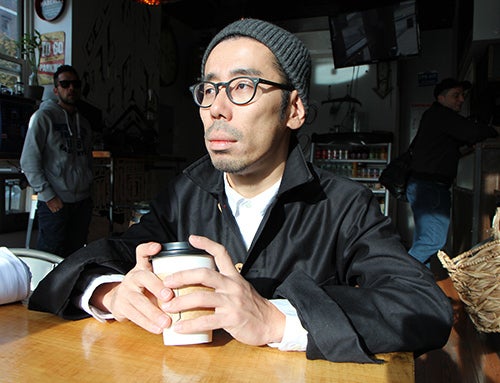 Fumi, who is single, goes back to Japan for a couple of weeks each year.
"I miss my family and the food," he says.
In between trips, the Minolta his grandmother gave him cheers him up.
"I don't use it to shoot," he says. "I keep it for the memories."
Nancy A. Ruhling may be reached at Nruhling@gmail.com; @nancyruhling on Twitter; nruhling on Instagram, nancyruhling.com, astoriacharacters.com.
Copyright 2017 by Nancy A. Ruhling
Related
Popular in the Community