The kettle is on the stove, the cats are on the couch, the St. Pat's statue is on the table, and Brendan Fay is elbow-deep in the paperwork and politics of parade preparations.
As Brendan knows only too well, March is Irish season in New York, the time when the city shows its true colors. In the palette of Brendan's St. Pat's for All Parade & Fair, the hues run not only to the orange and the green but also to every color of the rainbow.
"Parades are very important community cultural events," says Brendan, a human-rights activist/documentary filmmaker who is a frequent spokesman for the gay and lesbian community. "They allow us to celebrate our uniqueness and show that we belong. The Irish have always prided themselves on being a hospitable people, which is why this hurts so much."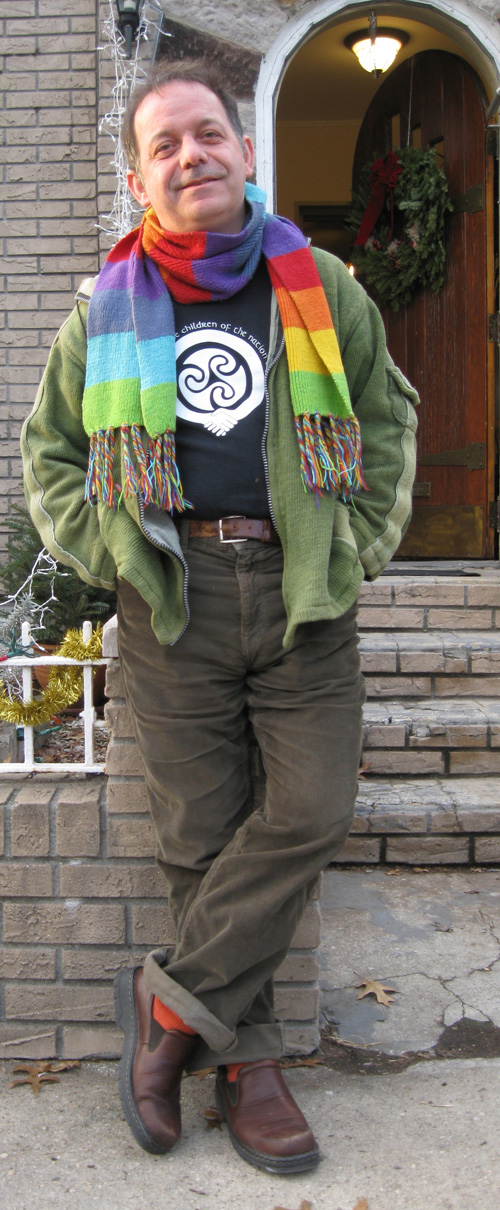 Photo by Nancy A. Ruhling
Brendan stands true to his true colors.
"This" refers to the fact that the famed Manhattan St. Patrick's Day Parade excludes gays and lesbians. Brendan and his peers were allowed to march on Fifth Avenue only once -- in 1991 with then-Mayor David Dinkins. "Most people remember the jeers, but I remember the cheers," he says. "It changed my life because it allowed me to come out in a very public way and to unite the three significant parts of my life -- Irish, Catholic and gay."
After getting arrested more times than he can remember for "crashing" the parade -- "the police knew me so well that they used to say, 'I guess you'll be our house guest again this St. Patrick's'" -- he co-founded Queens' St. Pat's for All, the parade with the biggest heart, the mightiest message and the slimmest support.
Brendan, an elfish man with a sweet smile, has a heart bigger than the pot of gold at the end of the rainbow. If he has a fault, it's that he's kind to a fault. He's been known to stop work to counsel the neighborhood's down on their luck, and once, when he was working at a soup kitchen, he was chastised for giving someone two tins of tuna instead of the quota of one. Then there are the cats: Every stray strays his way, and he never turns any away.
Brendan wears his Catholic Irishness like a prize medal. He was born in Athy, a small town in County Kildare, in 1958 and moved to the town of Drogheda when he was 10. He was what the Irish called a working-class lad but what Americans would classify as Angela's Ashes poor. His dad toiled in an asbestos factory while his mother stayed at home to care for him, his older brother and five sisters.
At age 8, he went to work. "I packed spuds at the local grocery," he says. "My payment was an orange drink and a bag of potato crisps called Taytos. In the summers, I worked on a fruit farm. In my spare time, I hung out at the convent; the Sisters of Mercy had an enormous impact on my life for good."
The "religious lad" in the family, he joined the Irish Christian Brothers at 14. "I was told to be totally honest in confession, and I told the priests I was thinking about sex and that I had an attraction for other guys," he says. "So they told me I could not be a brother and made me leave."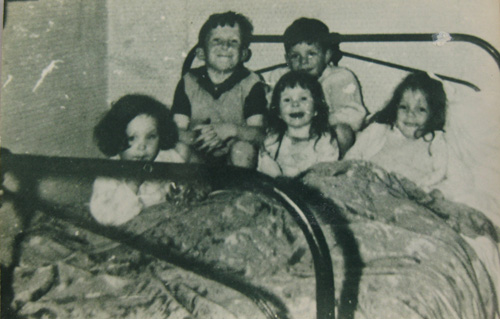 Photo Courtesy of Brendan Fay
The Fay family: Berrnadette, left, Peter, Carmel , Brendan and Mary.

Devastated, he traveled to Dublin, where he took a succession of humble jobs that included waiting on tables at a fancy gentleman's club and helping out at a center for handicapped children.
"I enjoyed and was frightened by my freedom," he says. "And I started exploring the gay scene, even though it was a criminal offense in the 1970s to be a homosexual. I was closeted, fearful and full of self-hate, so I went to priests who tried to heal me and make me straight. I also learned activism from the nuns and priests in Ireland."
While studying theology at St. Patrick's College in Maynooth, Brendan met a visiting American professor who encouraged him to apply to St. John's University for graduate studies.
In 1984, at the height of the AIDS crisis, Brendan and his backpack arrived in New York City for what he thought would be only a two-year stay.
"I had longed to get out of Ireland because as a gay man, I needed breathing space," he says. "New York made me feel like a mouse next to an elephant. Everything was huge. There were pancakes every day and big buildings and so many gorgeous men!"
After graduation, he took a job teaching religion at the Mary Louis Academy, a Catholic girls' high school in Jamaica, and took up a steady stool in every Irish pub and gay club he could find. "Once I started drinking, I couldn't stop," he says, adding he has been sober for more than two decades. "It was a way of coping with being gay and staying silent about it."
But his actions became louder than his words. After he became active in the Irish Lesbian and Gay Organization and did the Irish jig with Dinkins at the 1991 parade, he made headlines when he was dismissed from his teaching job.
Brendan was shocked by the pink slip. "Participating in the parade was in total keeping with my Catholic faith, which involved standing up in the face of discrimination," he says. "I was happy to be telling people that Catholicism was against discrimination and was leading the way for inclusion."
To keep his faith, he started making documentaries about gay Catholic heroes, including ACT-UP spokesman Robert Rygor and FDNY Chaplain Mychal Judge, who was a casualty of the 9/11 attacks. He latest film, Uncommon Jesuit, is about gay pioneer priest John McNeill.
Brendan found himself in the news again in 2000 at the first St. Pat's for All Parade & Fair, and in 2003 when he went to Canada to marry Tom Moulton, who he met at mass. Their photo appeared on the cover of several New York City newspapers.
His name played prominently in the international news again in 2008 when Polish President Lech Kaczynski, in a nationally televised homophobic address, showed a video clip of Brendan and Tom at their civil wedding in Canada. (Brendan and Tom went to Poland to try to talk with Kaczysnki but were rebuffed.)
But there's one headline that continues to elude him:
BRENDAN FAY GETS MANHATTAN'S ST. PAT'S PARADE TO WELCOME GAYS

"I still make a formal request every year to be in the other parades," he says. "But nobody ever gets back to me. But it will happen in my lifetime. My dream is that St. Pats for All will be a model for all Irish parades in New York City and will spread to other boroughs. Already, gays and lesbians are marching in other ethnic parades."
St. Pats for All, he reminds, is part of his greater mission.
"I'll continue my civil-rights crusades to help people the world over," Brendan says. "I'm taking a stand every day, whether it's attending a rally for marriage equality or organizing a lunchtime vigil at a foreign embassy to protest laws, such as those in Uganda, that permit the death penalty for lesbian and gay persons."
And so he will march this March and every March until the rest of the world gets in step with him.
Nancy A. Ruhling may be reached at Nruhling@gmail.com.
Copyright 2010 by Nancy A. Ruhling

Related
Popular in the Community