In the bedroom that also serves as Stefanie Weisman's office, a cheap, crisply creased paper map of the world is taped to the wall over the bed. Its continents and countries stare at a floor-to-ceiling unit that features a built-in desk and a mini-library of wildly eclectic titles.
There's an upright piano in the corner, sheet music open. On top of its ebony stool a violin, complete with case, has taken up residence.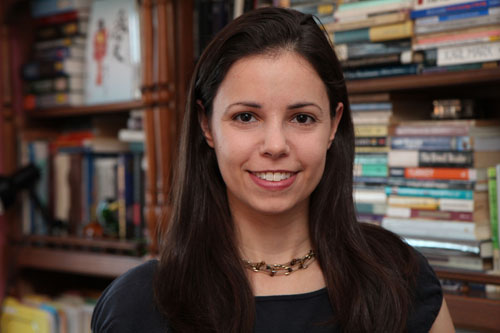 Photo by Nancy A. Ruhling
Stefanie has made a career of being a top student.
"My two favorite things in the world are reading and traveling," says Stefanie, an Astoria native. "If I'm not always learning something, I feel something is missing."
Stefanie -- a B.A. in history, B.S. in computer science, M.A. in art history -- isn't so much a lifelong student as she is a student of life. The 32-year-old who recites Shakespearean soliloquies and surfs Wikipedia for fun sees everything as a subject to be studied, a mini-course to be aced even when pass-fail are the only grades offered.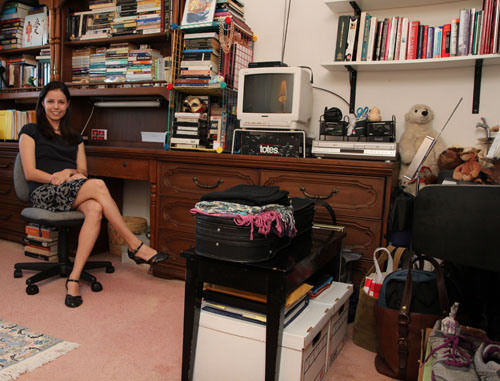 Photo by Nancy A. Ruhling
Books are the main occupant of her office/bedroom.
Being a top student is in Stefanie's DNA. She was the valedictorian of Stuyvesant High School's Class of 1999, then graduated with the highest GPA in her class at Columbia University. Phi Beta Kappa and summa cum laude, she also won the prize for best senior thesis in history on a non-U.S. topic and best performance in Core Curriculum.
When she was studying at New York University, she was a Craig Hugh Smyth fellow at its Institute of Fine Arts.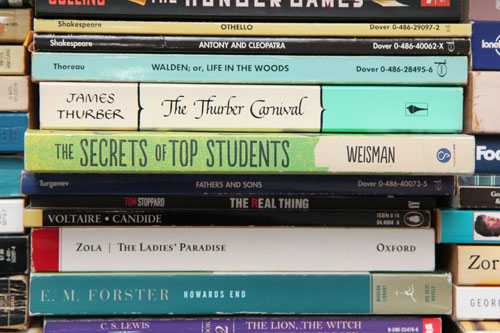 Photo by Nancy A. Ruhling
Stefanie is the author of The Secrets of Top Students.
"I wish I had had this book when I was a student," says Stefanie, whose dark chocolate eyes always look excitedly at the world as if seeing it for the first time. "It's more a lifestyle manual than a list of instructions."
She wrote Top Secrets not only to share her knowledge but also to help others overcome obstacles just as she had to do when she was doing her homework.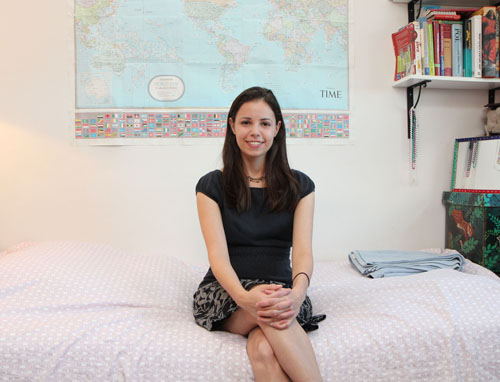 Photo by Nancy A. Ruhling
Traveling is her second love.
"I used to stutter mildly," she says. "This made it hard for me to volunteer in class and make friends, but I had to have my voice heard. I also couldn't understand anything that was said to me orally, which made it hard in the classroom."
It was these two difficulties that pushed Stefanie to really hit the books.
"School wasn't always easy for me," says Stefanie, a brainy beauty. "You have to make great sacrifices to be a top student. For me, this meant cutting back on my social life. I'm rather an introvert, and books have always been my best friends, so I didn't mind."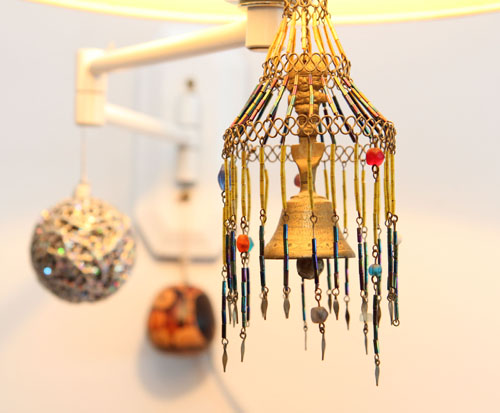 Photo by Nancy A. Ruhling
A Native-American bell represents Stefanie's eclectic interests.
Although Stefanie has worked in the corporate world, first as a paralegal, then has an IT specialist, she prefers the solace of her out-of-the classroom studies. She lives with her parents, and the part-time job she has with the International Academic Alliance gives her enough flexibility to continue her writing. She's already working on a historical fiction novel about the ancient Minoans.
This is not to say that she always has her nose in a book. She does have a boyfriend, who, she gushes, is smart, funny and kind; he's a commercial pilot who loves 19th-Century French literature. They spend a lot of time together, doing things like watching JEOPARDY! on TV. (When Stefanie doesn't get an answer correct, she bones up on the subject.)
They met online, and it is he who has sparked her interest in travel, which she likens to taking speed reading courses.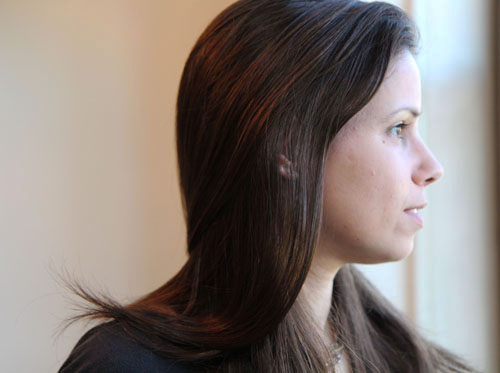 Photo by Nancy A. Ruhling
She's working on a novel featuring the ancient Minoans.
"On each trip, I learn and see so rapidly that my knowledge grows enormously," she says.
In the last couple of years, she's been to Russia, Japan, Palau, Belize, Italy, France, Germany and Spain.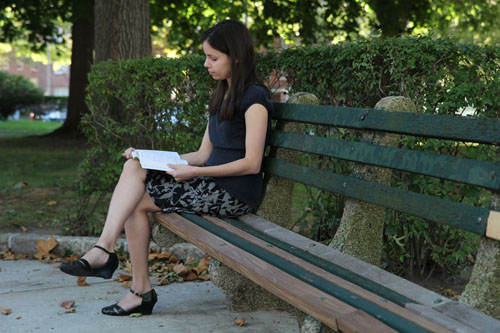 Photo by Nancy A. Ruhling
Stefanie reading in a favorite spot.
"I'm hoping to do more soon," she says.
When she's not up in the air or on the road, Stefanie's an ardent armchair traveler. She wishes she had room for more books in her room. She checks out volumes of must-have books at the public library.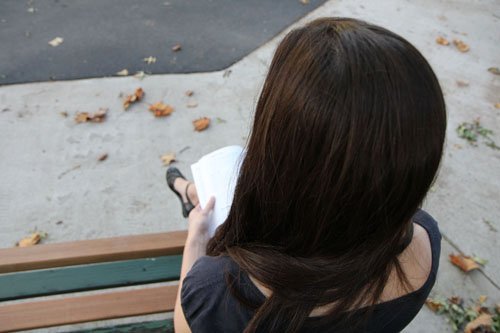 Photo by Nancy A. Ruhling
She can't wait to turn each page.
Yes, she could get a Kindle or a Nook, but it wouldn't be the same. The pages spring to life only when she touches them and makes notes in the margins.
"My idea of a perfect day is sitting on a park bench and reading," she says.
After all, she still has a lot to learn.
Nancy A. Ruhling may be reached at Nruhling@gmail.com.
Copyright 2013 by Nancy A. Ruhling

Related
Popular in the Community