Sitting in her bright white-walled design studio, Sarah Merenda flips through her book of wallpaper samples.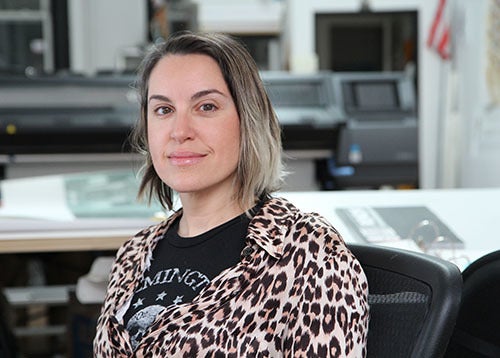 The owner of Merenda Wallpaper, she's not looking for any particular pattern, which is a good thing because her designs are diverse and if you don't know Sarah, you might mistakenly think they are random.
She stops when she gets to Elva Rose, a vibrant floral.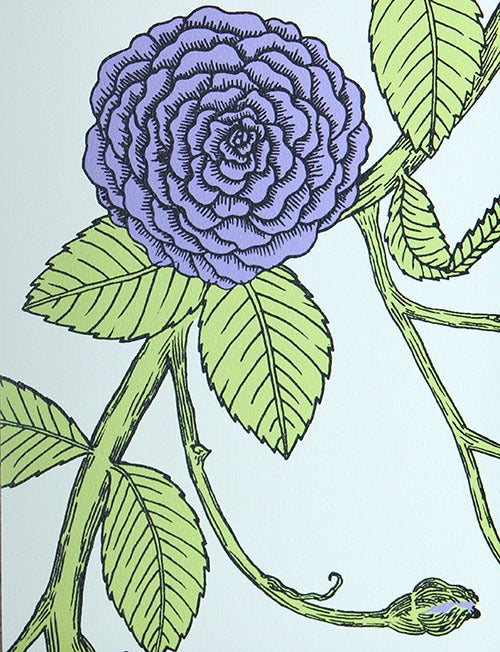 She named it after her grandmother and is particularly pleased with the purple colorway.
A little later, she pulls out Snake Party, whose smiling sinuous serpents are entwined with a bevy of beauteous beasties.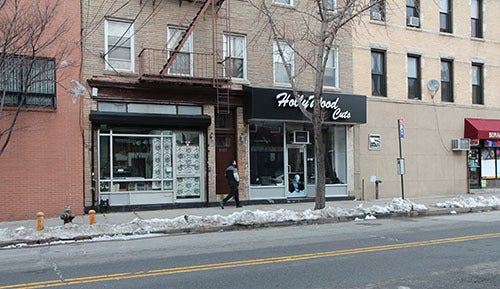 "This isn't just any bird," she says, pointing to an arrogant avian clutching a tree branch. "It's a passenger pigeon. They are extinct. And this insect next to it – it's a tobacco thrips. I found it in a file in the New York Public Library under extinct animals."
NYC Manholes, the next pattern that strikes her eye, is her ode to our underfoot urban history.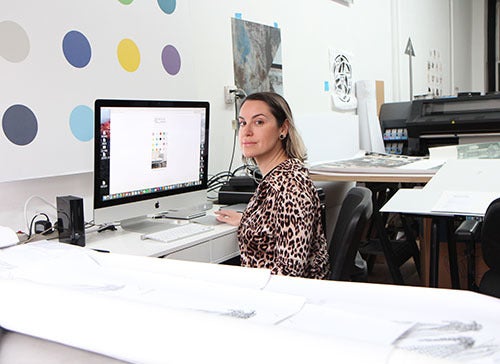 Using crayon over newspaper, she hand-rubbed street covers she saw while strolling through the city.
For Sarah, a keen observer and interpreter of the delightful details most of us miss, inspiration is serendipitous and obvious.
She and her five siblings grew up in old farmhouses outside Chestertown, Maryland, surrounded by wallpaper and nature.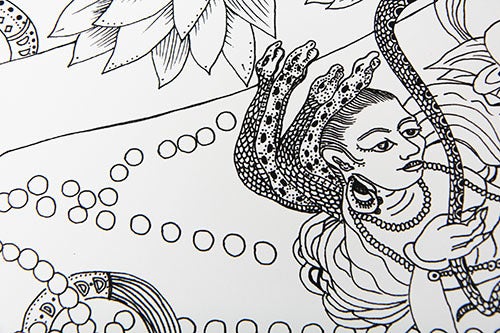 "We were in the woods and by a river," she says.
Her parents divorced when Sarah was 8, and it was her mother, who sold perennials and herbs, who papered each room with a different pattern.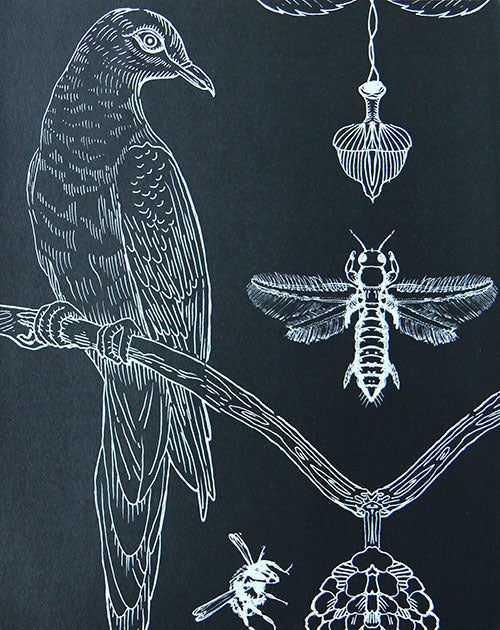 "I always made art and helped my mother run her business," she says. "I used to go with her to crafts shows. It was from her that I got my work ethic and learned to do everything by myself. By high school, I was painting, drawing and spray-painting graffiti."
As much as Sarah loved the great, great acres at her doorstep, she felt the pull of the big city.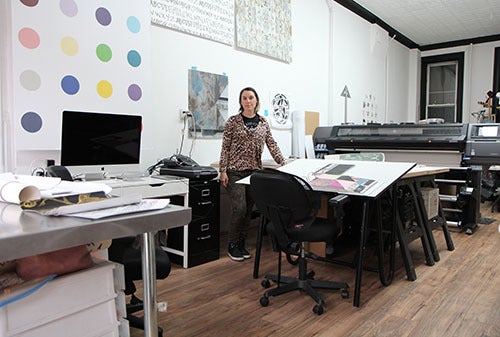 She moved to Baltimore before she got her high school diploma, commuting home to a community college to finish her senior year.
"The trip was more than an hour each way," she says. "I did several jobs to support myself. I worked in a pizza parlor and a shop that sold vintage clothes."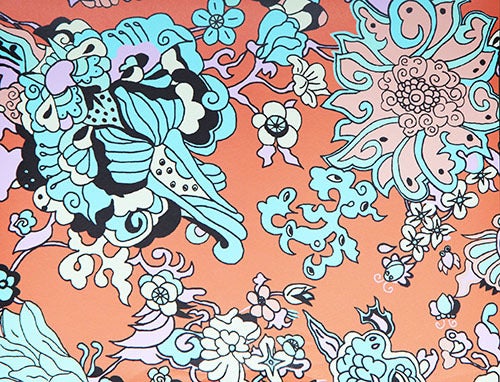 A short time later, she moved to Atlanta, Georgia, where her uncle taught her the art of hanging wallpaper.
"I picked it up right away and fell in love with the patterns of the papers," she says.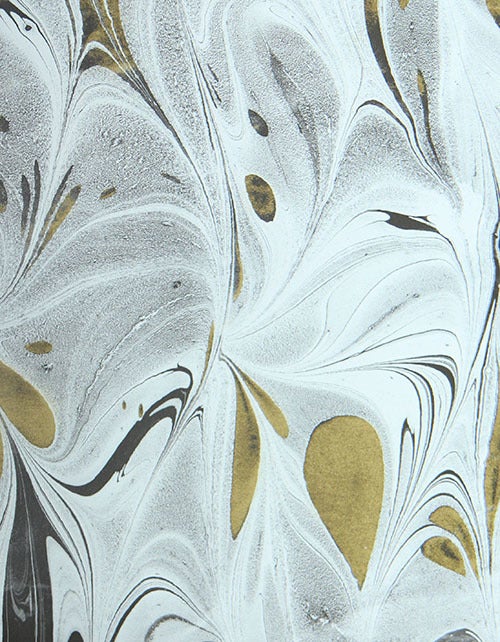 At 22, she moved back to Maryland, settling in Annapolis and working in a tattoo parlor and a vintage-clothing shop.
"I had visited New York City a couple of times as a teenager, and I knew I wanted to live there," she says. "My best friend from childhood and I moved in together. That was 1999, and I'm still in the same apartment in Rego Park."
For a couple of years, Sarah embraced the artist's life, drawing, painting, photographing and working as an artist's model.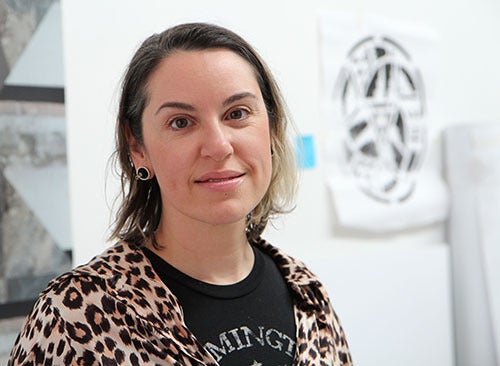 When she was 24, she enrolled at FIT.
"That changed everything for me," she says. "I was going to go for art, but I knew I wanted to make wallpaper. I entered the textile design program."
During her course of study, she began working for a contractor who taught her to paint and plaster.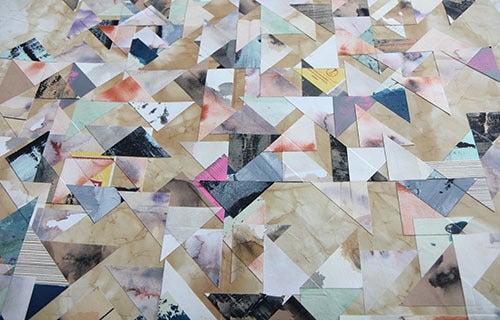 After she earned her associate's degree, she went out on her own, establishing Merenda Wallpaper.
A decade later, she returned to FIT to earn a bachelor's degree.
"I realized I wasn't making wallpaper," she says, adding that she spent a semester at the Chelsea College of Art and Design in London. "I made my first wallpaper while I was in school."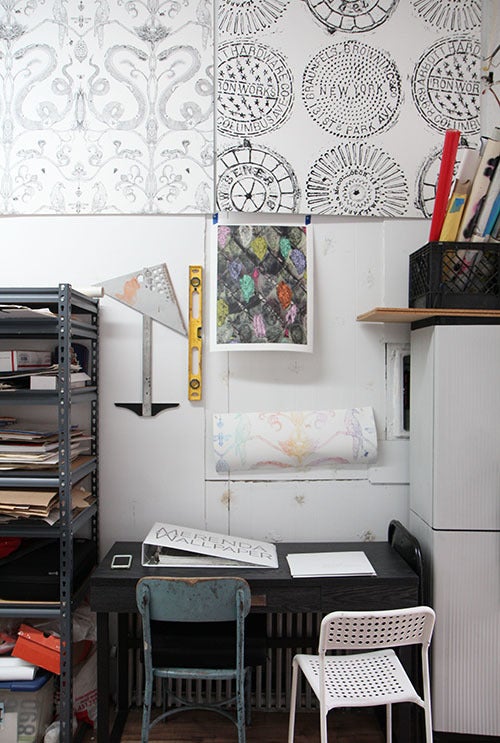 She continued hanging wallpaper, and in 2015, she bought an HP Latex 360 wide-format printer and set up shop in Astoria.
Sarah starts each design with a drawing, illustration, painting, rubbing or photograph and manipulates the images with Photoshop before digitally printing them on eco-friendly paper for private clients, architects and interior designers.
"The patterns are contemporary, and they reflect my interests in near and far-away lands, graffiti, tattoo art, abandoned buildings, underground history and the impermanence of all things," she says. "My voice is unique. It's the perfect combination because I can make art and have it be a wallpaper, too."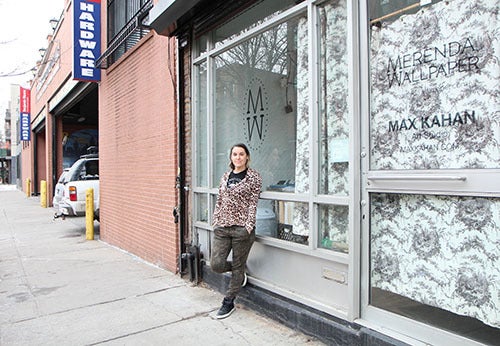 Sarah, who is exhibiting at ICFF May 21-24, is a one-woman show: She divides her time between design and installation.
"I want to make more designs," she says. "And I want to expand. I want to be busy."
She just got a lead on an old manhole cover made by Empire City Iron Works.
It's on 73rd Street between Park and Lexington.
She can't wait to make a rubbing.
Nancy A. Ruhling may be reached at Nruhling@gmail.com; @nancyruhling on Twitter; nruhling on Instagram; nancyruhling.com; astoriacharacters.com.
Copyright 2017 by Nancy A. Ruhling
Calling all HuffPost superfans!
Sign up for membership to become a founding member and help shape HuffPost's next chapter
This post was published on the now-closed HuffPost Contributor platform. Contributors control their own work and posted freely to our site. If you need to flag this entry as abusive,
send us an email
.